Valli Float
Effortless and inviting, Valli Float provides an easy place to sit, connect and engage. It's research-led ergonomic design provides a structured comfort conducive to clear thinking.
Along with Drift and Cove, Valli Float's malleable design embodies the fluid needs of contemporary work spaces. In the same way that expertly tailored clothing offers functional ease in style, the Valli Collection balances comfort and sophistication in equal measure.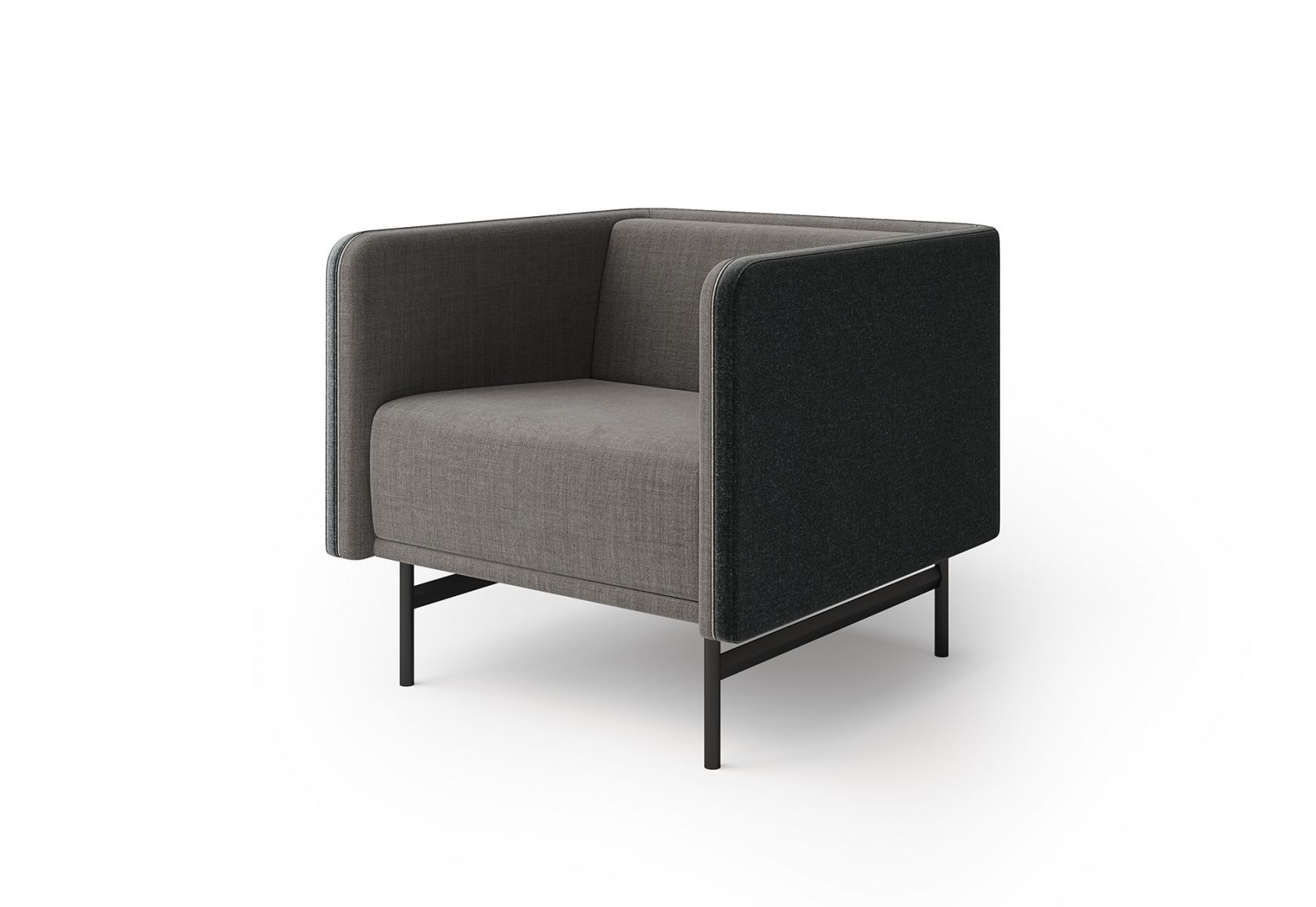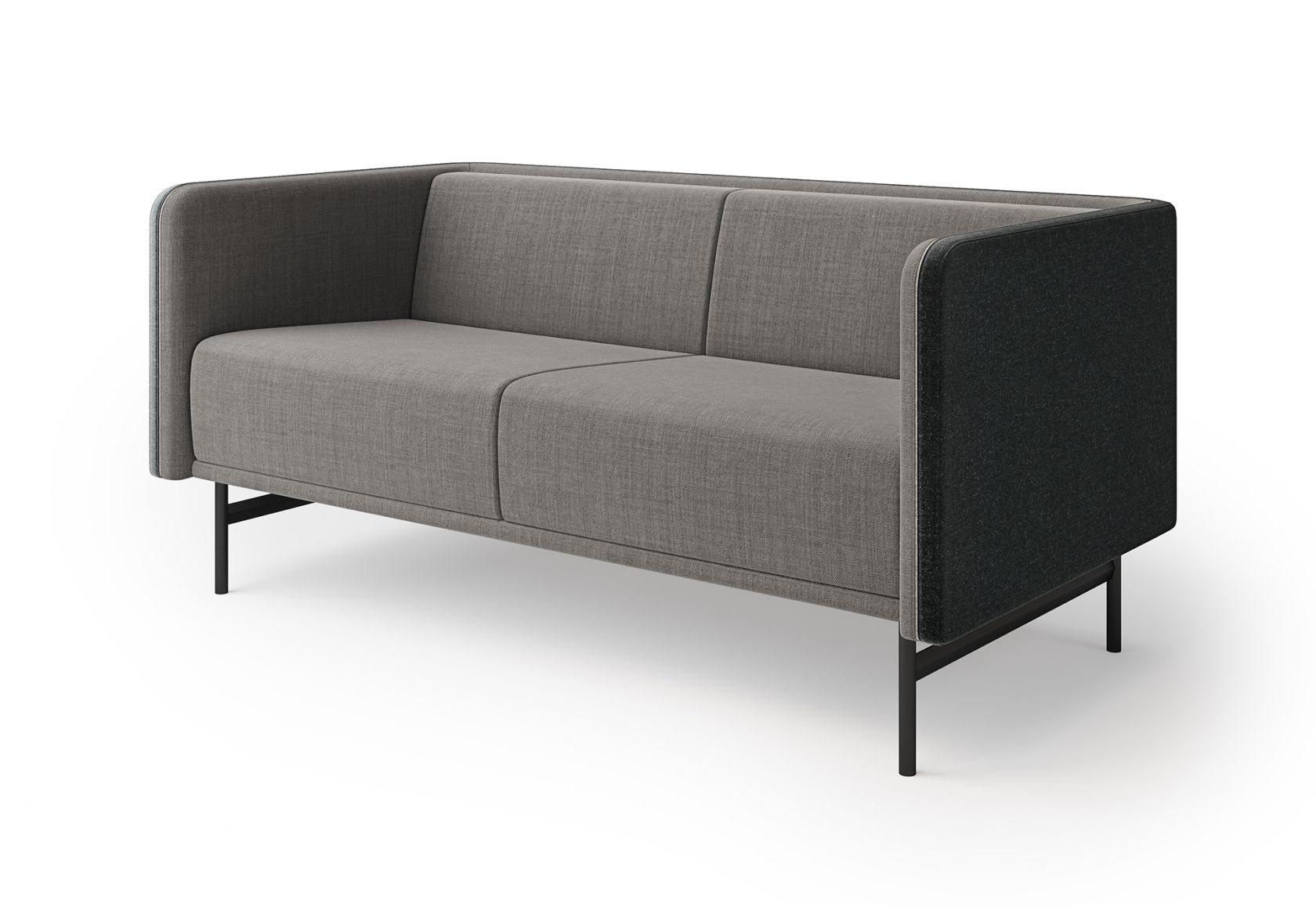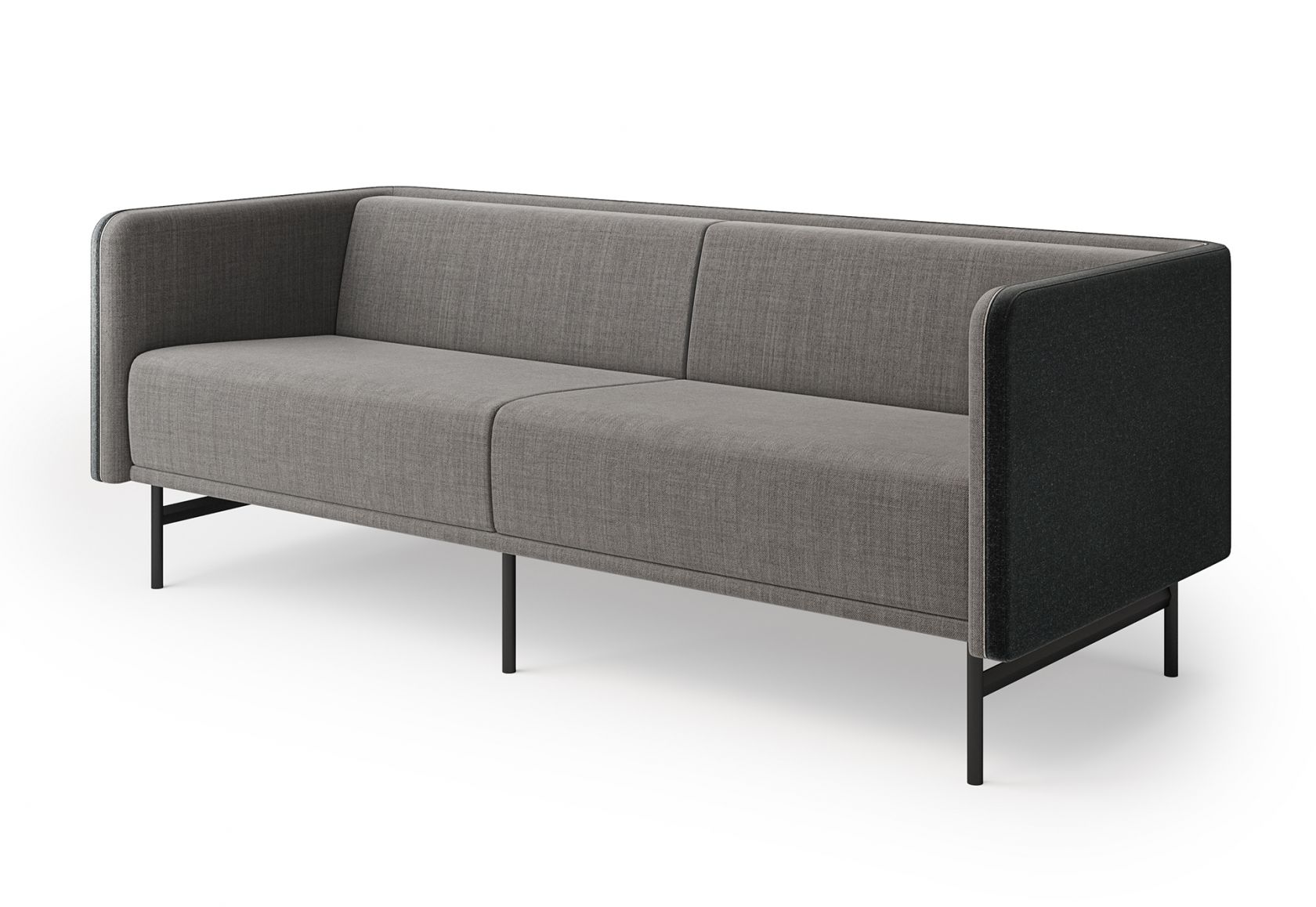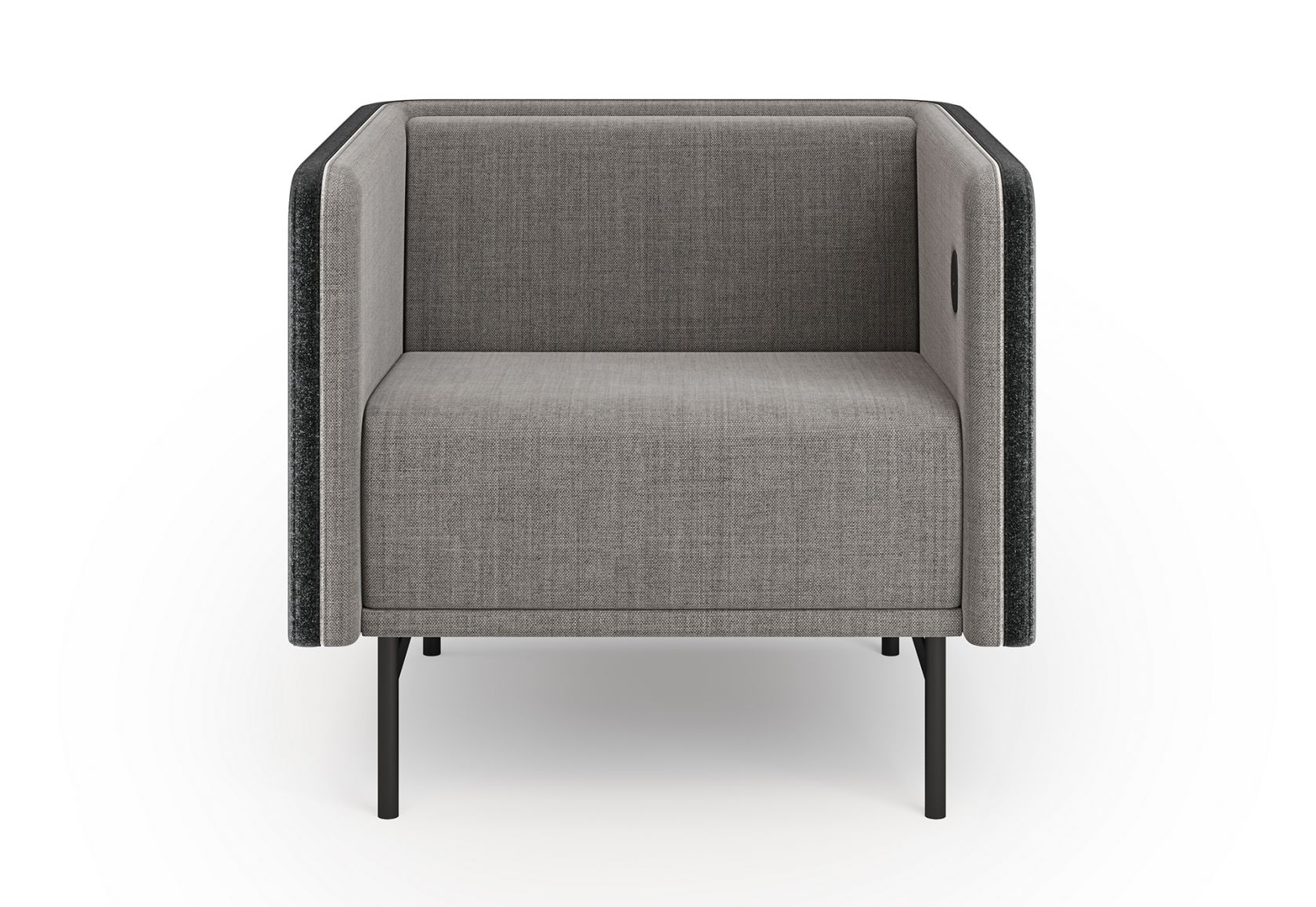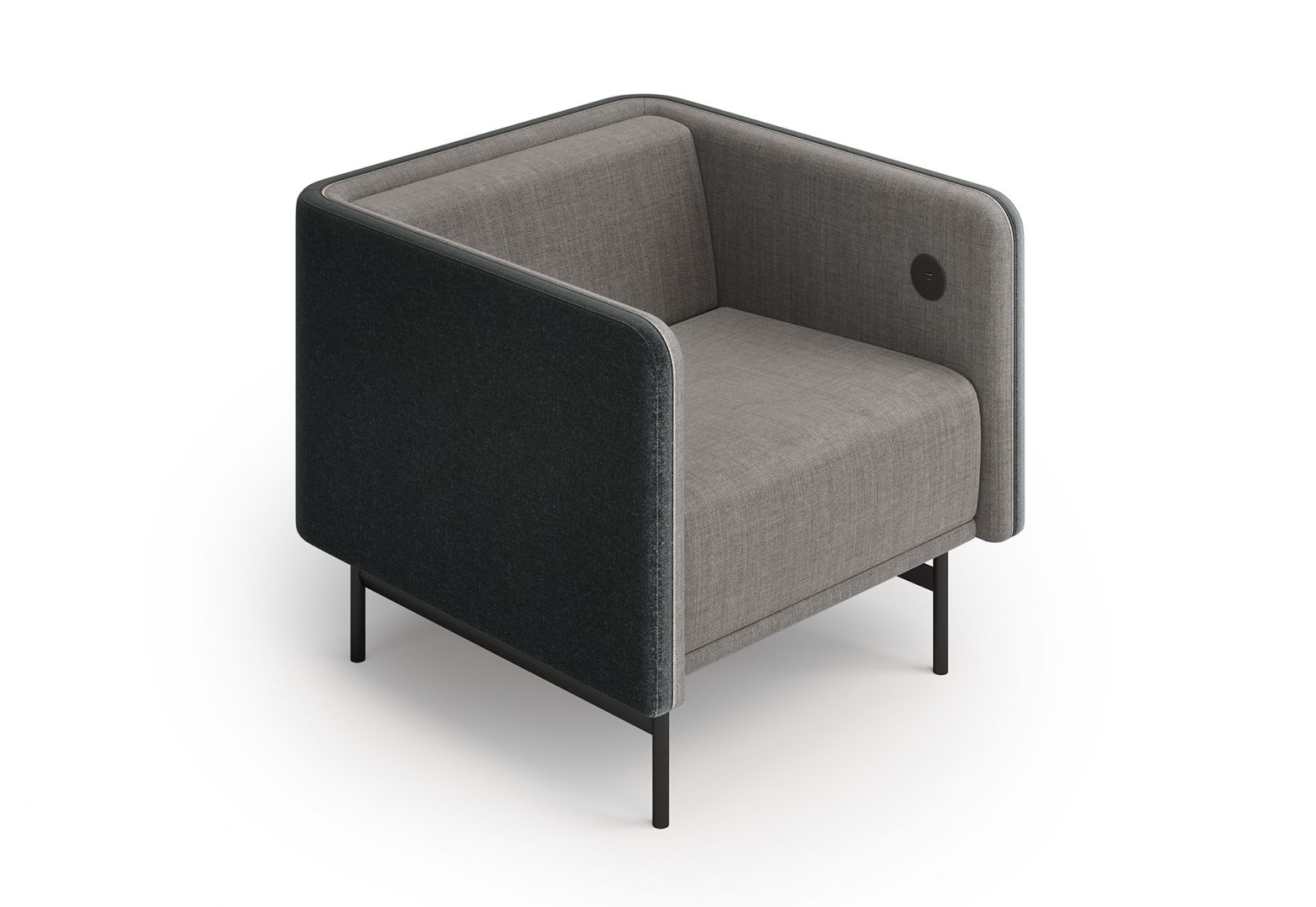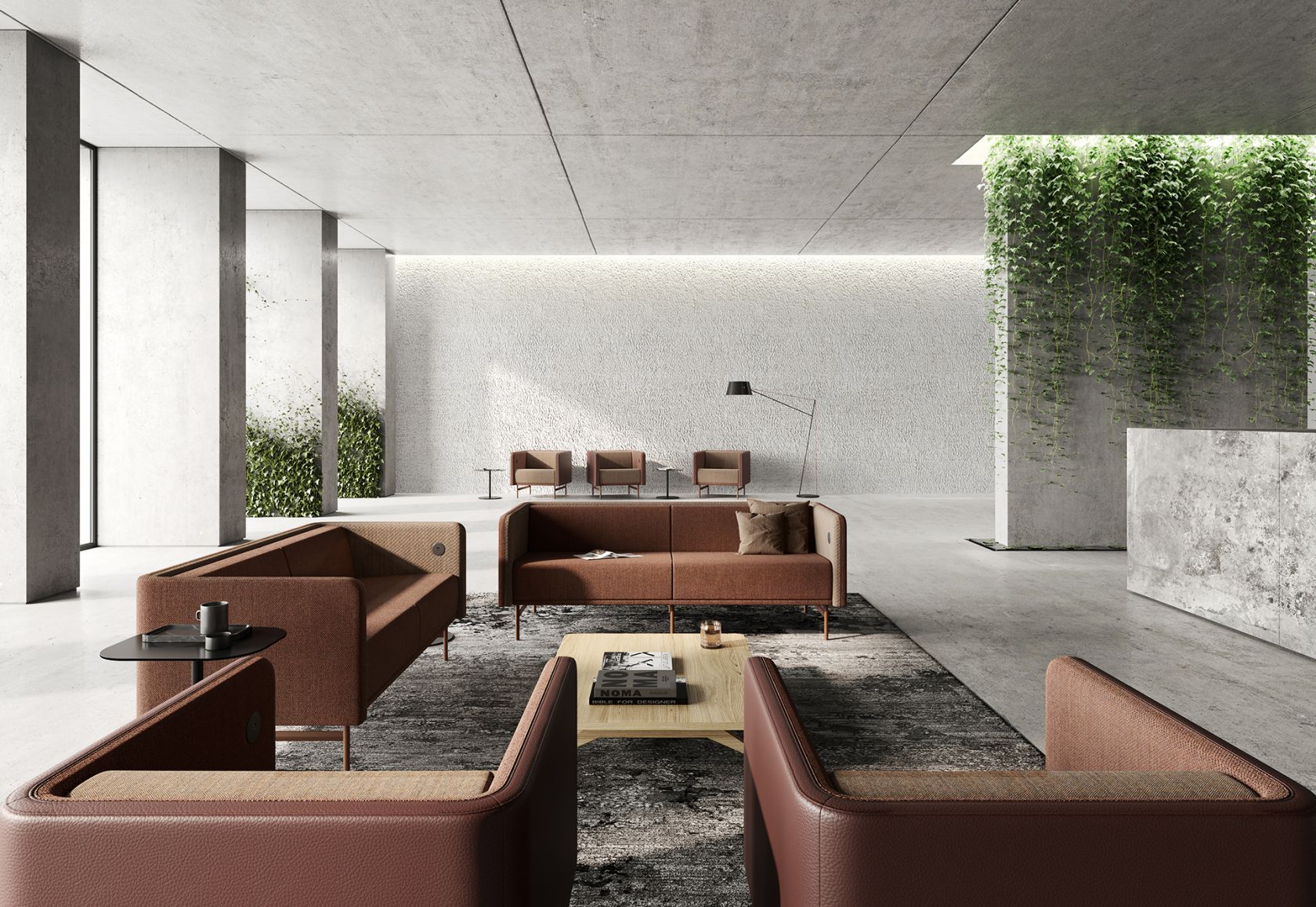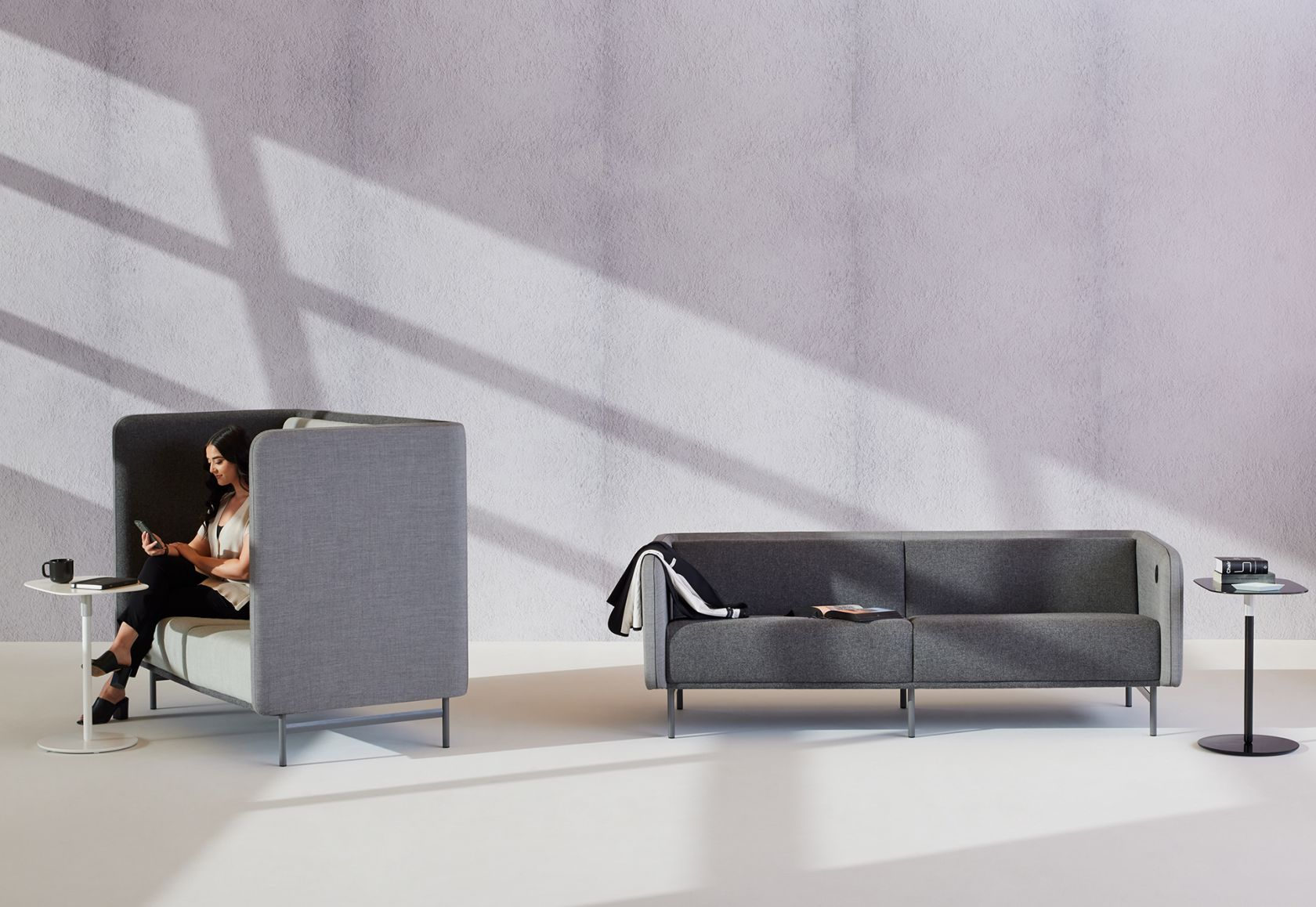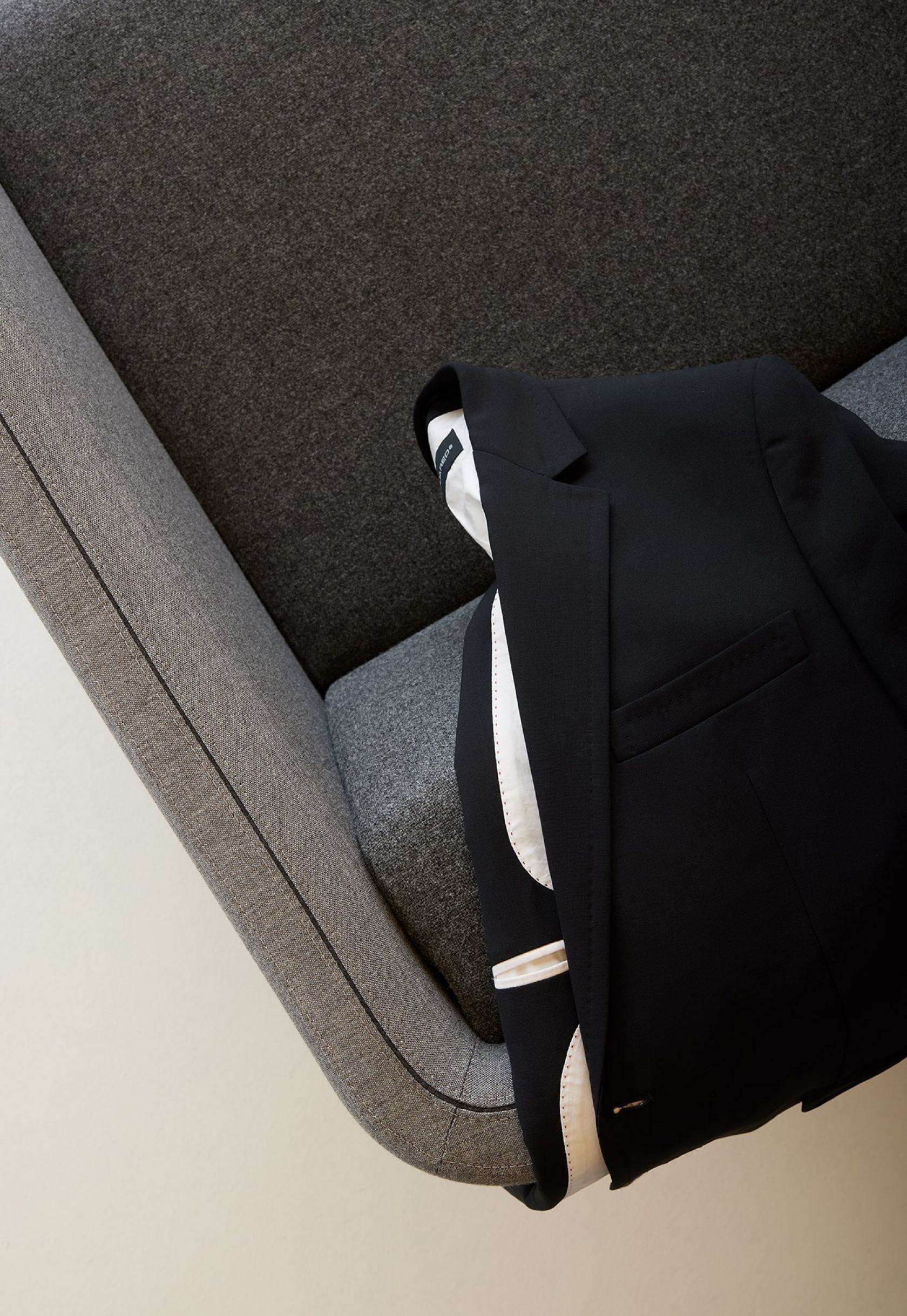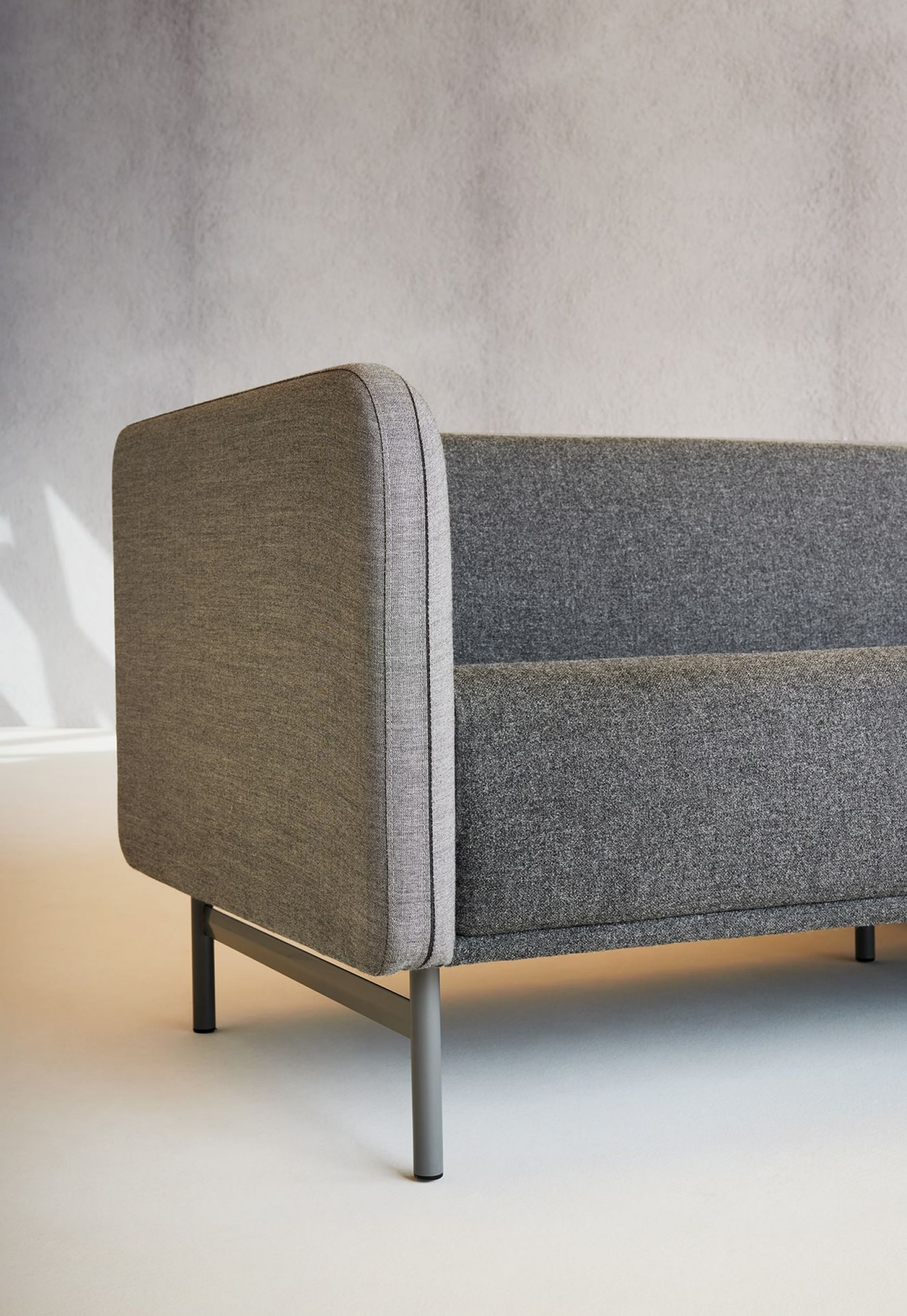 Overview
Ergonomic structured comfort workplace sofa.
Charging points for away-from-desk productivity.
Signature stitching detail.
Single, two or three seater, view all Specifications.
Product of Australia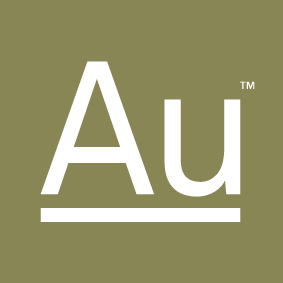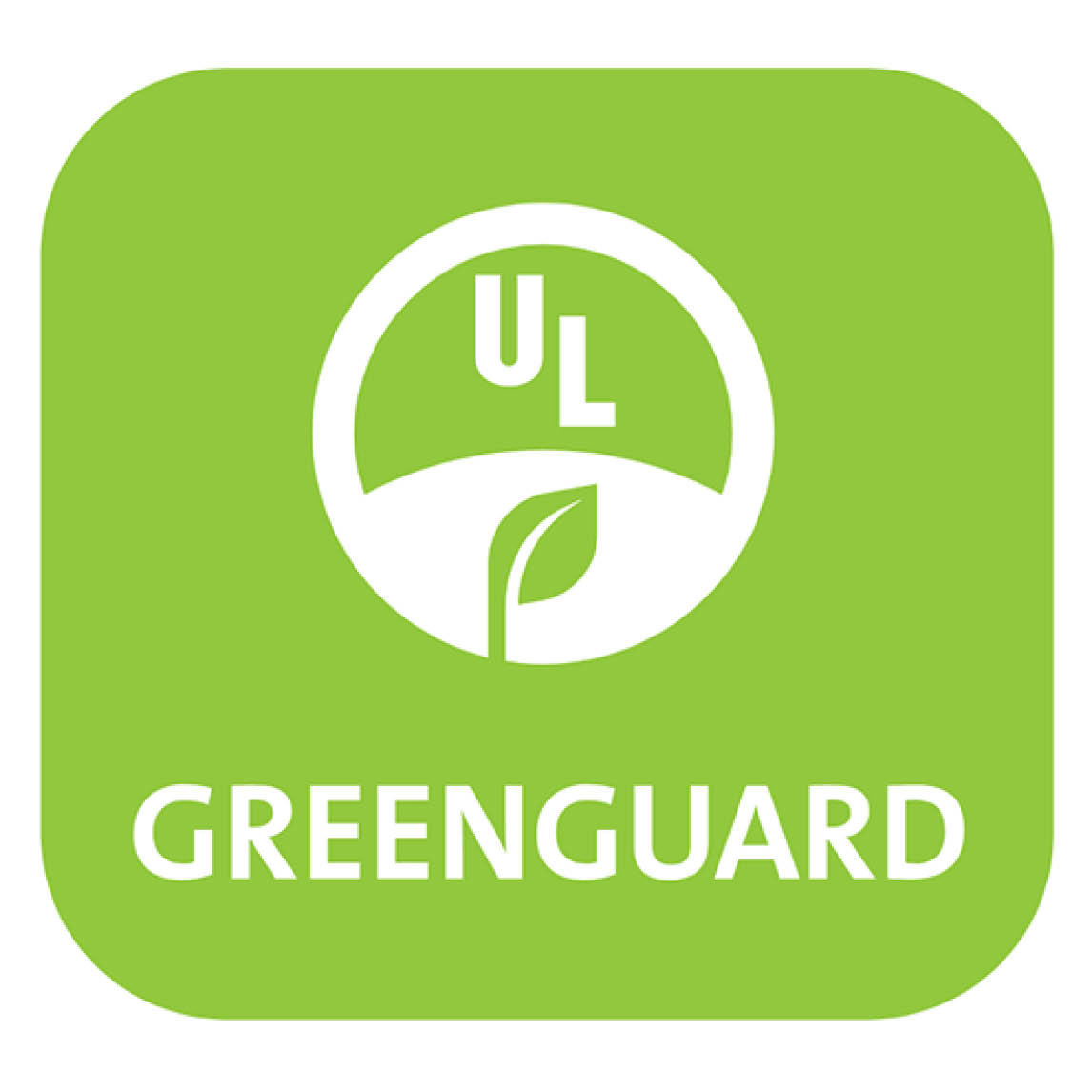 With its versatile form, Valli Float responds to its placement. Whether nestled straight-backed against a wall or positioned as a centrepiece for the hub of office life, the Valli collection is endlessly adaptive. A curated Valli collection can be used to efficiently delineate between key work zones: Community, Retreat and Transitional Space, with seating positioned at the threshold between spaces.
Inspired by precise detailed tailored clothing, the inset stitching detail has been applied with exacting perseverance, despite the pliant stretch of the fabric. The subtle colour contrast of the line guides the eye along the solid arms, before cascading down, grounding the seating in place. The choice of how the finishes selected across all elements of the piece come together is yours – with extensive material combination options included.
ColourLab finishes
Category 1 / Focus
Focus 540

Focus 542

Focus 908
Matador
Matador Bronco Two Tone

Matador Dark Chocolate

Matador Earth

Matador Inky

Matador Laal

Matador Mint

Matador Mist

Matador Newport

Matador Ochre

Matador Scarlet

Matador Steel

Matador Wedgewood
Medici
Medici Blush

Medici Kakadu

Medici Latte

Medici Lichen

Medici Liquid Amber

Medici Pesto

Medici Petra

Medici Pinto

Medici Pumice

Medici Shiraz

Medici Tea Tree

Medici Truffles
Heirloom
Heirloom Cedar

Heirloom Copper

Heirloom Graphite

Heirloom Harvest Moon

Heirloom Into The Woods

Heirloom Lindt

Heirloom Mother Earth

Heirloom Riverstone

Heirloom Royale

Heirloom Urban Rhythm

Heirloom Antique
Focus
Focus 108

Focus 276

Focus 330

Focus 340

Focus 487

Focus 604

Focus 101

Focus 179

Focus 200

Focus 294

Focus 300

Focus 315

Focus 328

Focus 348

Focus 365

Focus 381

Focus 384

Focus 443

Focus 444

Focus 447

Focus 468

Focus 508

Focus 540

Focus 542

Focus 612

Focus 621

Focus 821

Focus 908
Edge
Edge 101

Edge 177

Edge 260

Edge 328

Edge 361

Edge 365

Edge 444

Edge 454

Edge 541

Edge 542

Edge 545

Edge 612
Silk (Healthcare)
Silk Avo

Silk Carbon

Silk Dove

Silk Grapefruit

Silk Moonstone

Silk Navy

Silk Ocean

Silk Petrol

Silk Pine

Silk Platinum

Silk Red Earth

Silk Tan
Rave (Healthcare)
Rave Bass

Rave Crowd

Rave Culture

Rave Electro

Rave Laser

Rave Move

Rave Music

Rave Scene

Rave Strobe

Rave Techno

Rave Tune

Rave Vibe
Meld
Meld 002

Meld 004

Meld 011

Meld 013

Meld 020

Meld 024

Meld 025

Meld 028

Meld 029

Meld 032

Meld 039

Meld 040
Merit
Merit 008

Merit 015

Merit 019

Merit 020

Merit 021

Merit 026

Merit 028

Merit 032

Merit 033

Merit 036

Merit 037

Merit 039
Mode
Mode 005

Mode 008

Mode 010

Mode 012

Mode 018

Mode 023

Mode 026

Mode 028

Mode 030

Mode 033

Mode 039

Mode 040
Trieste (Healthcare)
Trieste 1502

Trieste 3503

Trieste 3508

Trieste 5504

Trieste 6501

Trieste 6505

Trieste 6508

Trieste 7501

Trieste 7504

Trieste 8030

Trieste 8501

Trieste 8504
Atlas
Atlas 111

Atlas 161

Atlas 431

Atlas 471

Atlas 501

Atlas 661

Atlas 681

Atlas 781

Atlas 861

Atlas 881

Atlas 911

Atlas 971
Revive 1
Revive 1 154

Revive 1 384

Revive 1 424

Revive 1 664

Revive 1 774

Revive 1 944
Recheck
Recheck 115

Recheck 125

Recheck 455

Recheck 565

Recheck 775

Recheck 965

Recheck 985
Remix 3
Remix 3 0152

Remix 3 0223

Remix 3 0233

Remix 3 0242

Remix 3 0252

Remix 3 0566

Remix 3 0612

Remix 3 0662

Remix 3 0816

Remix 3 0866

Remix 3 0906

Remix 3 0962

Remix 3 0982
Rime
Rime 111

Rime 551

Rime 571

Rime 591

Rime 781

Rime 791
Steelcut Trio 3
Steelcut Trio 3 105

Steelcut Trio 3 195

Steelcut Trio 3 205

Steelcut Trio 3 213

Steelcut Trio 3 236

Steelcut Trio 3 446

Steelcut Trio 3 453

Steelcut Trio 3 476

Steelcut Trio 3 515

Steelcut Trio 3 526

Steelcut Trio 3 533

Steelcut Trio 3 576

Steelcut Trio 3 636

Steelcut Trio 3 645

Steelcut Trio 3 666

Steelcut Trio 3 686

Steelcut Trio 3 746

Steelcut Trio 3 796

Steelcut Trio 3 906

Steelcut Trio 3 916

Steelcut Trio 3 966
Tonica 2
Tonica 2 0111

Tonica 2 0123

Tonica 2 0443

Tonica 2 0511

Tonica 2 0523

Tonica 2 0531

Tonica 2 0612

Tonica 2 0763

Tonica 2 0773

Tonica 2 0832

Tonica 2 0923

Tonica 2 0962
Category 1 / Metal Powder Coat
Black (Satin & Texture)

Parchment (Texture)

Obsidian Glass (Texture)

Strata (Satin & Texture)
Category 2 / Metal Powder Coat
Parchment (Satin)

Obsidian Glass (Texture)

Cement Grey (Satin)

Emerald Green (Satin)

Fir Green (Satin)

Gentian Blue (Satin)

Grey Beige (Satin)

Orange Brown (Satin)

Oxide Red (Satin)

Pale Green (Satin)

Silk Grey (Satin)

Steel Blue (Satin)

Signal Brown (Satin)

Ash (Satin)

Blush (Satin)

Stone Grey (Satin)
Category 3 / Metal Powder Coat
Colza Yellow (Satin)

Ruby Red (Satin)

Sulfur Yellow (Satin)

Traffic Red (Satin)
Valli is the latest line demonstrating Schiavello's extensive research into movement and psychology, ever centred on understanding and supporting human behaviour in the workplace. To this end, the collection accommodates a range of uses, easily adapted from incidental laptop perch to semi-enclosed conversation zone, or welcoming waiting lounge. Its upholstery extends an open invitation to converge and contemplate.
In this current period of immense global change, we find the corporate landscape in an infinite state of transition. Productivity is required in the office and the home, incorporating more remote work tools, online collaboration and diverse working modes than ever. Valli empowers people and businesses to meet these modern challenges, grounding environments in tailored, functional professionalism.
The Schiavello Design Studio is made up of a number of multi-disciplinary designers and engineers with expertise in industrial design, interior design and product engineering. Supported by an array of trade-based professionals, the technically focused team brings a diverse expertise to new and evolved product development.
Maintaining thoughtful, innovative and research-driven outlooks on workplace design, the Schiavello Design Studio has been the driving force behind a number of the company's most successful solutions. The most notable concepts include Krossi – the first and only Australian made and designed sit/stand desk – in 2013, the pioneering Climate malleable workplace system in 2010, and the industry-leading acoustics 'room within a room', Focus Quiet Room collection in 2019.
Now, introducing the latest sofa collection Valli in 2022, the studio continues to develop solutions catering to changing typology, business and people needs and technology requirements. All while maintaining product quality, longevity, effortless visual appeal and environmental sustainability.
Related Products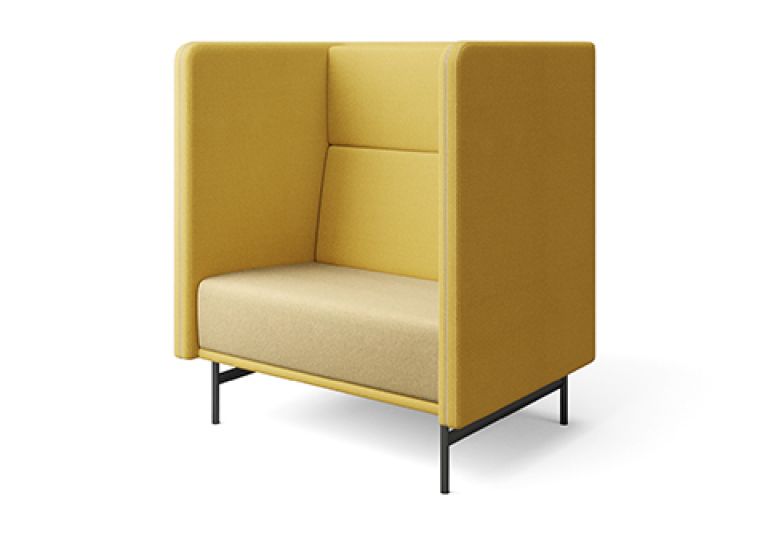 Valli Cove's high back upholstered walls create a powered sofa perfect for a moment of pause. This visual and audio privacy supports both quiet conversation and solo focus.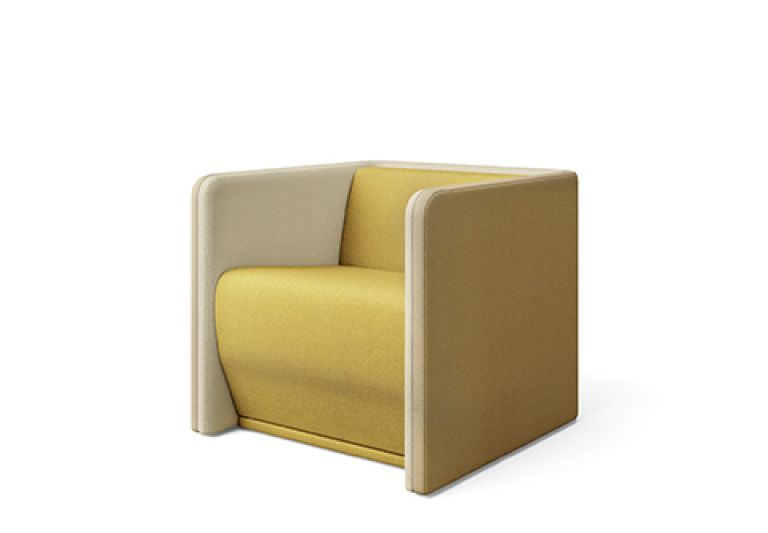 Workplace lounge, Valli Drift, is an open invite to connection and conversation. It's floor length upholstery encases custom caster glides to enable easy movement and support change.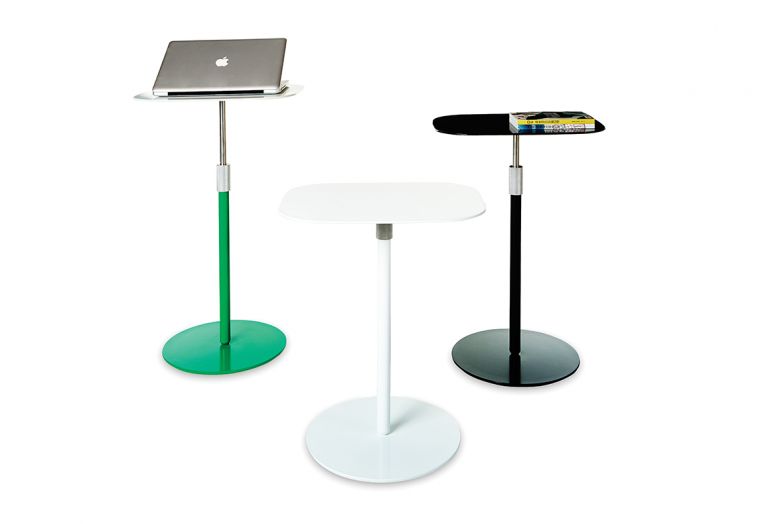 The portable and height-adjustable OTM (On the Move) Table, named after it's mobile nature, securely holds laptops and books wherever required.
Related Research & Projects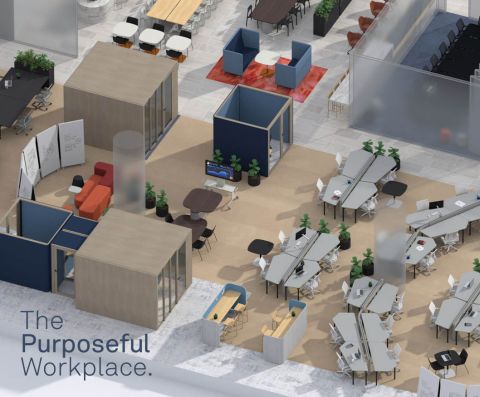 The new purpose of the workplace is to bring individuals and teams together in an environment that fosters connections and relationships, collaboration and innovation.