Largest suburban mixed-use development
The $800 million mixed-use development is one of the largest ever undertaken outside of the Melbourne CBD, and is located on a 35,000sqm parcel of land in the city of Monash. It provides a range of residential offerings, an international hotel and short-stay accommodation, convenience retail, dining and entertainment options, premium office spaces, gym and childcare all within the fast-growing region.
M-City was designed by leading urban planners and architects, including the Buchan Group, to deliver a seamless 24-hour lifestyle.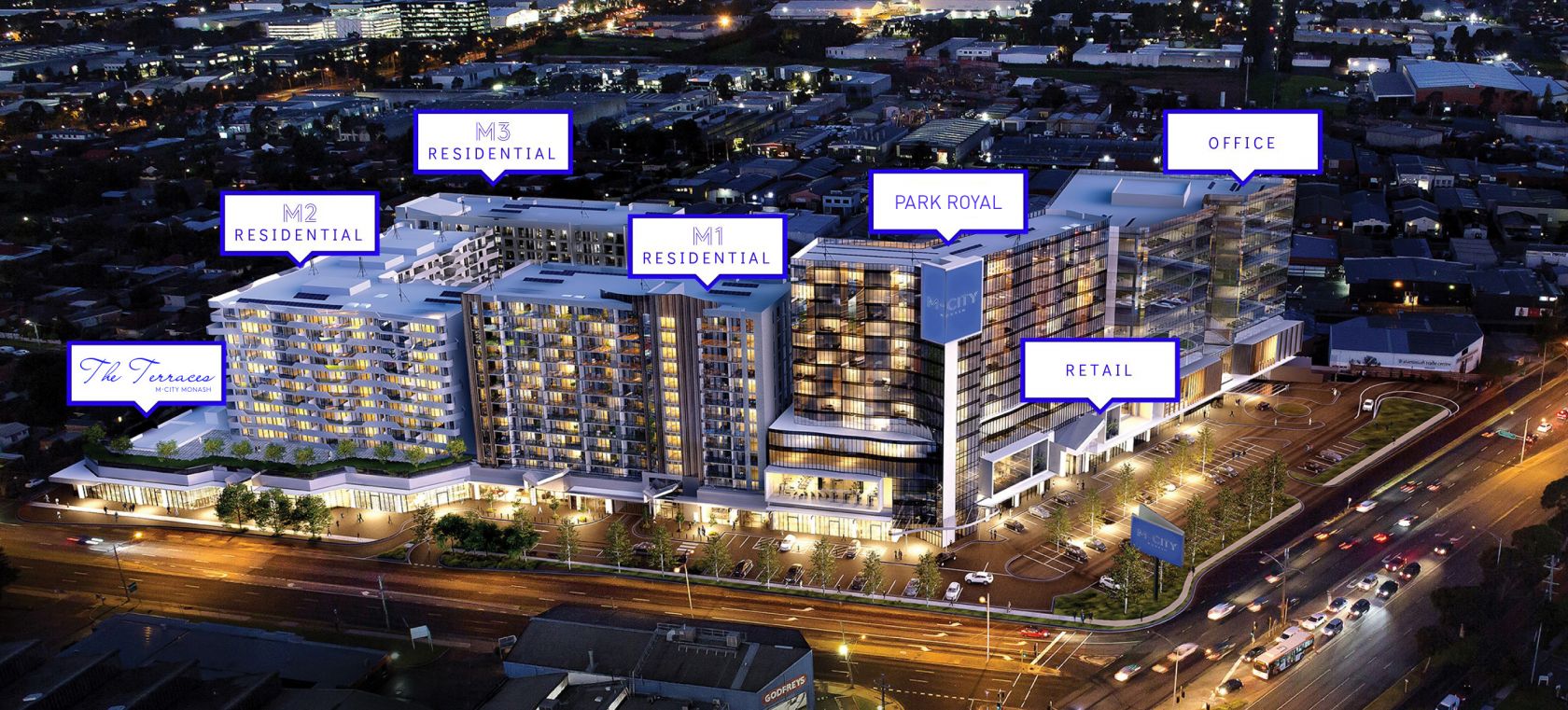 Live
M-City's low-rise residential block and three residential towers feature one, two and three-bedroom apartments with open plan living. A pool, landscaped gardens, tennis court, children's playground and BBQ areas complete the precinct's community focused resort-style amenities.
Leisure
From catching the latest movies at the Village Cinema to enjoying dinner and drinks, M-City offers a highly social scene. The precinct also includes a double-storey, light-filled centre with robust amenities and over 60 retail offerings, all an easy walk from the residences.
Health and wellbeing
Keep an active and healthy mind and body with M-City's own state-of-the-art fitness centre with a pool, tennis court and gym, as well as a conveniently located medical suite and pharmacy.
Work
M-City's eight-storey office tower will become a premium corporate destination. Designed by architects Buchan Group, the structure boasts a beautifully layered glass façade, and all the amenities of a CBD office.
Stay
M-City's Hotel features 250 rooms and is wrapped in a distinctive bronze façade. It will provide luxurious contemporary accommodation, function, and conferencing facilities to support education and businesses enterprises.
Community
With its mix of residences, retail and commerce, this is a city in miniature. M-City creates its own vibrant community, with a diverse offering set to attract people from near and far.
Completed in mid-2020
Peter Schiavello, Managing Director of Schiavello, says, "M-City is will become an exemplar of integrated living, health and wellbeing, entertainment and social connection, convenience shopping, and work in Melbourne. A great investment for residents and a new community centre for the people of Monash."
Construction on M-City began in 2018, following a turning of the sod ceremony, and was completed in mid-2020.
M-City is a Schiavello Group development. Its final residential tower has been in strong demand with 80% sold and 60% of office and retail spaces let.
For enquiries, head to m-city.com.au or contact Vito Chiodo at [email protected]
Visit the M-City Website
Discover a new landmark address surrounded by Melbourne's world-class education and medical precincts.