Anything is possible
Tony Schiavello, with the help of his younger brother Joe, founded Schiavello Group in 1966. Since then, Schiavello has worked with thousands of brands across a wide range of industries including office, hospitality, health, retail, residential, and education.
Over 50 years later, our 'anything is possible' attitude has seen us grow into an innovative, multi-disciplined, and trusted property partner.
1966 – Where it all began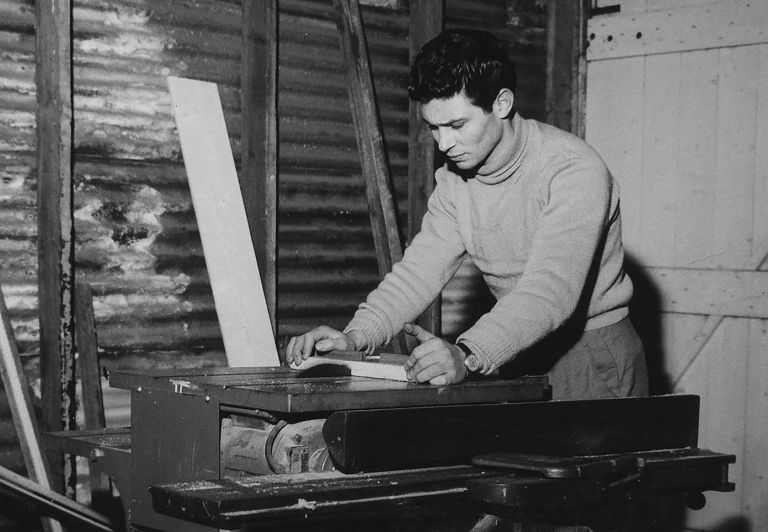 Tony Schiavello registers TT&G as a partnership with Joe Schiavello and Tony Cipollone. First contract is awarded by Cemac to install demountable partitions at 15 Williams St, Melbourne. Two years later Tony establishes Schiavello Bros Pty Ltd.
1967 – Mark I Partition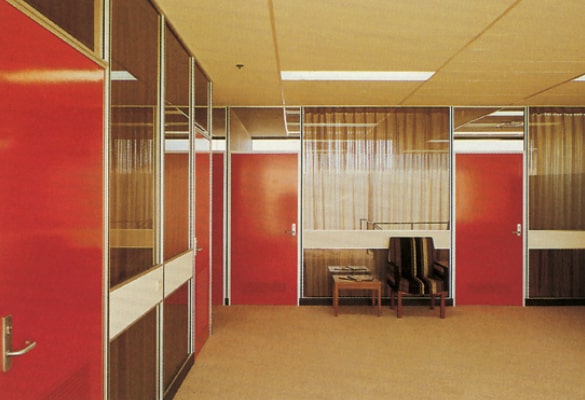 The early development of a partitioning system is born. MK1 is a series of demountable partitions that can be modified with various finishes, framings and colours to suit client needs.
1968 – Victorian Insurance project
Schiavello finalises large scale partition works at Victoria Insurance, located on the corner of Market Street and Flinders Lane in Melbourne.
1970 – moves to airport west
The need for larger operational facilities leads Schiavello to new premises in Airport West. First a factory on Louis Street, followed by another facility on Fraser Street two years later. Further land is acquired on Moore Road and a 1900sqm factory is built which the company still owns today.
1971 – 8,000 voting booths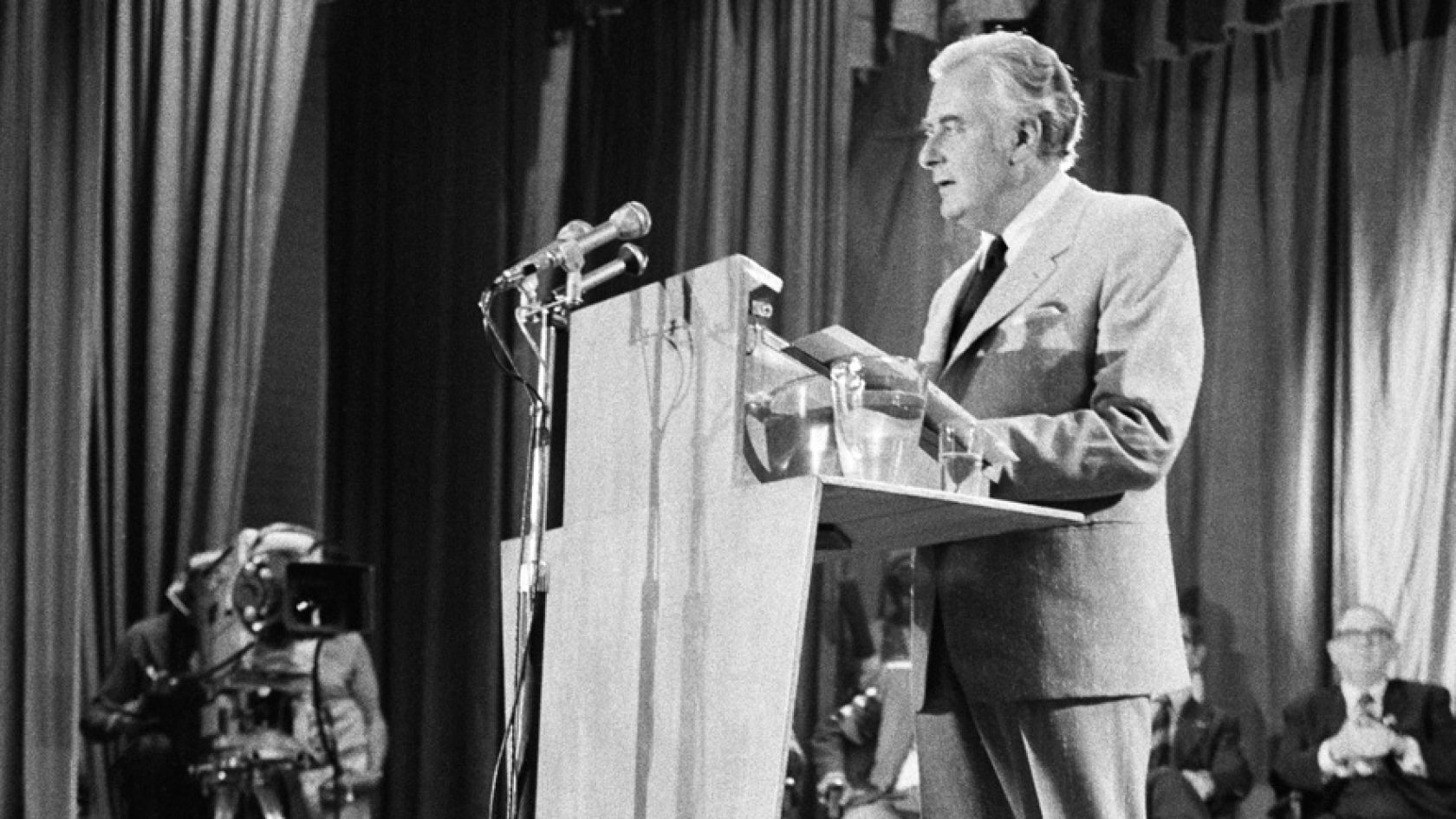 In preparation of the federal election that would see Gough Whitlam's Labour Party come into power, Schiavello produces over 8000 voting booths nationwide for the Australian Electoral Office.
1972 – Visit to Orgatec
Seeking inspiration and opportunity to develop the business, Tony and a young, eight-and-a-half year-old Peter Schiavello travel to Germany to attend the world-leading machinery trade fair Ligna, followed by a design exhibition in Milan.
1978 – series 35 & 45 desking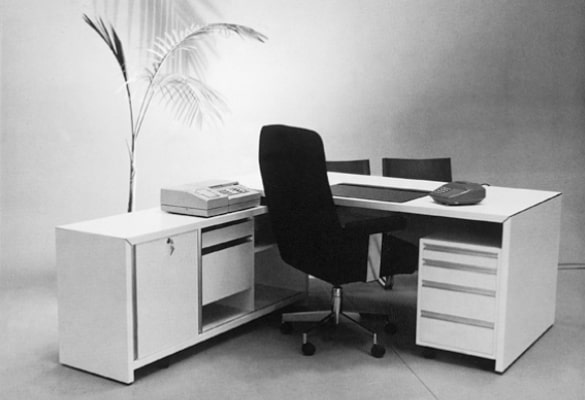 The office furniture operation of the business is established with the introduction of Series 35 and Series 45 – foldable desk collections that allow for easier transportation.
1979 – La trobe street showroom opening
1982 – Primatic Ergonomic Desk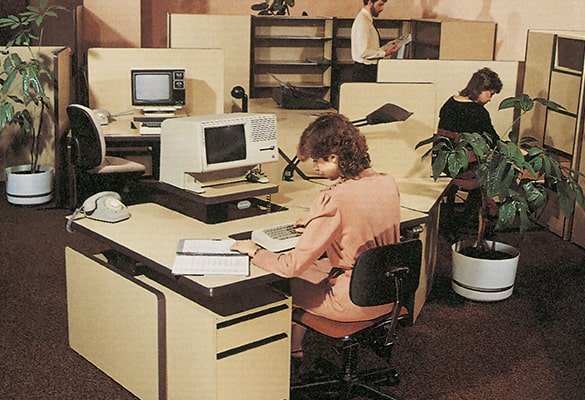 Schiavello designs and manufactures its first series of ergonomic, height-adjustable desks as part of Federal Government requirements for computer desks. The Primatic ergonomic desk is launched a year later, one of the first ergonomic desks in the world to have a full, user height-adjustable main worktop.
1985 – Launch of Interstat
With the rising popularity of computers in the workplace, Schiavello launches its first workstation Interstat; a versatile evolution of the MK10 partitioning system that combines the company's partitioning and furniture expertise.
1986 – Spot The Prima Bus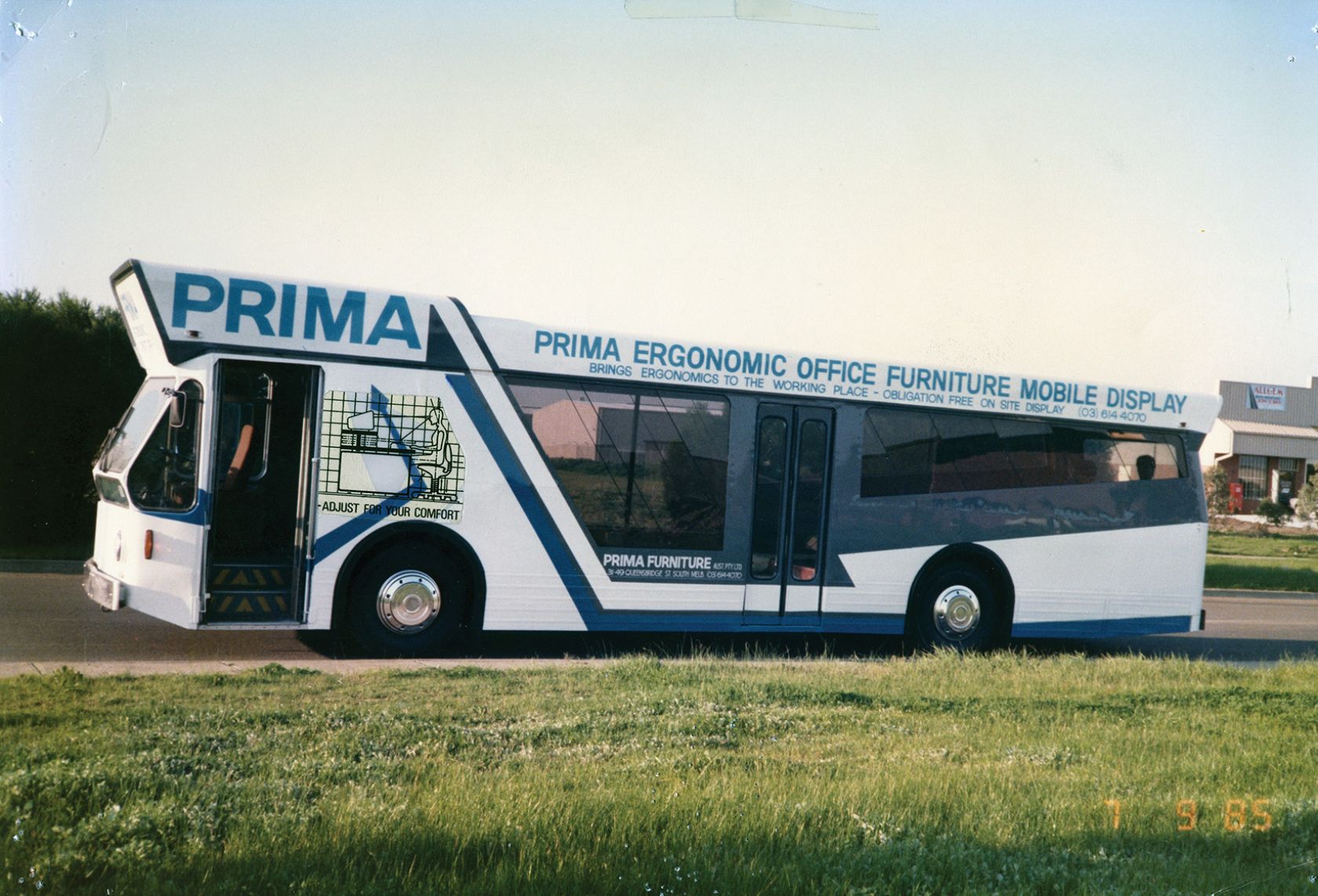 Prima Bus, a passenger bus converted into a mobile showroom, becomes a hugely successful marketing tool. Travelling the streets of Melbourne and interstate, 'Spot the Prima Bus' become a well-known catch cry thanks to a regular promotional segment on 3AW Breakfast.
1986 – Schiavello Exhibits At Orgatec
Schiavello travels to Cologne in Germany to exhibit Interstat at the world leading furniture fair Orgatec. It is the first exhibit of many for Schiavello.
1987 – Interstate Expansion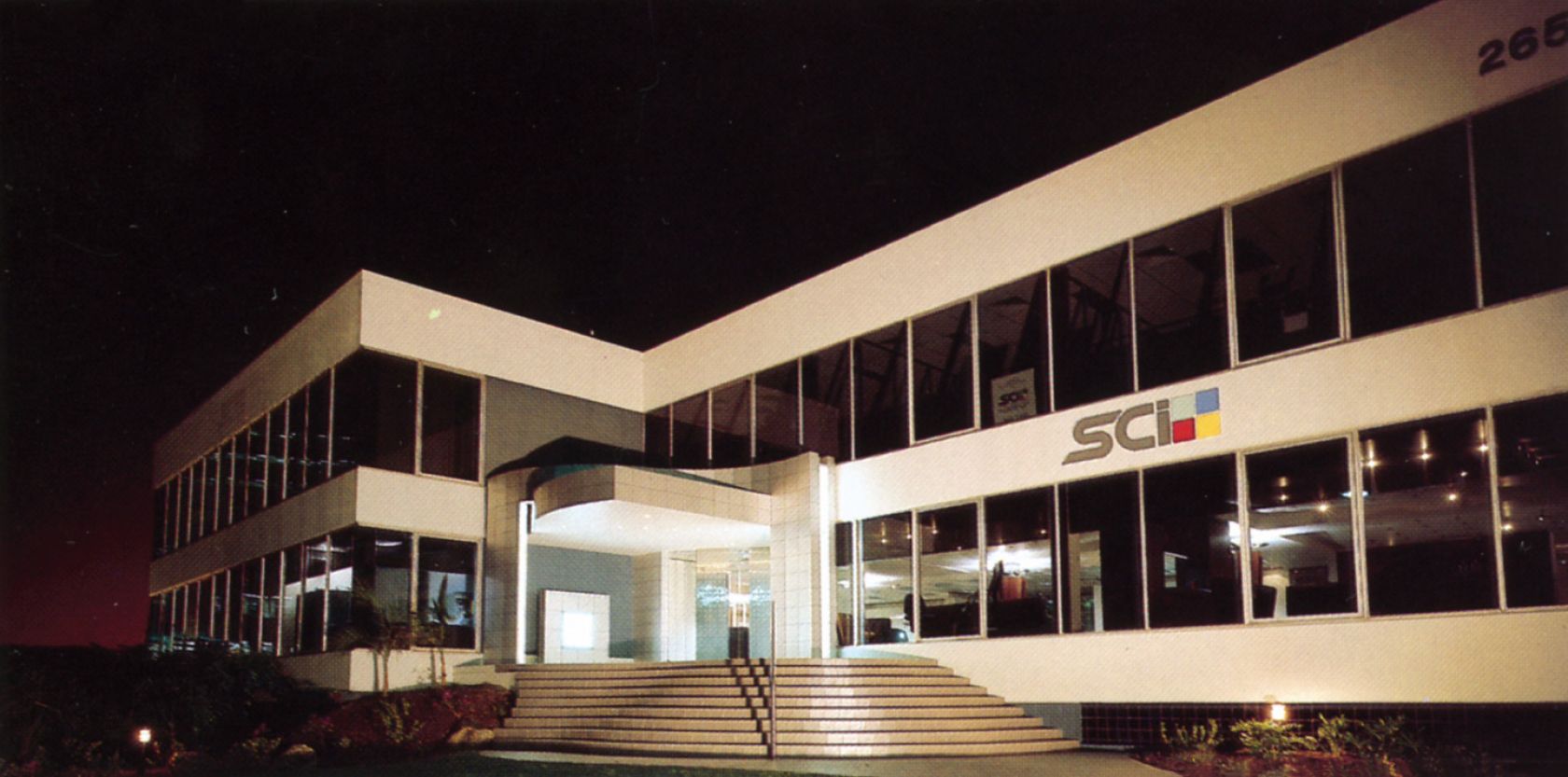 Interstate expansion begins with offices opening in NSW and the ACT. Within four years QLD and WA open, with SA following in 1993. Schiavello now has national coverage for Construction and Furniture operations.
1988 – FIRST INTERNATIONAL EXPORT
Schiavello employs Middle East export manager Chris Cally and a year later competes against 10 international contenders to win their first international export project. $1 million worth of Interstat workstations are installed for BAPCO in Bahrain.
1989 – Launch of Details Magazine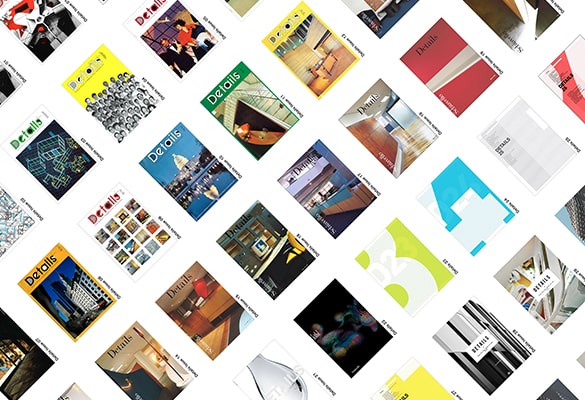 In-house publication Details Magazine begins production. It showcases the top projects and products delivered throughout the years.
1989 – Interpower Is Developed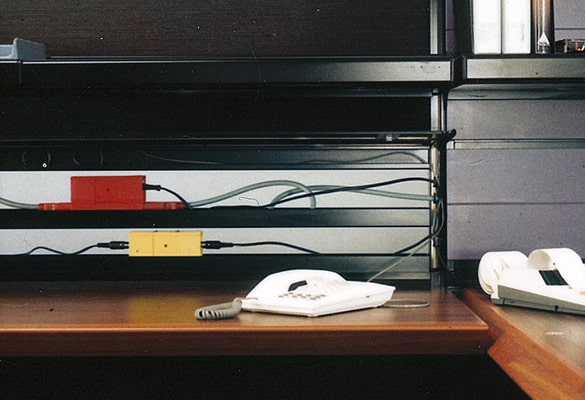 Schiavello develops its original electrical soft wiring system, Interpower; the first true, modular wiring system designed and produced in Australia to use moveable socket outlets, junction boxes and data modules.
1989 – Interstat 90 Workstation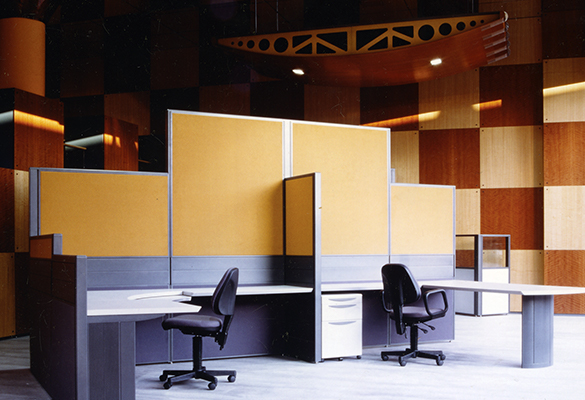 The fully modular Interstat90 proves to be a ground-breaking workstation system that responds to the need for flexibility in the office during the 90's.
1990 – Ethical Business Award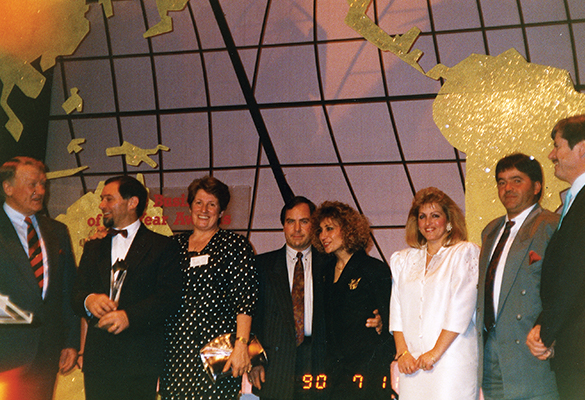 Telecast live on SBS, Tony Schiavello wins the National Bank Ethnic Business Award which acknowledges high achievers from within Australia's migrant business community.
1991 – First Project for KPMG
One of many long-lasting client relationships is formed when Schiavello carries out high-end partition and joinery work for KPMG Peat Marwick at KPMG House.
1992 – World Bank Contract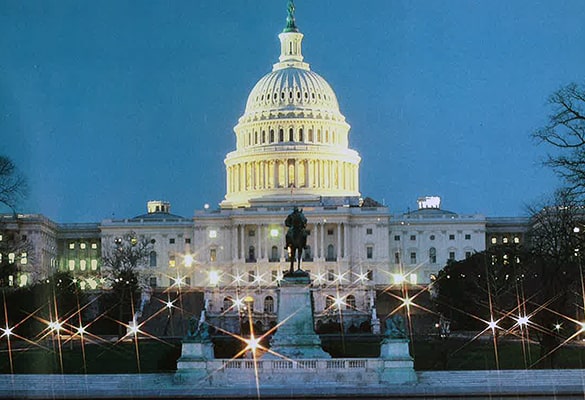 Schiavello's international presence advances significantly after winning the prestigious World Bank contract. One of the largest projects for Logico, in excess of 20,000 workstations are supplied at the Washington D.C. head office in addition to conference and meeting room furniture.
1993 – Clayton UTZ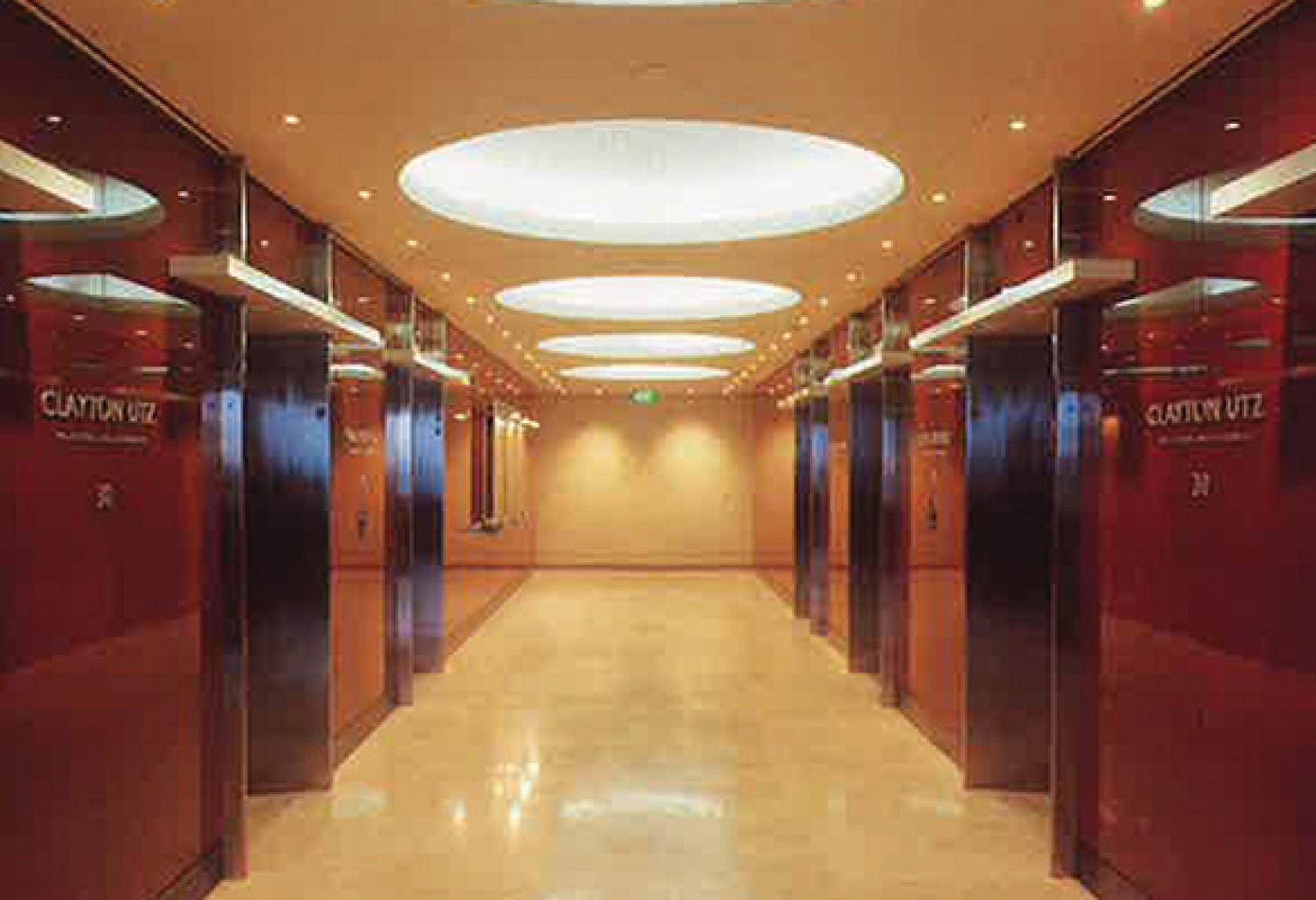 Encompassing 10,000sqm across nine floors, Schiavello carries out one of its largest interior construction projects as head contractor at Clayton UTZ, Sydney.
1993 – Sesto Desking System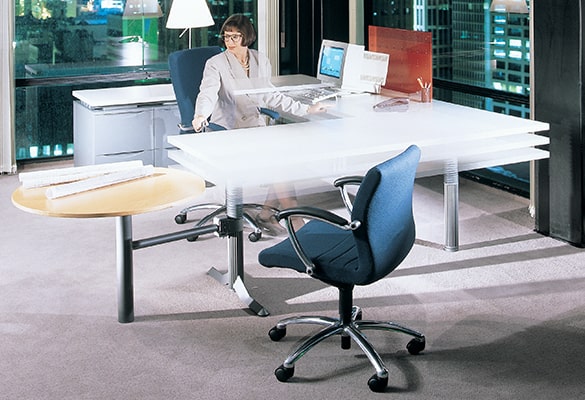 The Sesto desking system enters the workstation market offering a multi-tasking work setting with a world-first worktop height adjust-ability design.
1995 – Newtech Workstation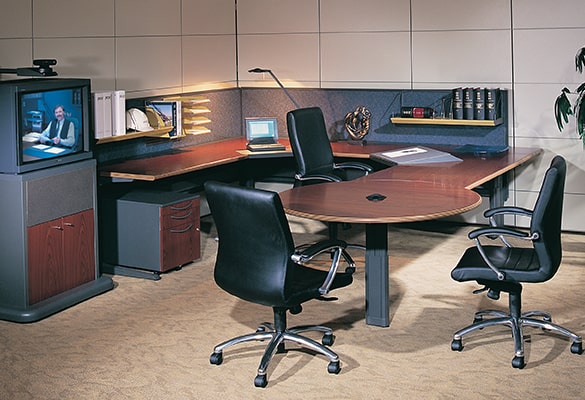 The Newtech height-adjustable workstation is awarded for 'Excellence in Design and Manufacture of Systems Furniture' at the Australian Furniture Fair in November 1995.
1995 – RMIT Hot Desk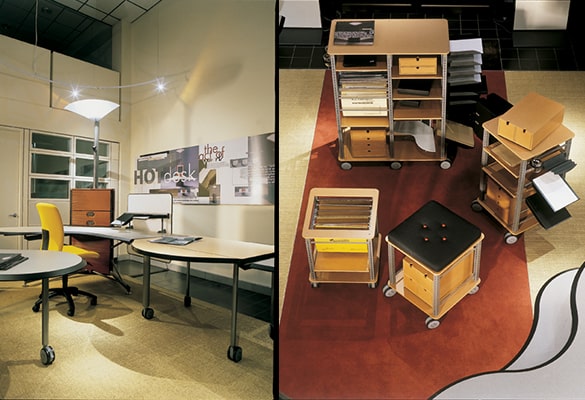 In collaboration with RMIT's federally funded Eco-Redesign project, Schiavello creates the 'Hot Desk' concept (Australia's first mobile workplace).
1997 – ISO 14001
Schiavello becomes industry trail-blazers and implements the Environmental Management System ISO 14001 accreditation.
1997 – Crown Melbourne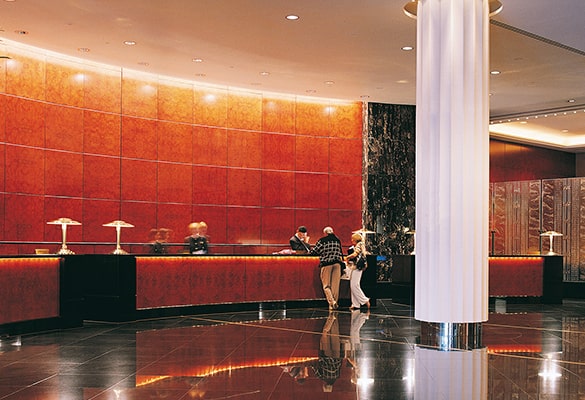 The opening of Crown Melbourne sees Schiavello carry out extensive high-end interior construction and joinery across the complex. A long-standing relationship is formed, which leads to ongoing projects including major hotel refurbishments in 2007.
1999 – Singapore Showroom opens
2002 – SmartGuide Partnership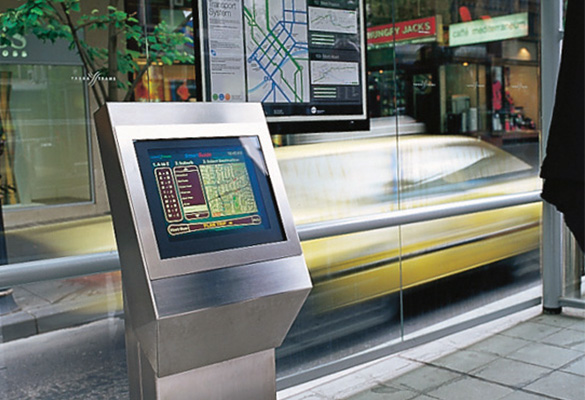 In an Australian first, Schiavello partners with SmartGuide to introduce a passenger information systems for the Melbourne tram network.
2002 – Omvivo is established
Bathroom ware company Omvivo is established and becomes an important design exercise within the Schiavello Group.
2003 – Future Ways of Working Forum
A precursor to further workplace research and knowledge, Schiavello hosts its first facilitated Future Ways of Working Forum.
2005 – NGV BENCH IS CommissionED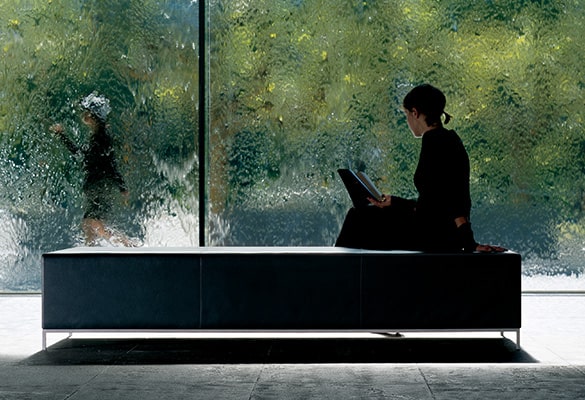 Renowned Italian architect and designer Mario Bellini,
commissions Schiavello to manufacture the NGV bench for the re-opening of the National Gallery of Victoria.
2005 – TULLAMARINE HQ OPENS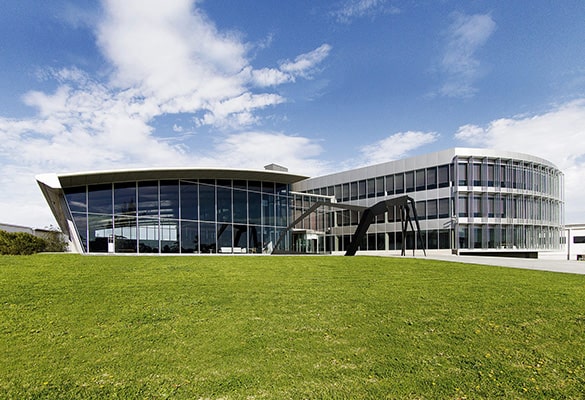 2006 – Master Builder of the Year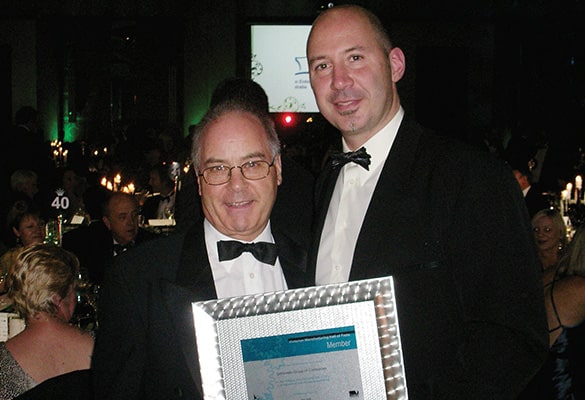 Schiavello is recognised as the 2005 Victorian Master Builder of the Year Award for the Group's new HQ. Tony Schiavello is also inducted into the Victorian Manufacturing Hall of Fame.
2007 – ATLANTIC GROUP PARTNERSHIP
Schiavello partner with catering and event specialists Atlantic Group [v] and in 2011, together open seafood restaurant The Atlantic, at Crown Melbourne.
2007 – OFSC Accreditation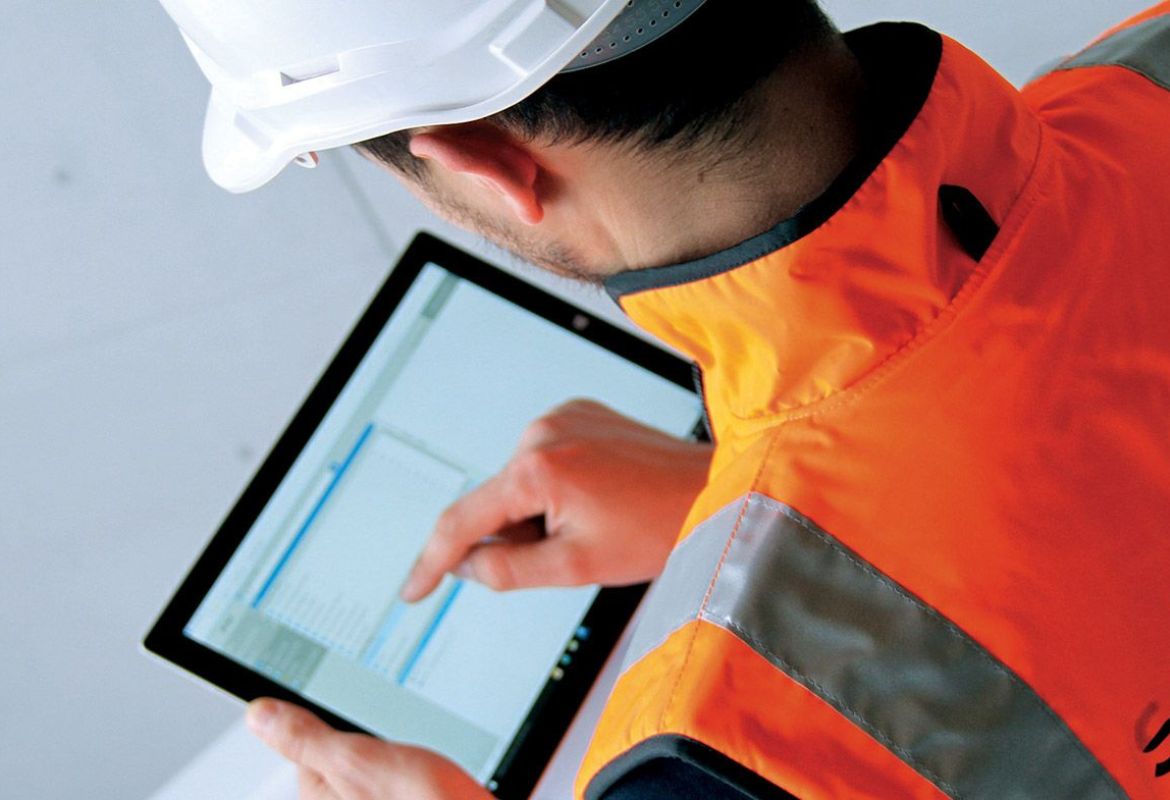 OFSC safety accreditation – the highest safety scheme in Australia – is achieved across Schiavello's construction divisions.
2007 – Artist Apartments
The Artist, a multi residential property in Fitzroy, Melbourne, is developed in joint venture with PDG.
2009 – Change in Leadership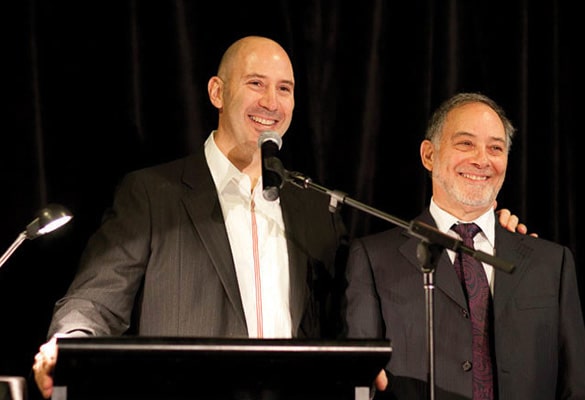 A new generation leads the way for the company's future as Peter Schiavello is appointed Managing Director of Schiavello Group.
2009 – Climate Product Released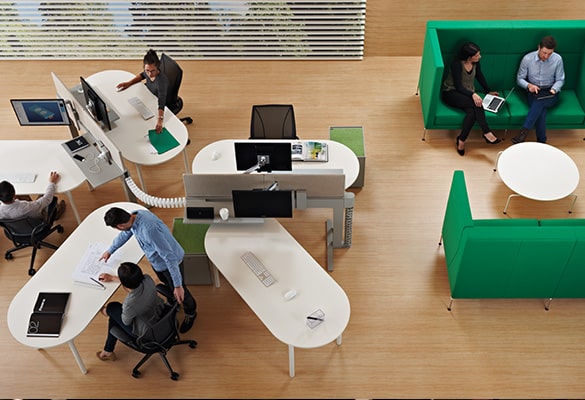 Climate is Schiavello's revolutionary malleable workplace program that enables organisations, teams and individuals to shape the work environment to suit their specific needs.
2011 – Fujitsu Facility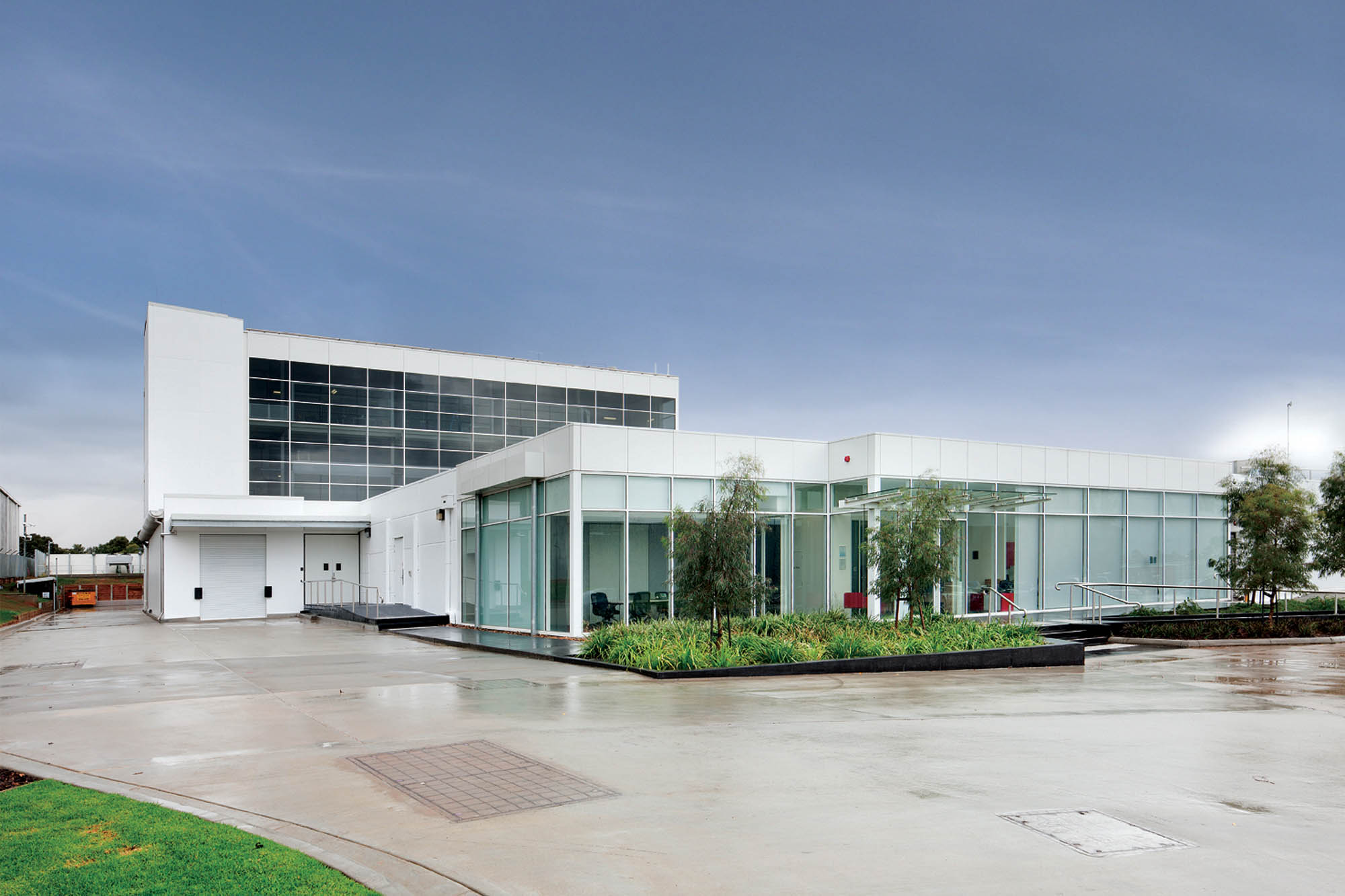 Schiavello completes both the base build and interior construction of Fujitsu's main Victorian facility.
2012 – Australian Red Blood Cross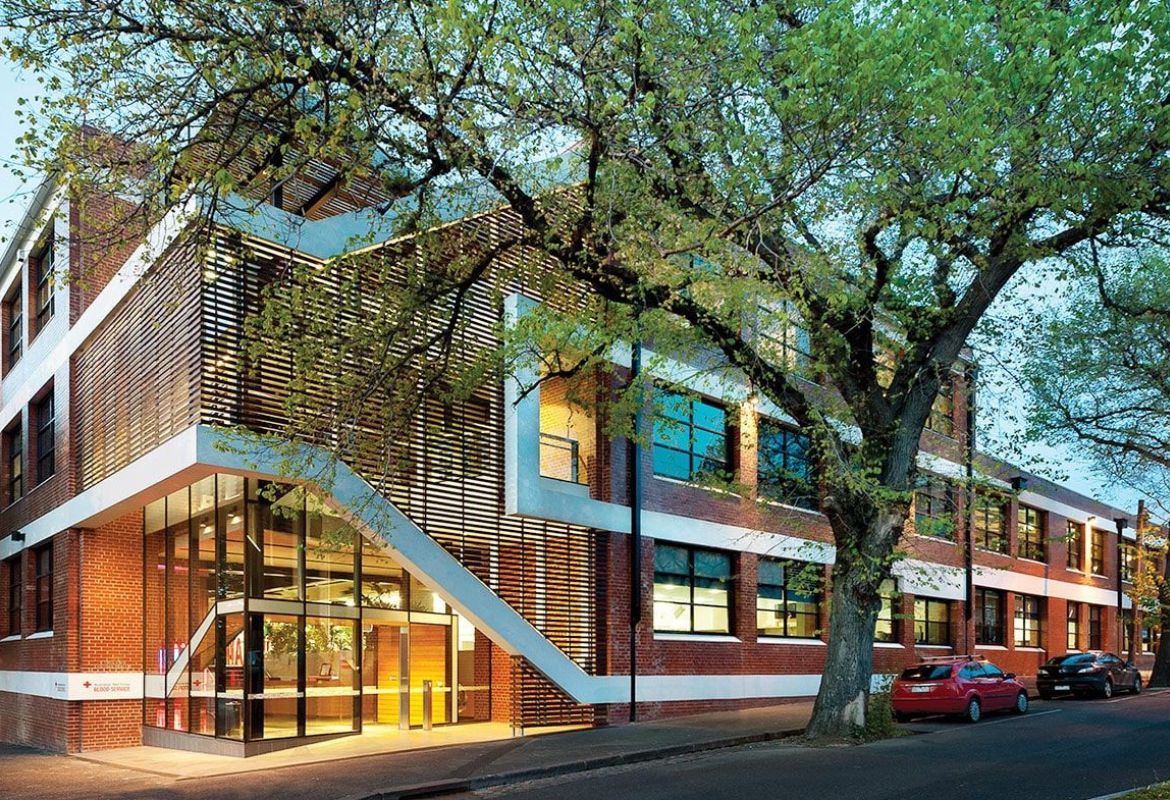 Tony Schiavello negotiates the sale of the 18,000sqm building and warehouse, inclusive of major structural and services upgrades to meet level 8 earthquake-proof standards.
2013 – Commonwealth Parliament Offices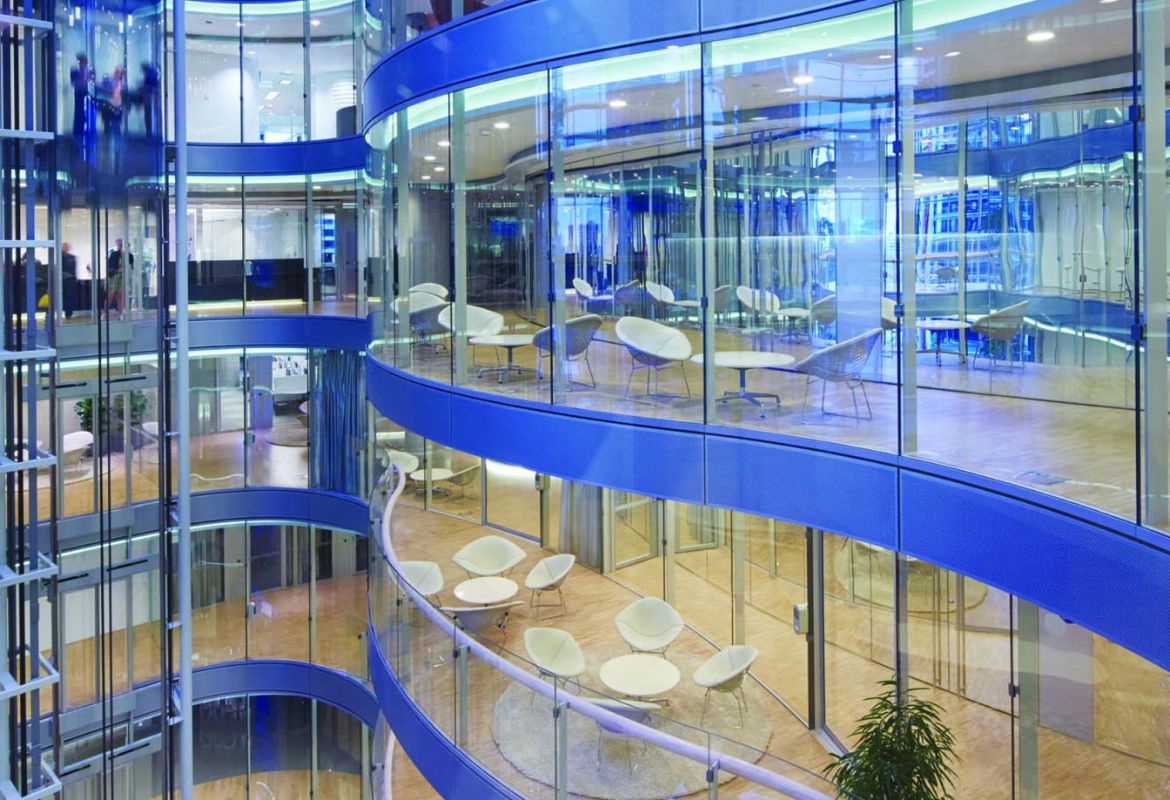 Described by many as 'the project of a lifetime', Schiavello is awarded the role of Head Contractor for the Sydney Commonwealth Parliament Offices.
2013 – Order of Australia
Tony Schiavello is honoured as a Member of the Order of Australia for his significant service to business; particularly in the manufacturing and construction industries.
2013 – Krossi Workstation Launched
Schiavello pioneers health and wellbeing in the workplace with the release of Krossi; a sit-stand desk developed and produced in Australia.
2014 – Cleveland Clinic
Cleveland Clinic in Abu Dhabi represents the most significant healthcare project in Schiavello's history, involving the production of over 100 sea containers full of furniture and product for clinical and public spaces within the hospital.
2015 – Prima Tower & Abode318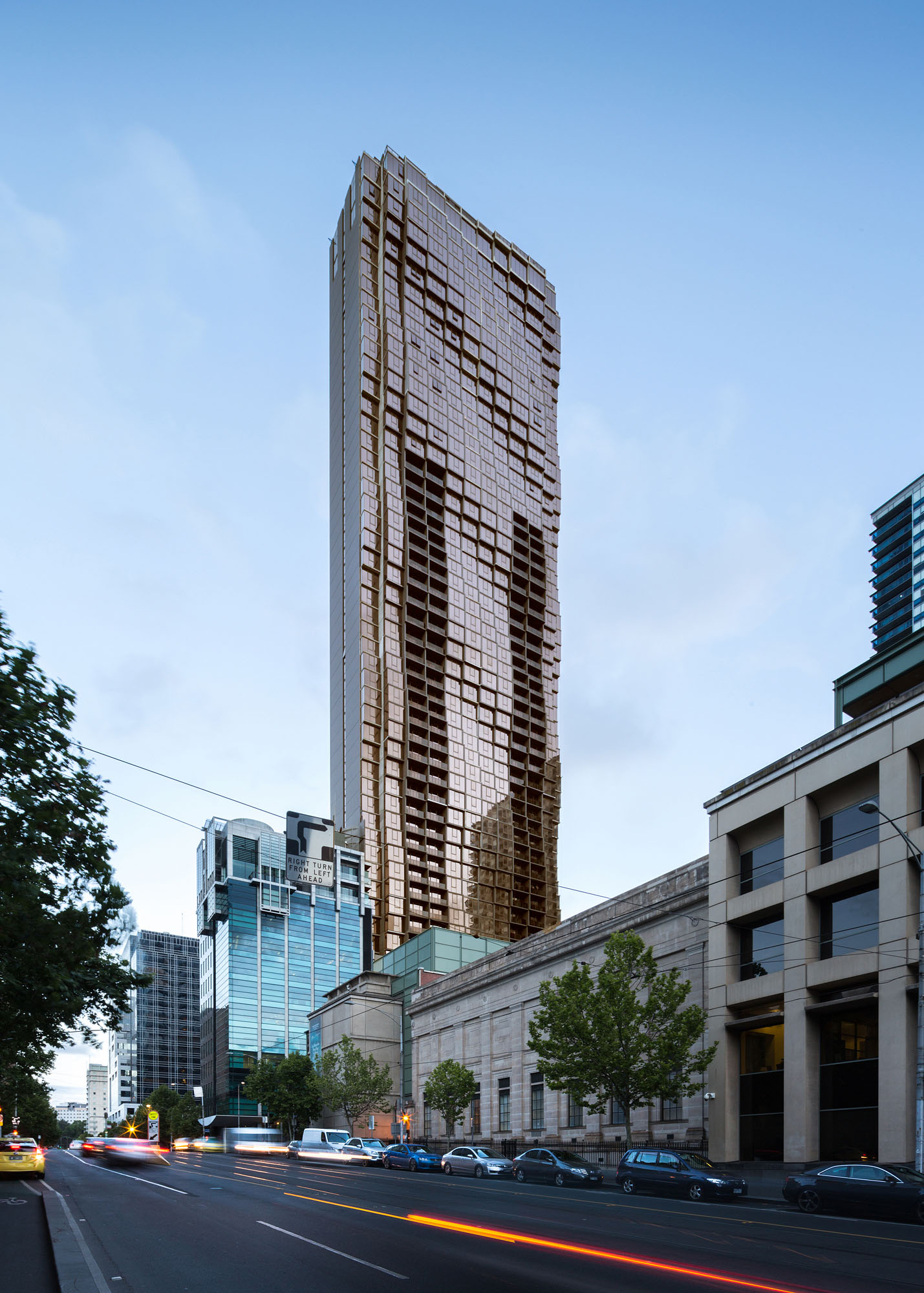 Schiavello's passion for creating quality and inspiring living environments continues. Prima Tower and Abode318 in Melbourne are developed in joint venture with PDG.
2015 – Harbin Bank, China
Schiavello completes its largest ever project in China. Over 5500 pieces of furniture are supplied at the new 31 storey Harbin Bank headquarters. More than 60% of manufacturing takes place on Australian soil.
2015 – Malaysia Factory
Schiavello establishes its first offshore logistics operation
in Malaysia to support expansion across Asia Pacific and to better service clients across the Northern Hemisphere.
2016 – Garden State Hotel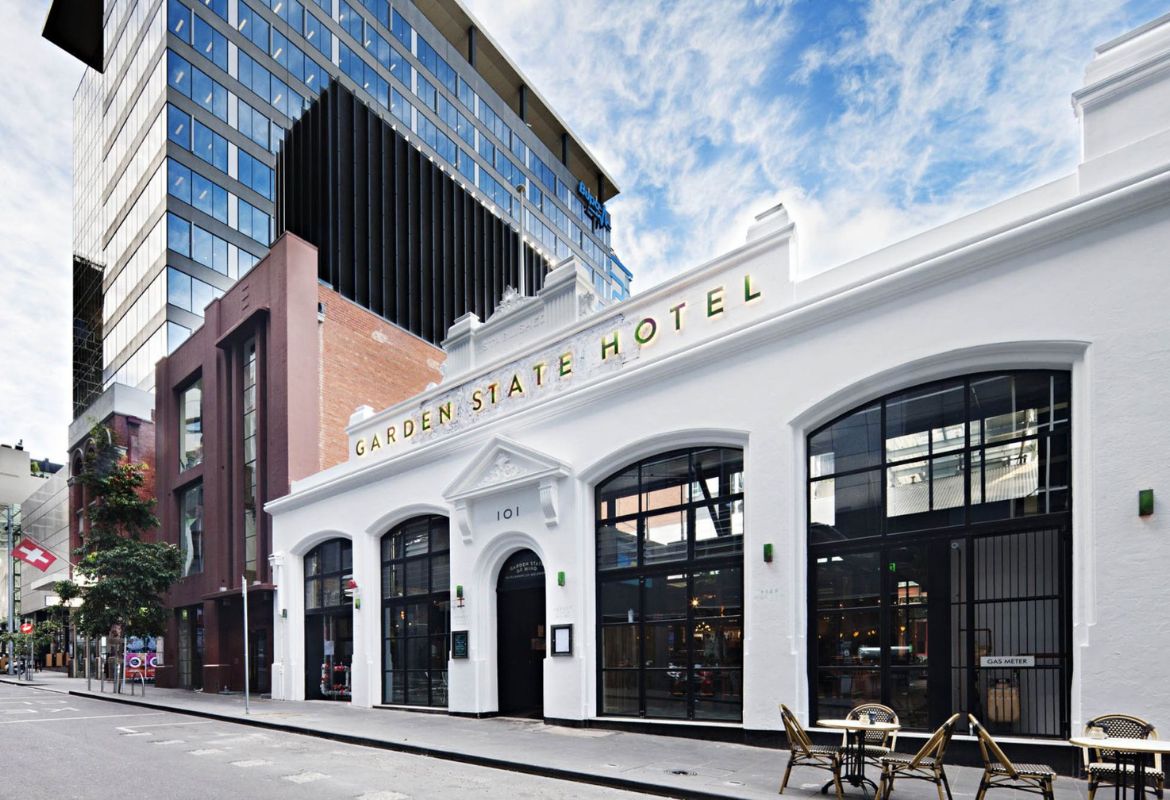 Schiavello delivers the iconic Garden State Hotel in June 2016, which would go on to secure the 2017 Master Builders Award for Excellence in Construction of Commercial Buildings $5M-$10M.
2016 – DEWNR Office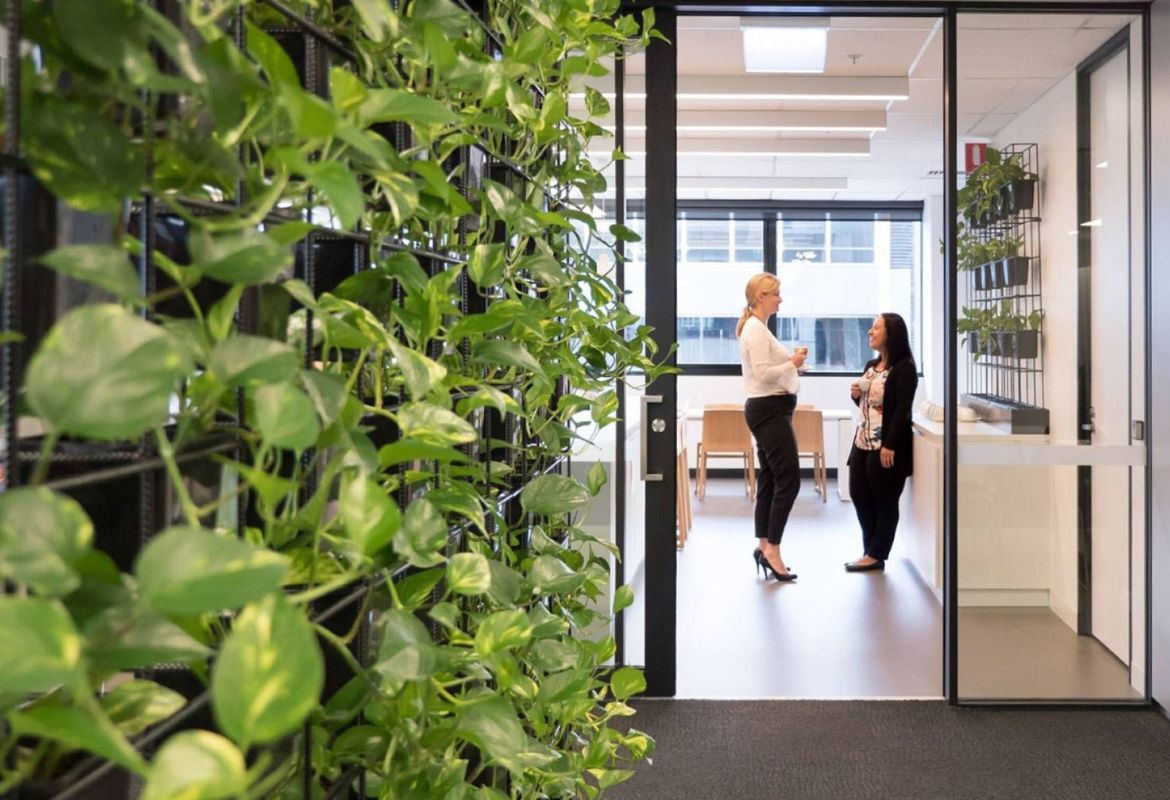 Schiavello's early engagement partnership assists in securing and delivering DEWNR's new 15,000sqm workplace in Adelaide. The project came together under a comprehensive methodology targeting a 6 star Green Star rating.