Location

198 Berkeley Street, Carlton

Completed

February 2018

Architect

PTID

Area

1,200sqm

Type

Fitout

Delivery Type

Fixed Lump Sum

Duration

5 months

Project Manager

SWA

Value

$3M - $5M
UOM received six new lectures and extra common areas
As part of an ongoing relationship, our VIC construction team was tasked by the University of Melbourne (UoM) to deliver six new lecture theatres and common areas to better suit the Business and Economics building in Carlton.
Together with PTID Architecture, we delivered three floors of contemporary, technologically integrated educational facilities to support 21st century learning. The project delivered unique learning spaces, each showcasing the range of services and offerings available through Schiavello.
Schiavello manufactures timber-look, acoustic ceilings
Based on PTID designs, we custom built curved, two-tone, acoustic panel and timber-look ceilings specifically for this project. The structure and framework were designed and constructed by in-house for seamless integration with the unique curved ceiling panels. The carefully considered design allows the modern chilled beam mechanical system to cool the area without sacrificing the strong acoustic properties for the teaching spaces.
The bespoke ceiling panels were created by Schiavello subsidiary, Metcon. The process included processing a metal roll into sized sheets, punching the perforations, rolling the curves, folding the edges, and applying film or acoustic fabric
Leveraging our manufacturing capability
Our local manufacturing facilities created several key features including:
Curved ceiling and structure
The modular construction of the raised floors in our Melbourne factory
Glazed partition frames
Powder coating the bespoke ceiling tiles in the lobby areas
Where traditional lecture theatres are generally dark and domineering, the UoM's new teaching facilities now feature smaller, more intimate theatres. Designed and constructed with both aesthetics and functionality in mind, the spaces focus on the student learning experience.
Related Projects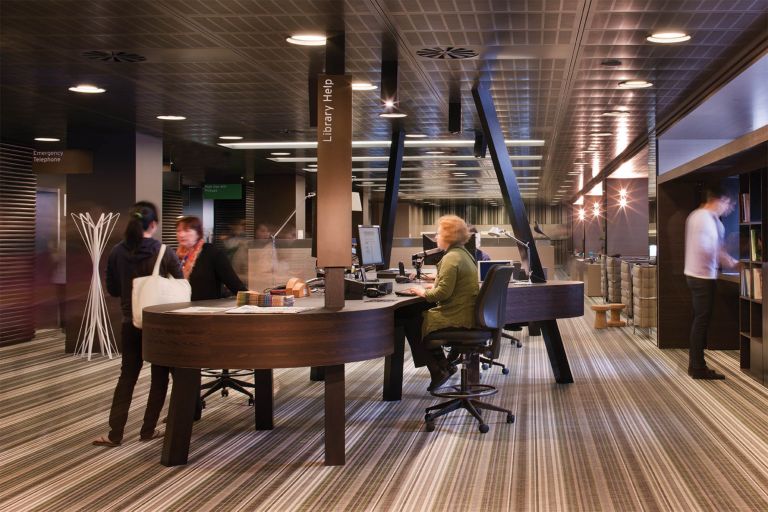 The Giblin Eunson Library was created to accommodate university faculties who had relocated outside of the main campus.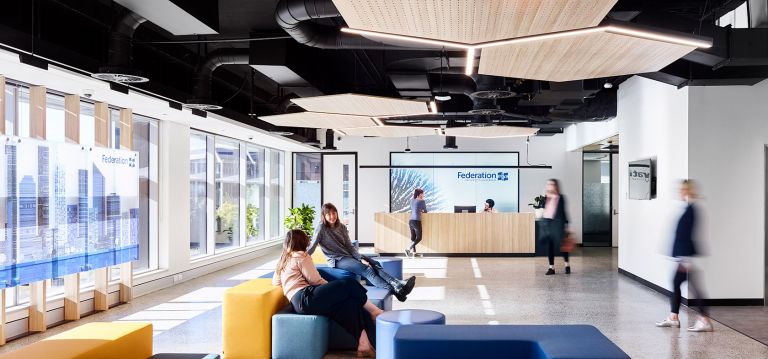 Schiavello's construction team delivered the first Queensland campus for one of the nation's leading regional universities – Federation University Australia.