Location

137 Domain Road, South Yarra

Completed

May 2014

Architect

Wood Marsh Architecture

Area

1,680sqm

Type

Construction, Fitout

Project Manager

Schiavello
Building one of Melbourne's most prestigious addresses
A prestigious residential property development and construction project for Schiavello, Domain Lodge comprises four apartments in one of Melbourne's oldest and most affluent inner city suburbs, South Yarra.
Situated on Domain Road, overlooking the lush Royal Botanical Gardens, and in close proximity to bustling cafes and restaurants, this property sits amongst some of Melbourne's most prestigious residential addresses. The building, which lifts off the ground by a textured, bush hammered concrete plinth, will be covered in foliage over time – creating a visual connection to its idyllic location.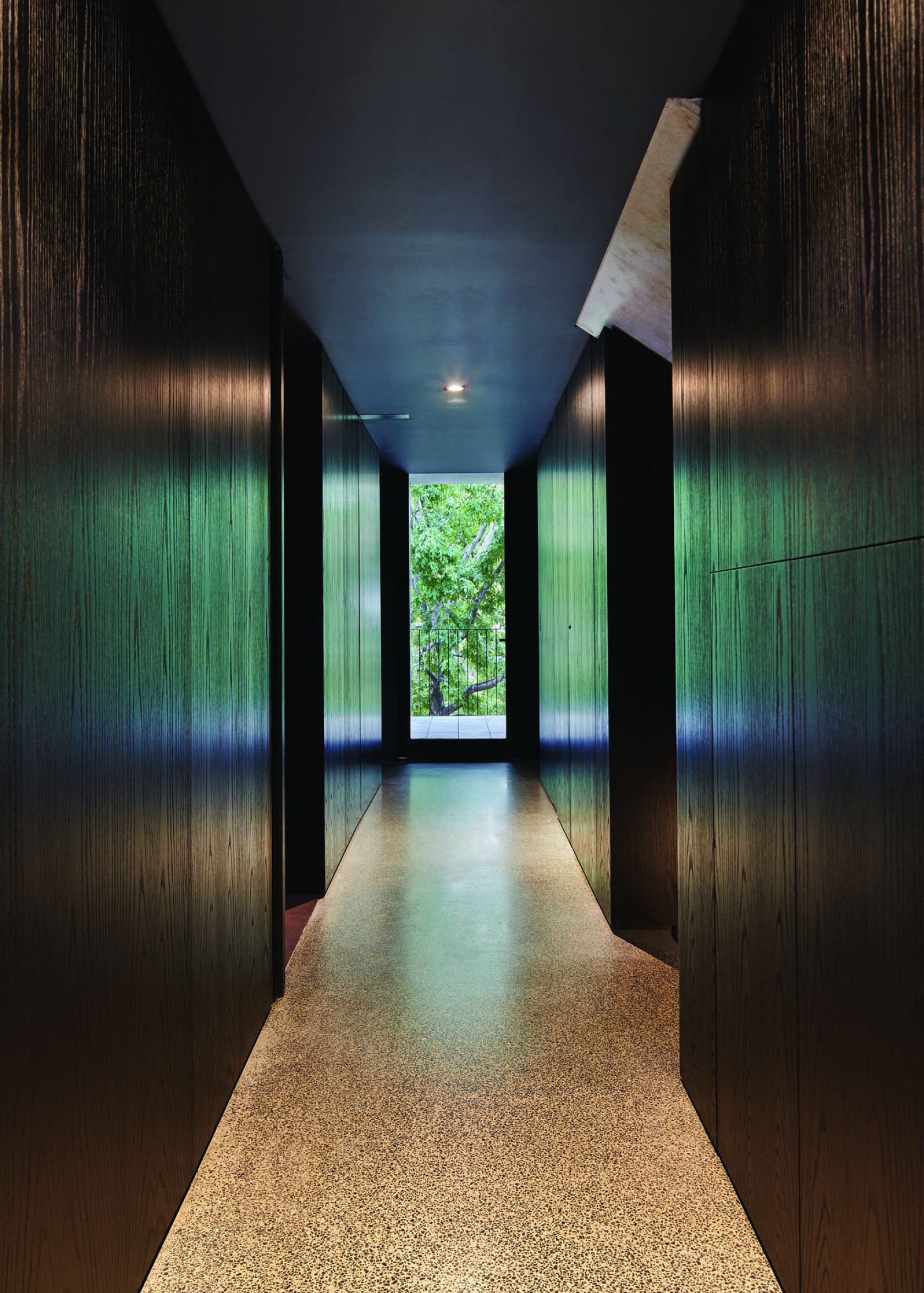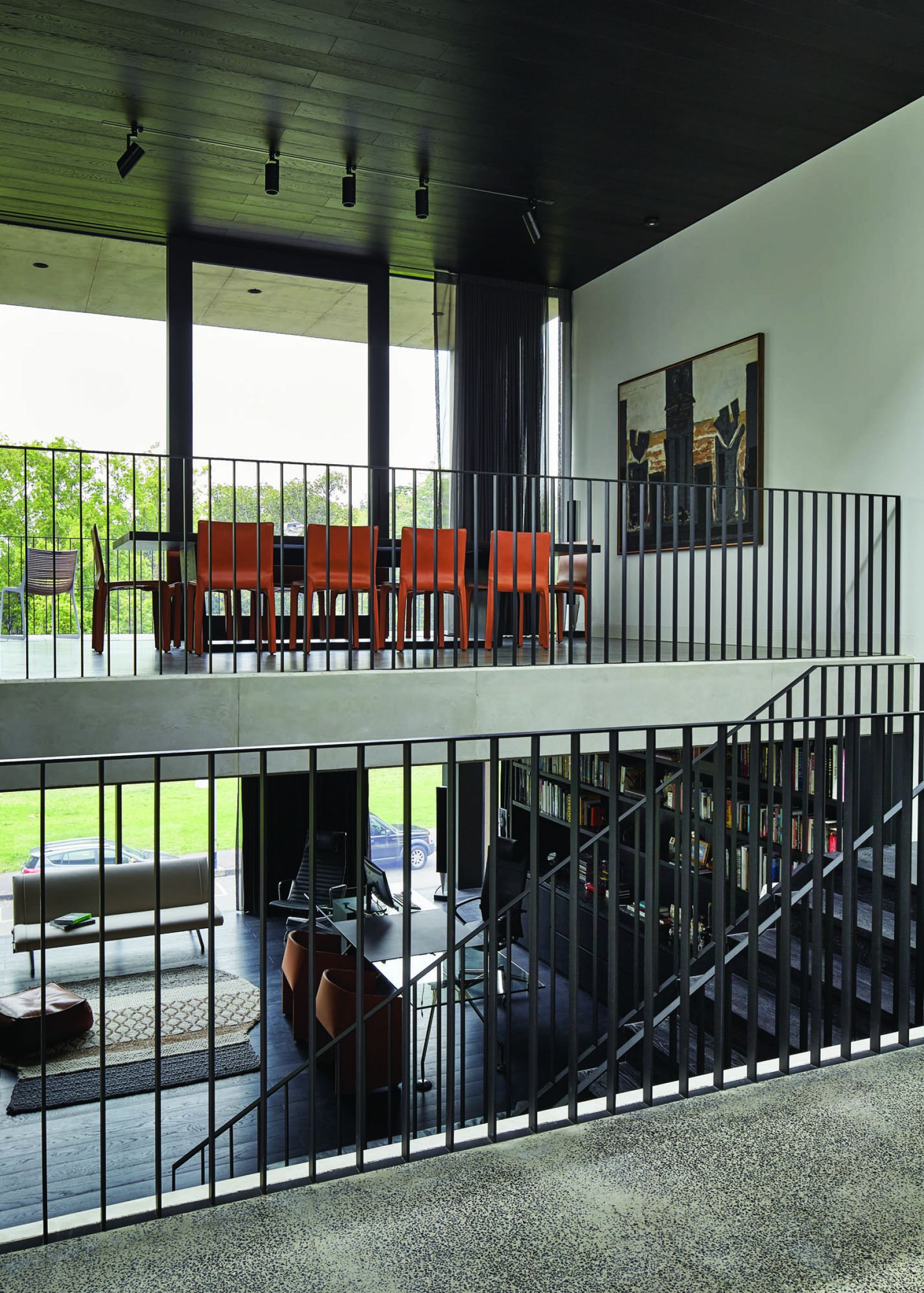 Architecturally applauded design
Award-winning Wood Marsh Architecture designed the building based on an arrangement of glass, concrete, and black anodised aluminium.
The building is mostly off-form concrete at the rear, but as it moves around to the opening city views, becomes more lightweight. The frontage is entirely glazed and reflects the Botanic Gardens opposite. A lush garden sits at ground level and the top level features a terrace, lap pool, and expansive rooftop garden.
A dramatic 'Babylon-style' garden reaches each of the three levels. Promoting sustainable living, the development makes use of rainwater, solar heart, and hydronic heating.
Domain Lodge received the Multiple Housing Architecture Award and Interior Architecture Commendation at the 2015 Victorian Architecture Awards. The property also received Highly Commended in the Residential Multi category at the 2015 Idea Awards.
Complex concrete work
Delivering the property from the ground up, Schiavello Construction VIC worked closely with the designers to bring their vision to life. The custom-built aluminium and steel front façade features high performance, double-glazed units that feature both acoustic and thermal properties.
The transition between the exterior and interior is seamless, with concrete materials carried internally and black anodised aluminium turning into black timber walls.
The vast open living areas throughout the space hides complex concrete work. "It was an exercise in precision," says Schiavello Managing Director, Peter Schiavello. Intricate use of in situ concrete presented a level of complexity rarely seen in concrete work. The level of collaboration between Schiavello Construction, the designers, expert concreters, and engineers yielded spectacular results.
A high level of detail is seen inside and out, with materials and themes from the exterior carried internally. This includes the concrete ceilings and extensive off-form concrete walls, stained black timber walls and joinery, glass, and fine blackened brass details. Expansive voids allow light-filled views to be enjoyed throughout.
The breadth of Schiavello subsidiaries
In addition to the construction, Domain Lodge also showcases the breadth of Schiavello subsidiaries.
A custom designed and built façade of anodised aluminium, steel, and high performance double-glazing by Heritage Glass, detailed bespoke joinery by Prima Architectural Joinery, steel element by Metcon, and bathroom ware by Omvivo add to the property's sophistication.
As renowned architecture writer Stephen Crafti notes in The Age, the "artistic treatment of materials provides an understated elegance."
Related Projects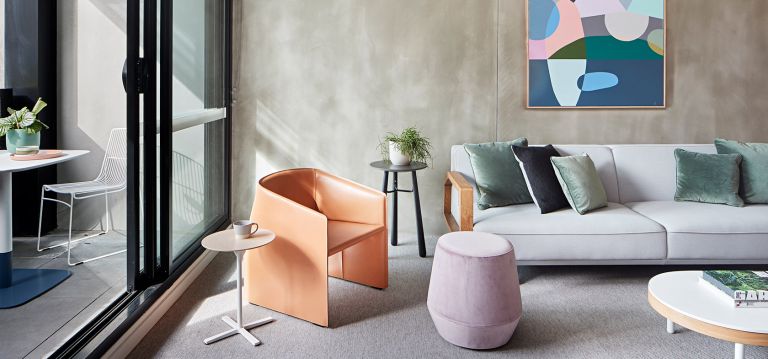 In collaboration with Techne, Pure Project, and erbas, Schiavello Construction built 12 boutique apartments atop the grand dame of St Kilda.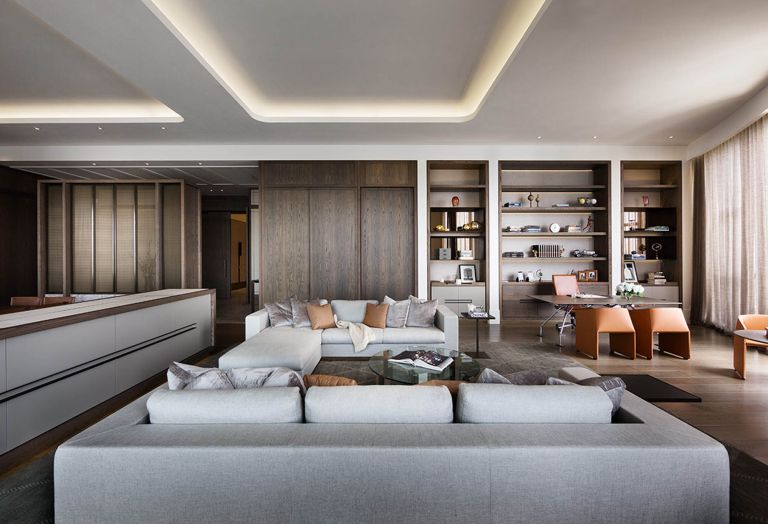 The 1,100sqm building floorplate of level 66 Prima Tower is divided into two bespoke apartments exuding modern refinement.