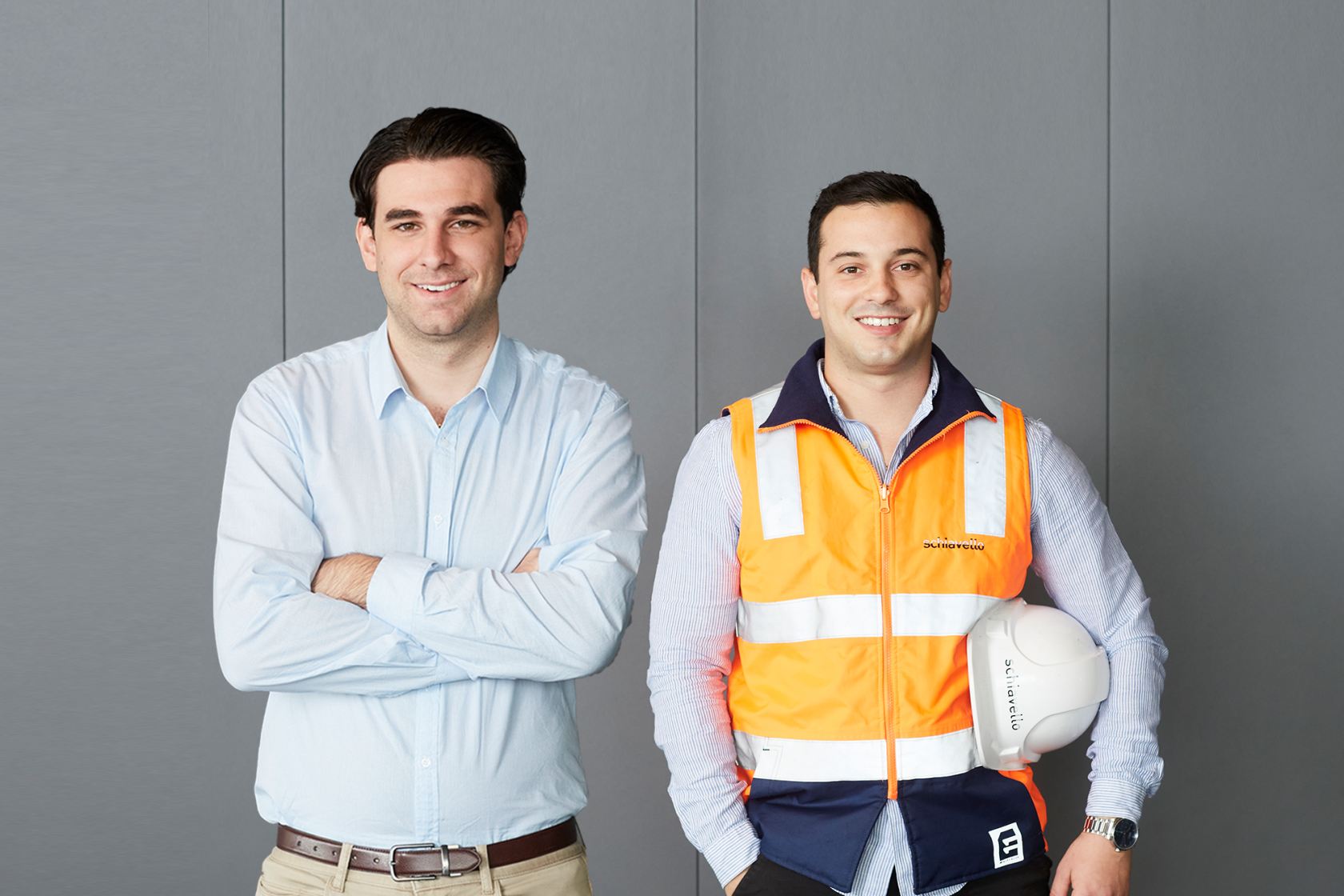 How did you apply to be a cadet at Schiavello Construction?
---
Stefan: I was in my second year of university at RMIT, doing construction management. I just wanted to get more hands-on experience. I applied and went in for a meeting.
Nathan: I initially applied to be a cadet through my father who works at Schiavello in the factory. I had a chat with a couple of the guys to see if I can get an interview, and start working a couple of days a week whilst studying at RMIT university for a Bachelor of Construction Management.
How long was the cadet program, and what did it involve?
---
Stefan: Three years. At the start of my cadet program, I was trying to just familiarise about the industry. I think my first day was going to the Transurban project. At the time I was doing tendering, just getting a feel from the start of a project, how we actually tendered, quotation estimating. As I got a bit more knowledge, I ended up getting my first project with the Leo Cussen Centre for Law, working with the project manager.
Nathan: The cadet program ran for the remainder of my university degree, I think it was just over a year and a half. I initially did quite a bit of tendering, and then moved on to actual live project work, both in the office and on-site. And then following the stages of the project. So, doing orders and such at the start of the project, actually building the project, and then delivering it at the end as well.
What projects did you work on as a cadet?
---
Stefan: After Leo Cussen there was Australia 108, then I moved on to the Electrical Trades Union project. I was involved from the start through to estimating, pricing it up, and doing all the value management. Towards the end of my time as a cadet was the NAB fitout.
Nathan: The Cbus Super project was the major one that we did from start to finish, where I helped quote the job, then run and deliver the job. It was one of the biggest projects we've had in a while, in a sense of what was actually involved in it and the work being done. I also had the two NIOA fitouts. And I helped out a little bit on HWL Ebsworth, which was a big fitout in Collins Arch.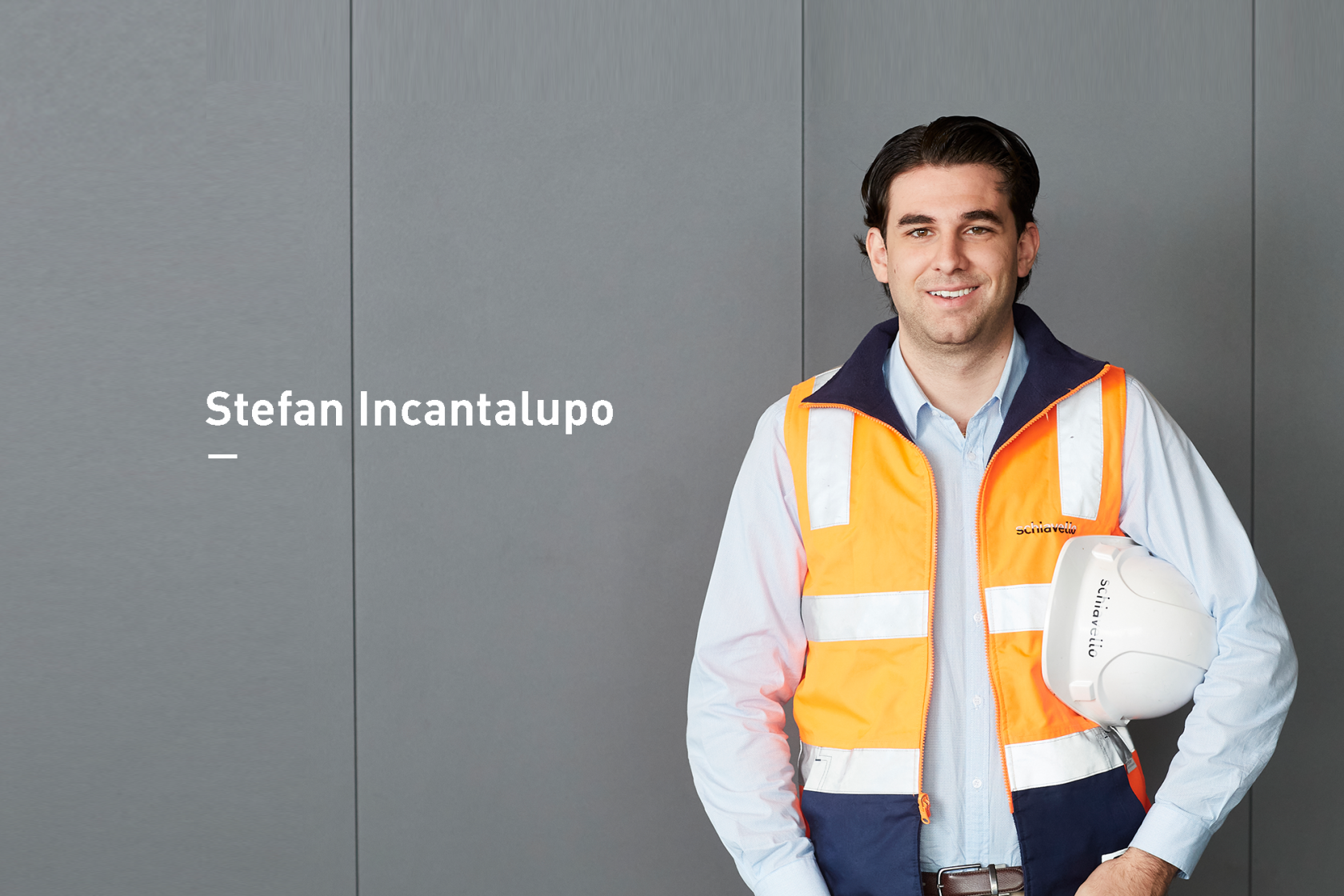 Who was your mentor?
---
Stefan: Josh Morrison, due to his knowledge of project delivery. I worked closely with him as a cadet, and now as a full-time project administrator.
Nathan: Tim Radin showed me the ropes and the proper way to do things. Rather than say, "just do it like this," he took his time to actually explain things.
What was your favourite part about being a cadet?
---
Stefan: Delivering a project and seeing the client's satisfaction with it. It's probably the most exciting thrill I get, knowing that my job has been done to a good standard. The NAB project is a highlight, in terms of the design, doing workshops with the architect, and also just seeing it grow from what it was to what it is now. You go to the city and see that building, and know that I was a part of it.
Nathan: It was good having a couple of other guys at uni working at Schiavello. So, that was probably good to have them as well, going through it all together.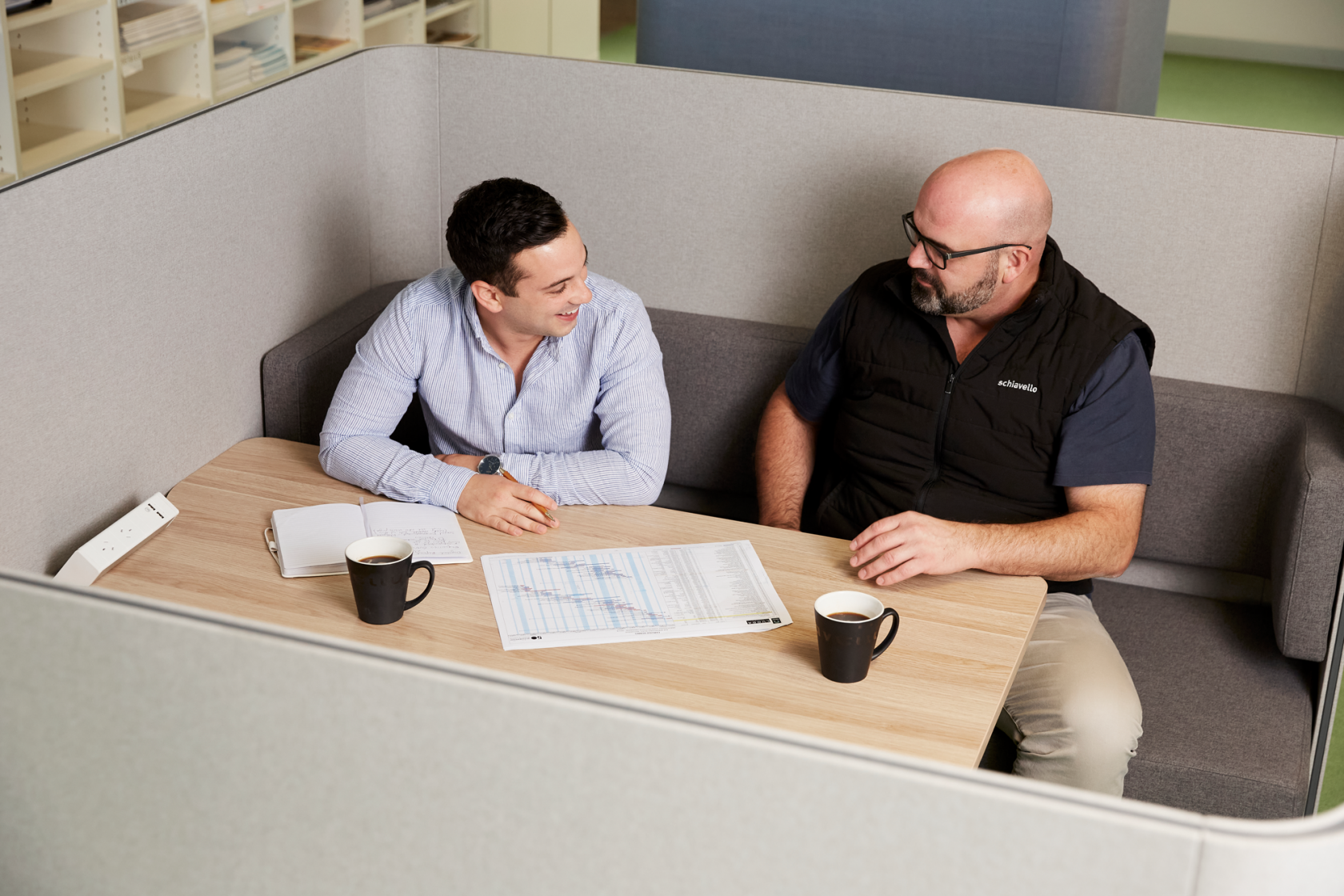 How did the cadet experience help you with your university studies?
---
Stefan: I was able to see stuff on-site, or see stuff in the office that we were doing, and it reflected what I was doing with uni. It worked hand-in-hand. I was doing assignments where I had to do scope of works or estimating, which I learnt in the cadet program, so it was a breeze at helping me through uni.
Nathan: Some subjects, it was essentially what we do at work. The whole tendering phase. It was the exact same. Certain things about running projects was very much the same. It definitely helped a lot to take what you learn from work, which you learn a lot quicker, and then apply that at uni.
What is your role and responsibilities now at Schiavello Construction?
---
Stefan: I was offered a full-time position as a project administrator. Daily administration of a project, RFIs, RFAs, shop drawings. Doing design workshops. Progress claims, putting in monthly financials, and doing cash flows as well. With the NAB job, doing variations, scope of works, and breaking down jobs for subcontractors ease.
Nathan: I'm currently a project administrator on the McKillop House project. The responsibilities have dramatically increased as the years have gone on with an exciting challenge and amazing opportunity through the McKillop House project. Through this, I have challenged my superiors and taken on further responsibilities of my role through managing facets of financial, documentation, and programming the works on-site. Also, I have embraced an additional role as a Cadet Manager guiding all current and future cadets within the company.
Do you think your experience as a cadet has helped to accelerate your career?
---
Stefan: That's a given. If I didn't do a cadet program, I would be fresh from uni and have pretty much no experience. In this way, I've got two-and-a-half, three years under my belt already.
Nathan: The way it was done at Schiavello, by the time you finish uni, you're already virtually a fully qualified project administrator. I was on jobs as a sole project administrator even before finishing uni. If I hadn't done that, I'd probably be a year or two behind where I am right now.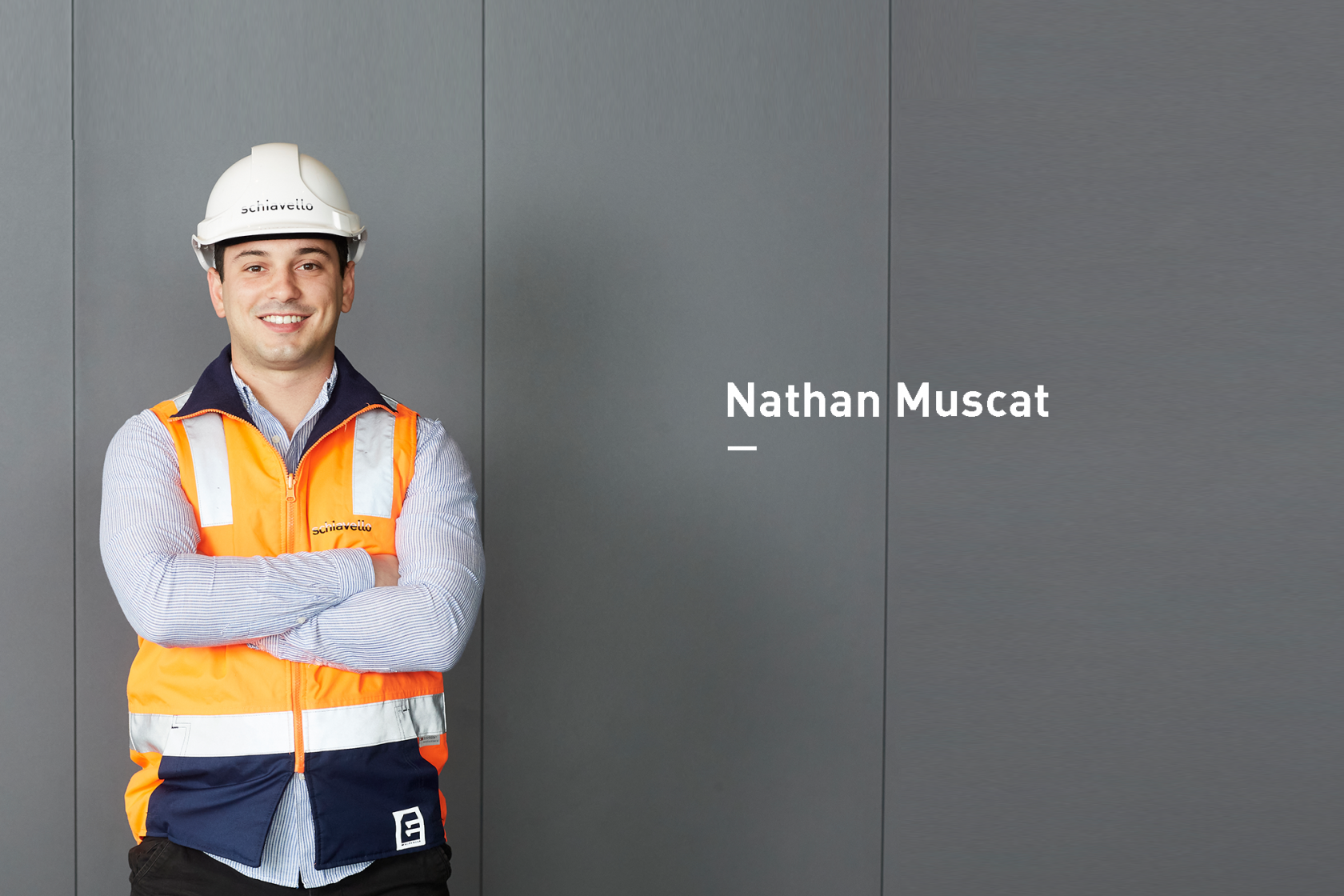 Would you recommend this cadet program to other university students?
---
Stefan: One hundred per cent. Any sort of experience that you can get in the industry is good to have. And with Schiavello, it's a small company, so you're able to do things that not many other companies would let you to do, in terms of your responsibilities.
Nathan: Yes, because we get great exposure. Going to uni, you speak to everyone there and see what they do at their jobs. And a lot of them just get put on one small task that's pretty boring. Here, you actually learn pretty quickly and get given responsibility at a young age.
What does your future career look like in construction?
---
Stefan: I've still got a long way to go in terms of my knowledge and experience, but I want to hopefully become a project manager. Being able to deliver projects and just build a clientele within the industry.
Nathan: The next step from a project administrator is to become a project manager. Doing that well, then a senior project management role, and then potentially as a construction manager. That's probably the aim.
See our cadet projects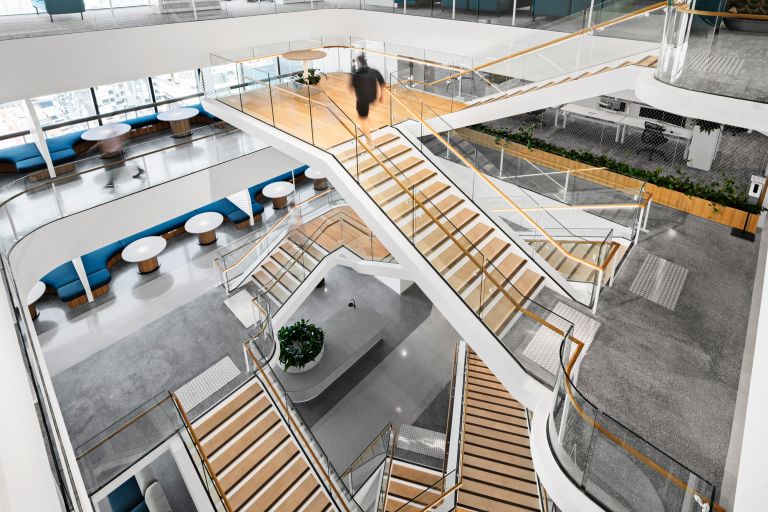 The superfund's dynamic workplace inspires staff to bring member-focused outcomes to the forefront.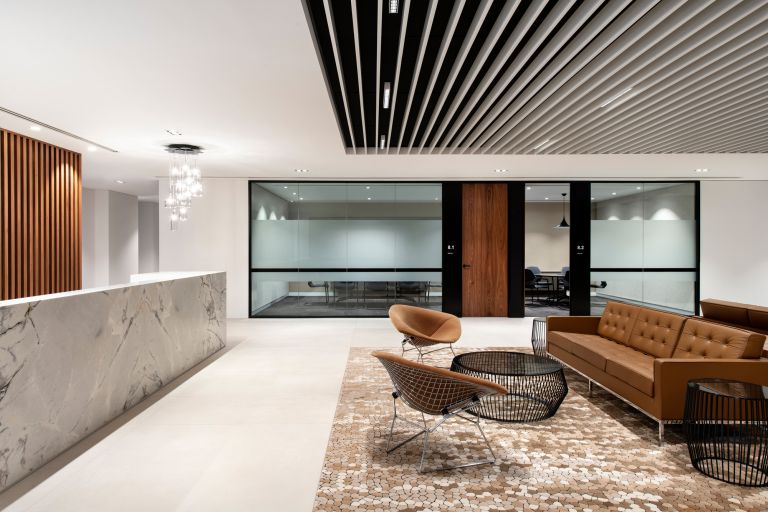 The five-month project not only occurred concurrently with base building works but alongside multiple fitouts in the building.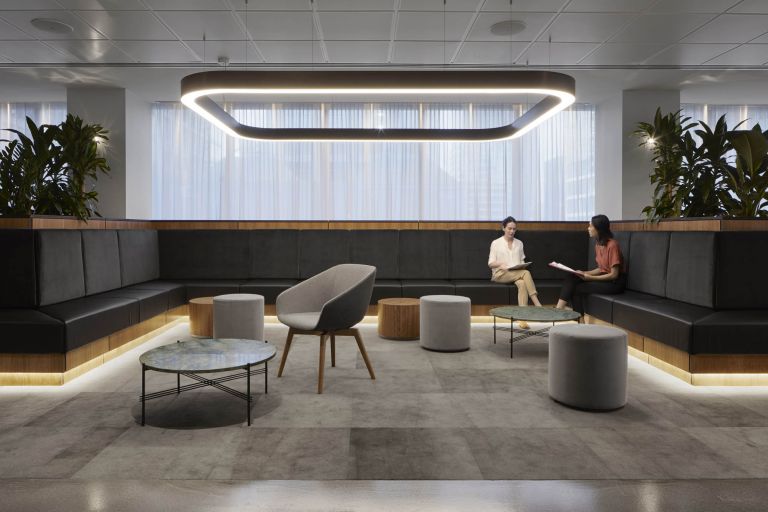 The unique design merges education and workplace facilities into a professional, sophisticated, and inclusive fitout.