Location

32 Smith Street, Parramatta

Completed

July 2021

Area

3,000sqm

Type

Fitout

Delivery Type

Design & Construct

Duration

3 months

Project Manager

Icon Project Management

Rating

Green Star, Premium Grade
The physical space must evolve
Following history's biggest remote work experiment, businesses — both small and large — need to rethink the role of their office. And so, the physical space must evolve.
Space&Co Parramatta, delivered by Schiavello Construction in collaboration with Icon Project Management, has spearheaded this shift - from a place where we sit and work, to one of collaboration and interaction. An environment where we can bring people together to do their best work, the facilities are built to support growth throughout the entire business cycle; providing a dedicated space for start-ups and established organisations alike.
Trusting the process
A chic new sibling for Space&Co Southbank and Space&Co George St, this co-working space draws on previous experience, while adapting to the unique features of the new site and the novel set of circumstances.
In the face of the unforeseen, the generous amount of trust afforded to our team by the client encouraged a collaborative and flexible approach.
Unpredictably, the project underwent a shift from the original process and programme for the project. Utilising the existing architectural space plan and content pack provided by BVN, the revised process saw our in-house design team stepping in to develop the design from concept phase onward.
Working with Schiavello on Space&Co was a remarkably refreshing experience for our team. It was clear throughout that they genuinely shared our vision to get the end product right, are proactive, upfront, polite and prioritise the best interests of their clients above all else. The level of service provided by the team as well as their attention to detail was outstanding. We would welcome any future opportunity to work alongside Schiavello again.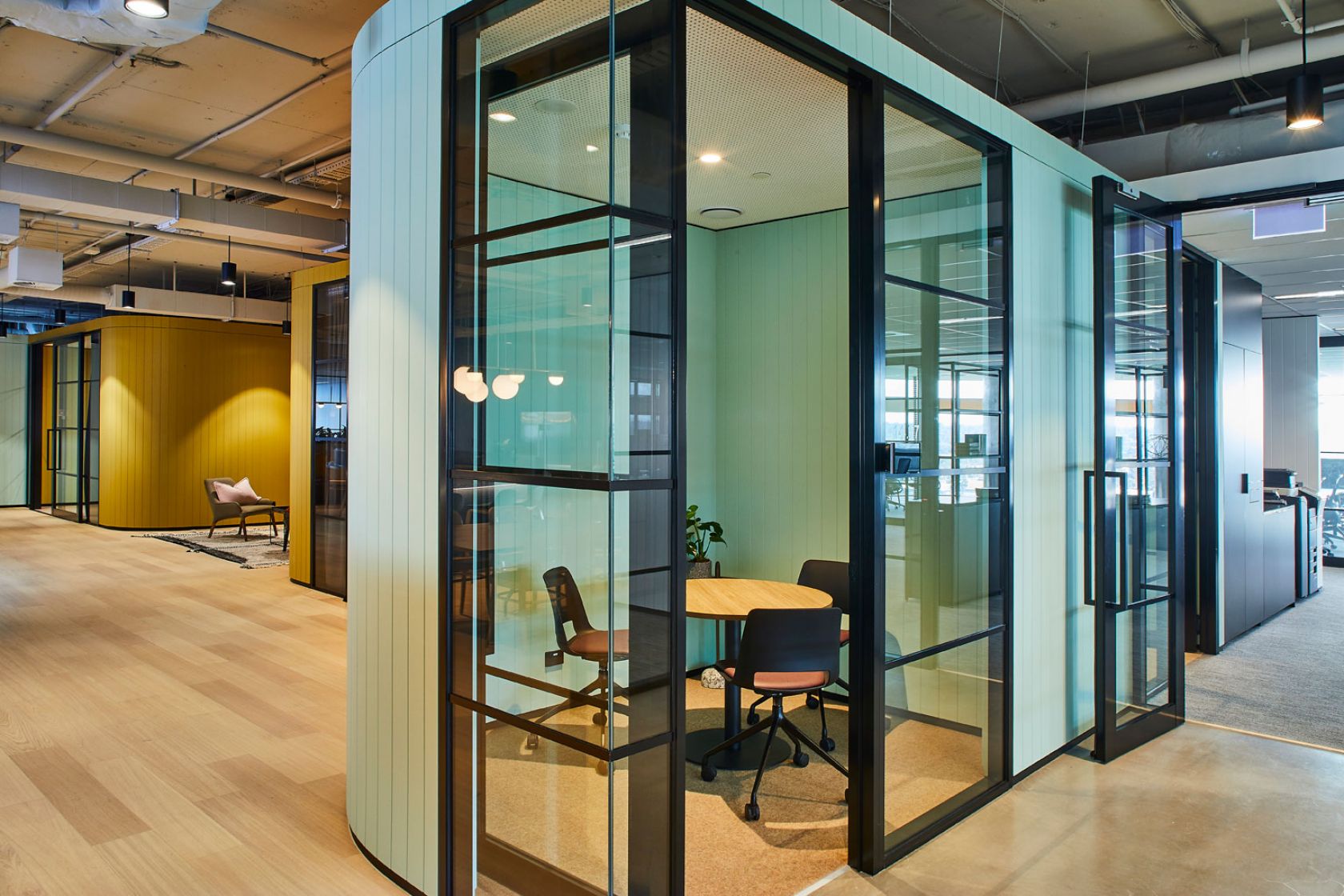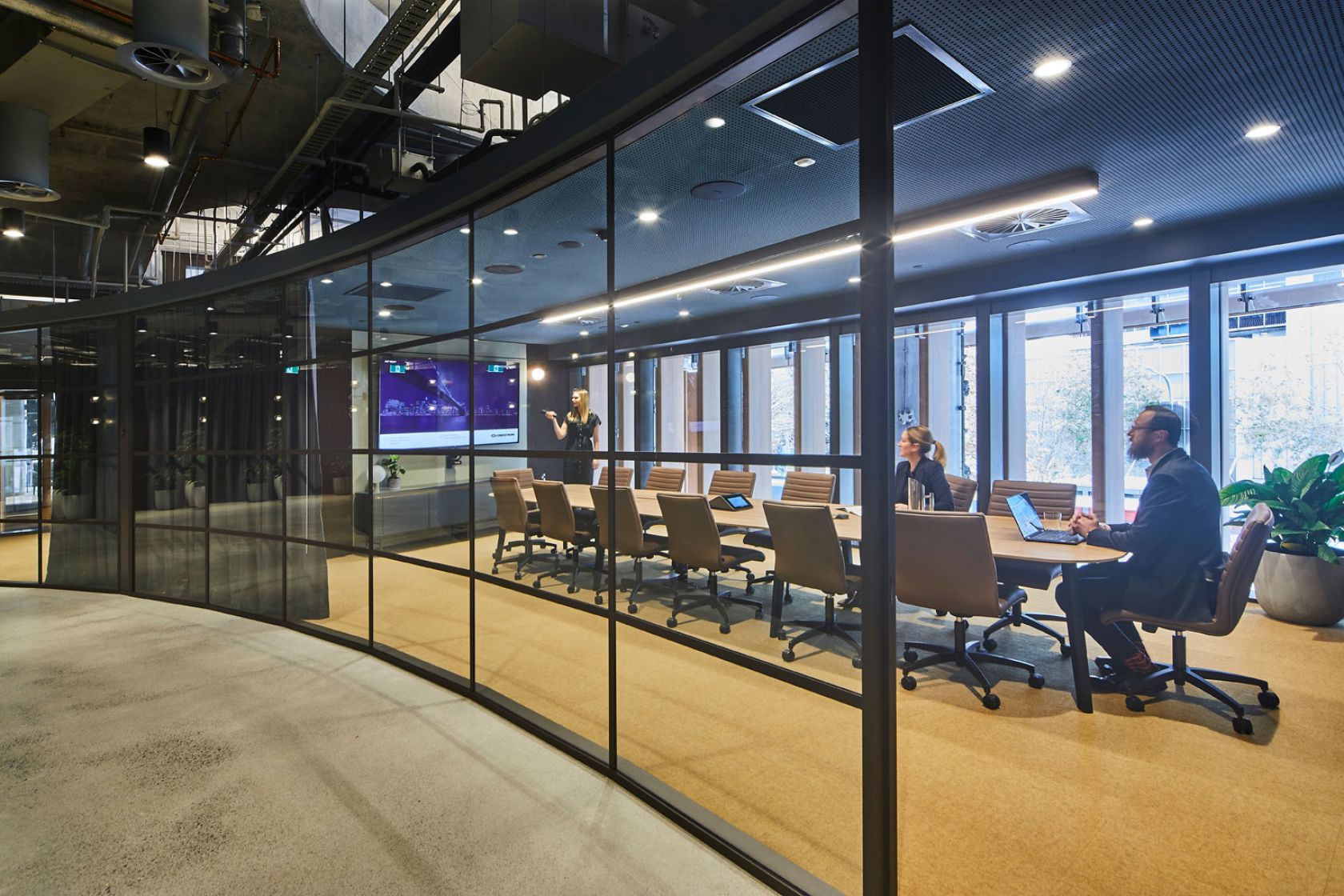 Thinking conceptually
Understanding the changed business imperatives, our design team adopted an iterative and highly collaborative approach. With the clock ticking, we led a live cross-planning and design process wherein both phases were conducted simultaneously and in real-time. Accordingly, documenting occurred onsite within a matter of weeks, with high level designs and hand sketches used to communicate the design intent.
This creative allocation of the resources allowed the team to 'borrow' time from the documentation process, deploying it to focus on the original design and sourcing. Notably, this efficiency could only occur thanks to the inherent trust of the client throughout the process.
Drawing on distinctive details
Our transfer of knowledge from previous experience working on Space&Co projects enabled the team to automatically incorporate build details and finishes consistent with the brand's trend-setting aesthetic. For example, timber wall panelling, an instantly recognisable asset in all Space&Co sites.
What's more, our familiarity with the client's business model, cultivated via earlier projects together, equipped our team with the ability to prioritise Space&Co's operational needs. From the outset, the functionality of both the Business Centre (Level 2) and Front of House and Back of House (Level 14) were considered closely, accounting for the high-end, relaxed corporate ambiance of the former, and advanced technology requirements of the latter.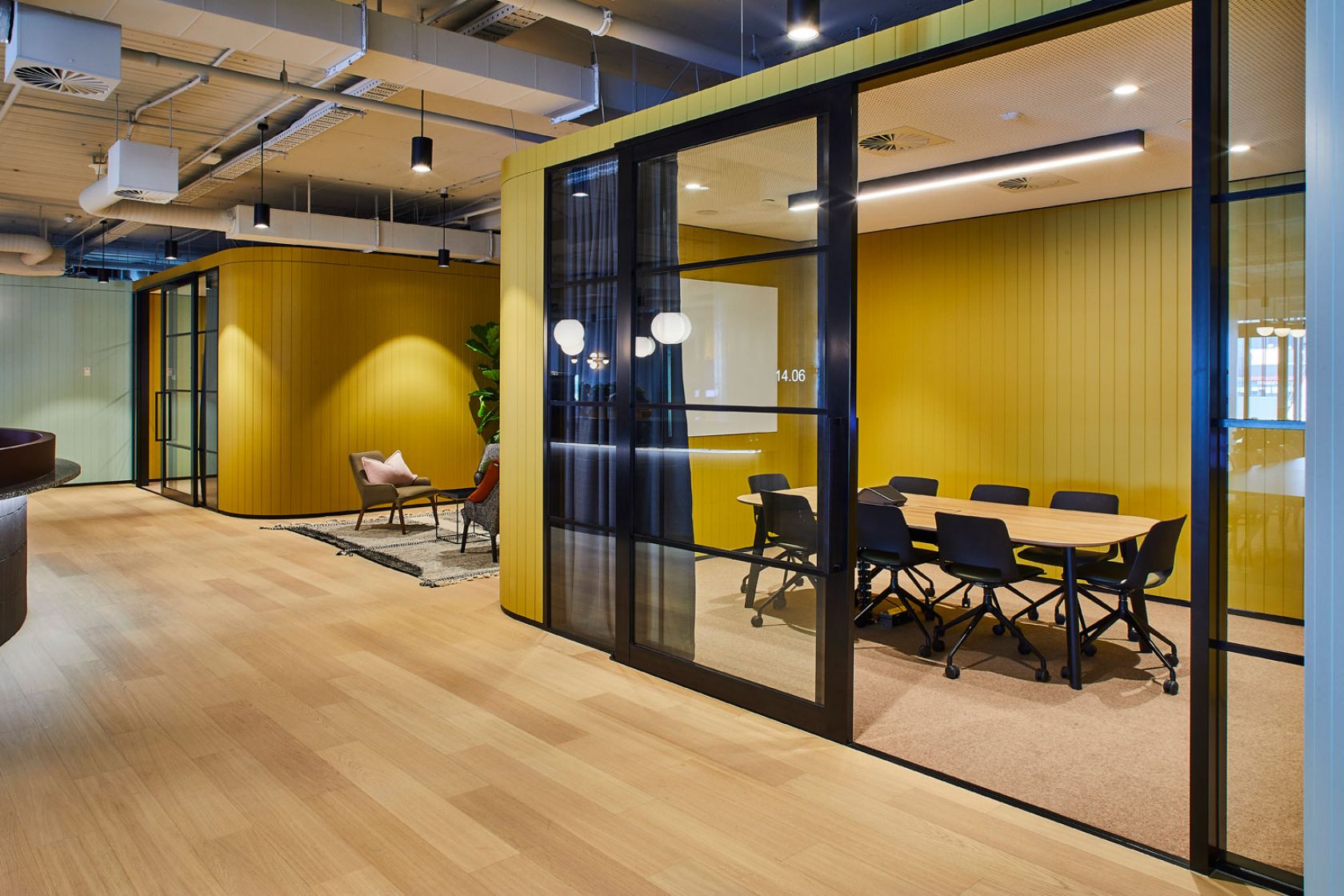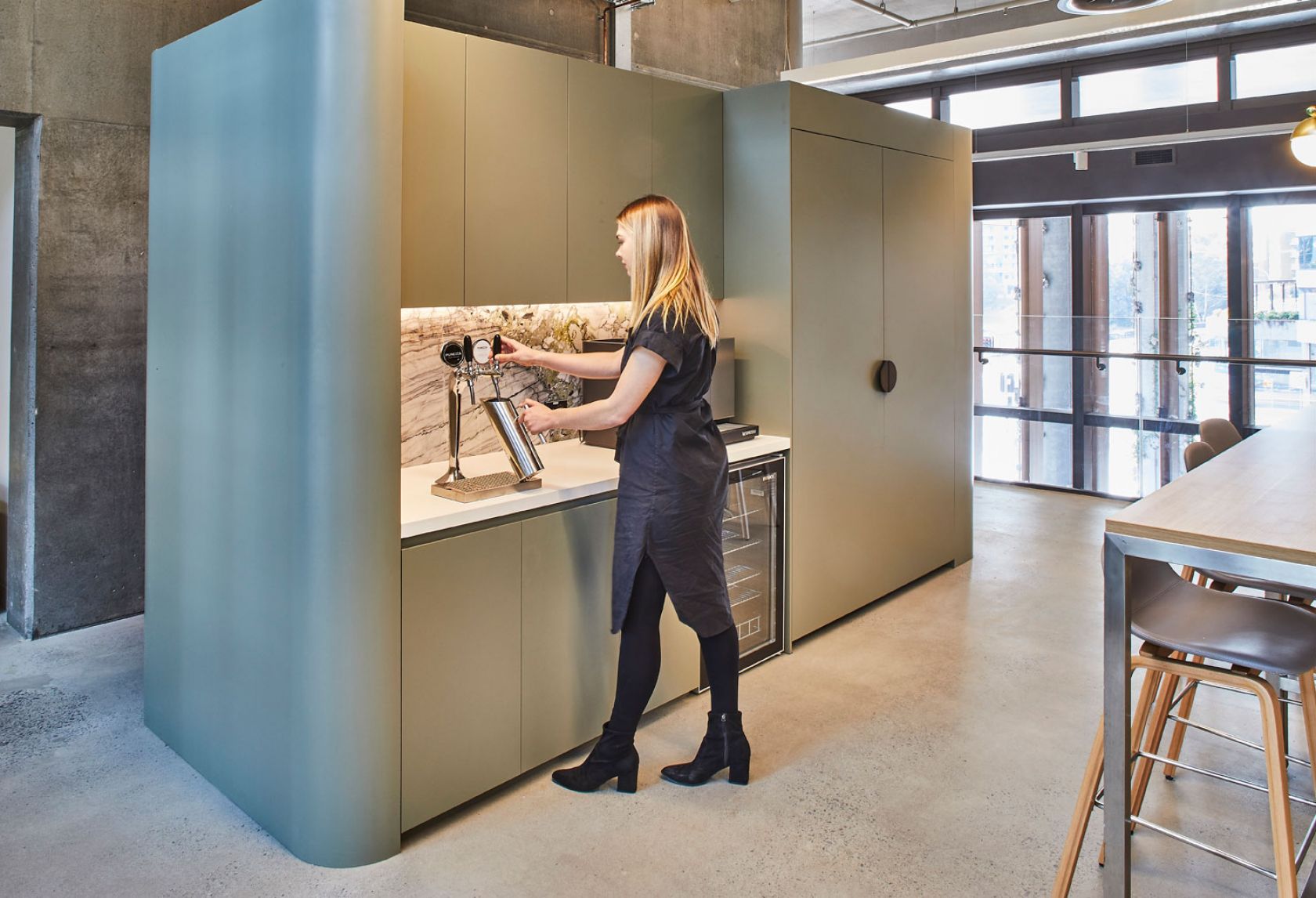 Working in synergy to achieve a seamless result
For a project entailing multiple parties and moving parts, the collaborative approach of our designers extended to our construction team, ensuring a seamless and timely process. The process saw designer and project manager constantly leveraging their collective expertise in real-time to come up with creative solutions to challenges that arose.
Indeed, though the design continued to evolve throughout the project, our previous experience allowed changes to be incorporated without extending the construction programme. In this environment, issues were often resolved internally, thereby facilitating efficiency.
For example, originally the client envisaged polished concrete floors, consistent with earlier Space&Co sites. However, a report conducted at the project's outset by our team noted a thick level of self-levelling agent concealing unevenness on the ground surface. By identifying this issue early, and the associated costs of grinding down this material in preparation for the new floor, plans could be modified, pivoting to use floating timber floorboards instead, to great effect.
Practically, the exceptionally close working relationship between the design and construction teams involved in a live cross-planning and design process, saw our Site Manager working in direct, constant communication with our designer to designate the positioning of services, equipment and amenities, to ensure exact symmetry upon installation.
Unanimously, a highlight for the team was experiencing the plans come to life in an admittedly unexpected, yet incredibly effective style.
Co-operation through skilled communication
With the project situated in a brand-new building still undergoing external works, in a site shared by multiple companies and contractors, as always communication proved key. Close coordination for use of the same facilities including lift and loading dock came down to timing. Ultimately, a rostered docking system skilfully devised by the building manager as well as constant liaising with all involved, ensured that potential delays, caused by external factors, were addressed early and openly.
The result is a refined space delivered on time, and on budget, appointed to support growth throughout the entire business cycle; providing a dedicated and admittedly chic space for start-ups and established organisations alike.
Related Projects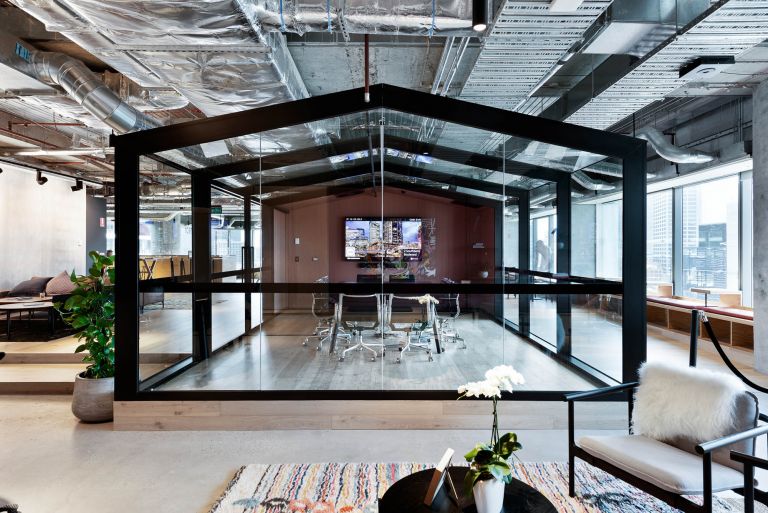 Space&Co's flexible workplace presents a continuation of their distinct brand design; a highly industrial aesthetic.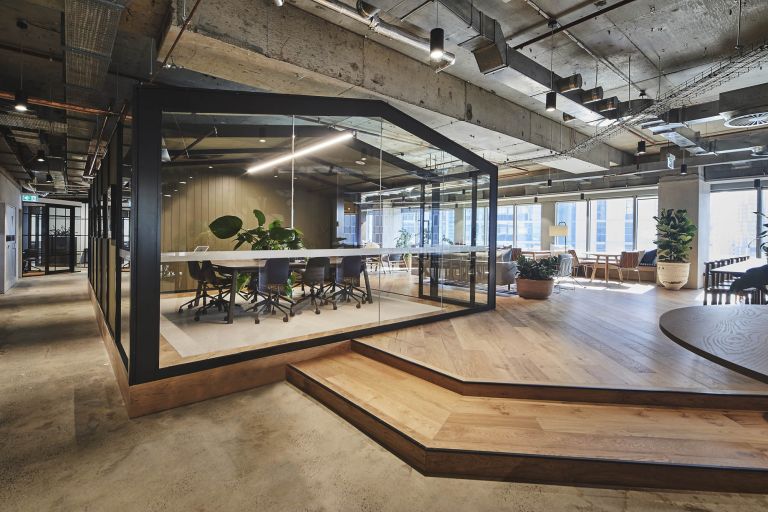 This is co-working but not as you know it. Our delivery of Space&Co's latest hub has set the benchmark in quality and innovation.