Location

Level 1, The West End Crown, Melbourne

Completed

December 2012

Architect

Mim Design

Area

1,000sqm

Type

Fitout

Duration

4 months

Project Manager

Crown Projects
Schiavello delivers a sophisticated pub experience to Crown Casino
When the Mim Design team was brought in to design Crown Melbourne's newest 'West End' pub experience, Jimbo & Rex, they took a highly considered approach across every detail – from the name and branding, to the highly textured and detailed interior.
Schiavello Construction and Schiavello Signage were engaged to complete the interior construction and signage. Demolishing what was previously known as "The Pub," the new space was taken back to its shell, from which two adjacent tenancies were created. The new interior construction for Jimbo & Rex included the creation of new bar and restaurant, facade and back of house commercial kitchen.
The design makes use of vast space and expansive ceilings to create bold statements with elements including a robust copper facade, immense bar, and oversized feature pendant light fittings. As Mim Design's Kylie Dorotic tells Venue Magazine, "It is a huge space. The ceilings are 5.5m high, yet there's also a real intimate warmth to the venue. There are some really successful pockets that people can retire into if they don't want the hustle and bustle." The atmosphere is about comfort and warmth, while ensuring patrons connect with, and enjoy the space.
Constructing a new bar, restaurant, façade and commercial kitchen
Works began with a demolition of what was previously known as 'The Pub'. The new space created two adjacent tenancies from the original single tenancy. The new interior of Jimbo & Rex include the creation of a new bar and restaurant, façade, and back of house commercial kitchen.
Standout features include the restaurant's glazed and tiled facade, which is custom built and hand finished in copper colour coating. The L-shaped bar is an elaborate piece of craftsmanship, with a granite marble bar top that's intricately curved in alignment with the bulk head above. Natural stone, glazed brickwork, timber and copper detailing create an authentic feel, and a solid base for other feature finishes.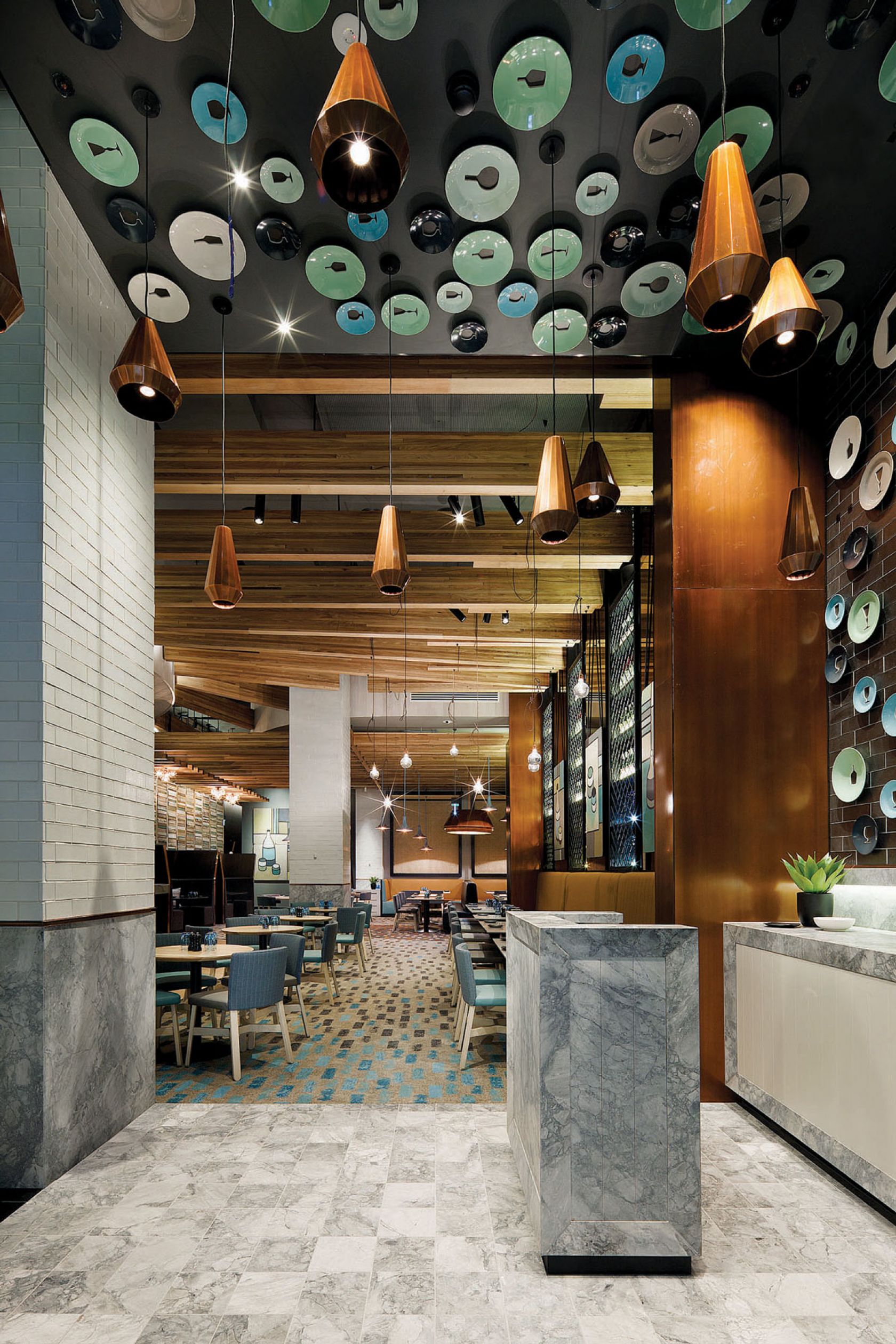 Schiavello Signage creates illuminated signs to create dimensional contrasts
Lighting played a key role in creating different dining environments; the space features a diverse range of light fittings by the likes of Roll & Hill, Volker Haug, and commissioned pieces from Australian artist Brett Coelho and Cloth's Julie Patterson. Within the rear dining area, custom fittings were created to give a relaxed and comfortable feel.
Schiavello Signage created a grand, illuminated sign for the restaurant's main entrance, featuring a curved, textured, powdercoated panel with copper fabricated lettering. Each letter is hand linished and sprayed with stain and clear coat. With warm white LED lighting, the words "Jimbo" and "Rex" are halo lit, while the ampersand is front lit creating a dimensional contrast.
The team's troubleshooting capabilities ensured consistent illumination of the ampersand without visible hotspots –a challenging endeavour with a stunning visual effect.
Precise planning and close collaboration results in a successful project
Key to the success of the project was the high degree of on-site coordination between parties to collaborate on various elements including the curved facade and bar. The bar's curved granite required the joiner and stonecutter to work closely to ensure the stone was cut and joined on a precise angle to match the curve of the facade. The precise tint and colour of the natural copper also needed to be matched across signage, joinery and other suppliers; a process which required a high degree of synchronisation, sampling and prototyping.
Drawing upon deep experience with Crown Melbourne, a client known for having an eye for exceptional detail, Schiavello and Mim Design leveraged a strong working knowledge of Crown-specific guidelines to ensure a seamless delivery.
Jimbo & Rex embodies an overall cohesive aesthetic across the entire creative process, and the result is a strong, layered and individual interior that delivers a strong environment with a multitude of uses.
Related Projects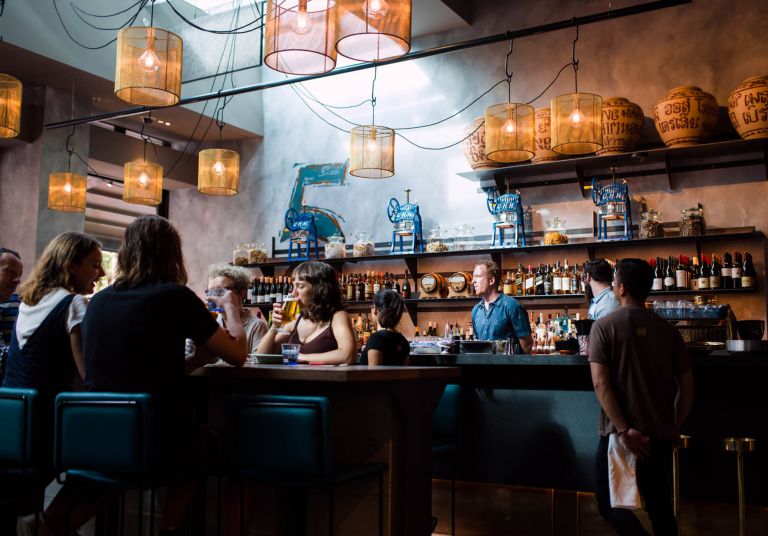 Inspired by the patina of Bangkok's streets, the bright and busy 160-seat restaurant fitout has been designed to evolve with use and time.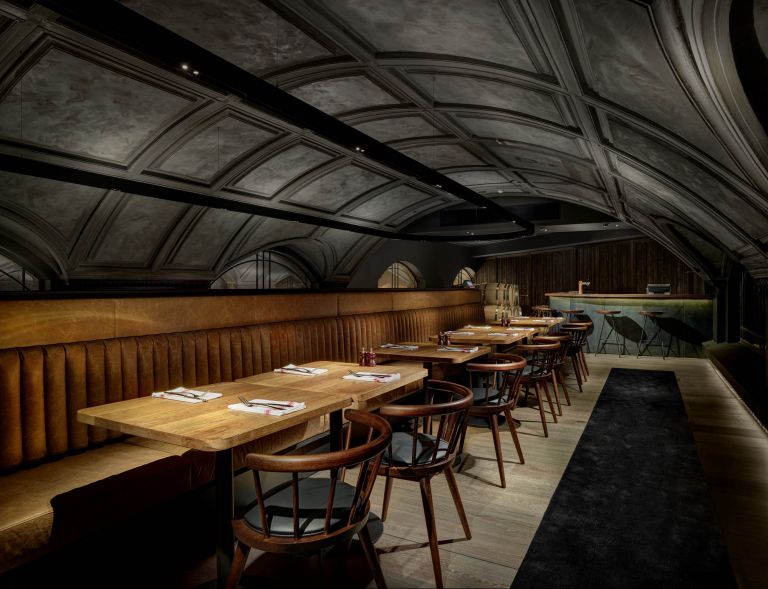 Sean's Kitchen provides a layered journey of discovery to New York's bygone era of lavish surrounds, finest produce, and artisan beverages.