Location

Level 6/2125 Princes Hwy, Clayton

Completed

June 2022

Architect

FMSA Architecture

Area

5,250sqm

Type

Fitout

Delivery Type

Construction Management

Duration

3 months

Project Manager

M-City Investments

Value

$3M - $5M
Sigma Healthcare calls M-City home
When Sigma Healthcare relocated their office from Rowville to the new M-City Commercial development in Clayton, they engaged our experienced team to see the fitout through from start to finish. Sigma is a leading Australian full line wholesale and distribution business to community and hospital pharmacies and has one of the largest pharmacy-led networks in Australia, along with other business activities. Sigma has bought together its business support team - all under the Sigma Healthcare umbrella at this modern business and retail district.
Having already collaborated on multiple projects within M-City, we were able to get in and get right to work - delivering the ideal office space for this healthcare company over three floors in just 12 weeks.
Functional and soothing spaces
Upon entering the foyer, guests are greeted with an impressive custom curved reception desk with a textured MDF kicker to achieve a batten-like look which extends around to the curved bulkhead finished off with feature lighting.
Continuing into the workspace, each level consists of large offices and open plan workstations, meeting rooms, training rooms, a board room and a large breakout area. Schiavello Furniture supplied Krossi Workstations, Dash Chairs and Cache Storage for the open plan areas. While the boardrooms are complete with custom-built timber oak Aire Table, Slimflex Chairs and a wall-mounted AV set up.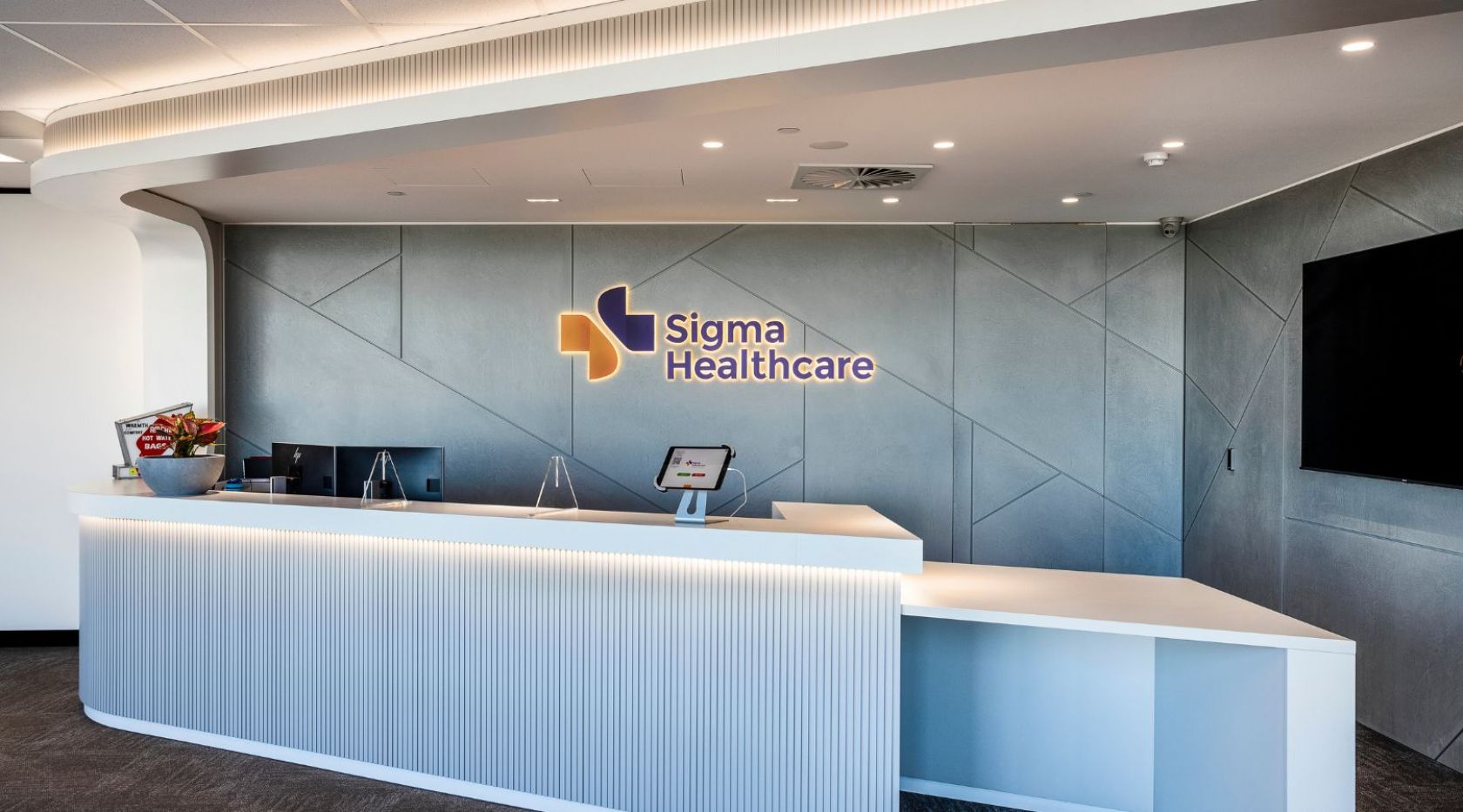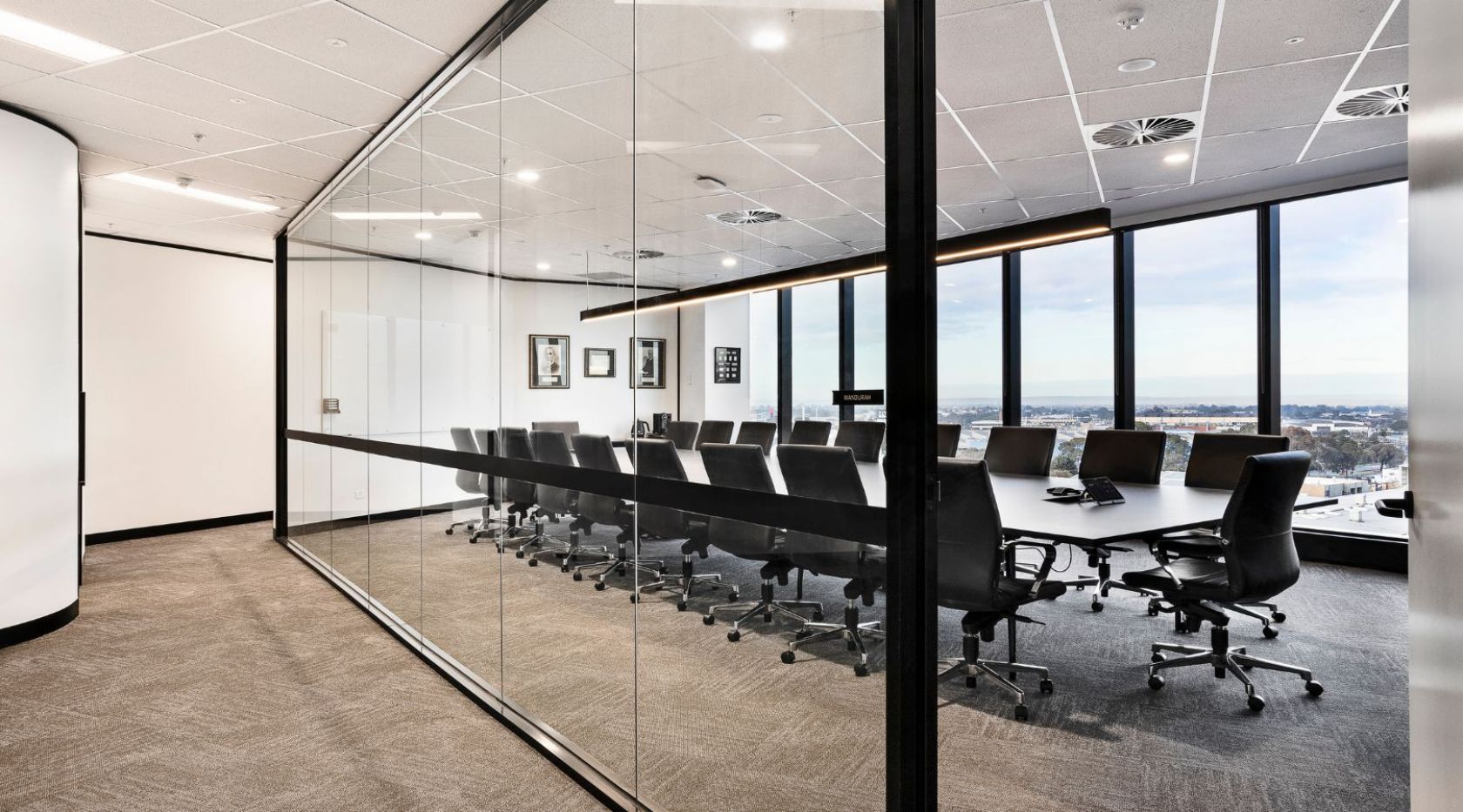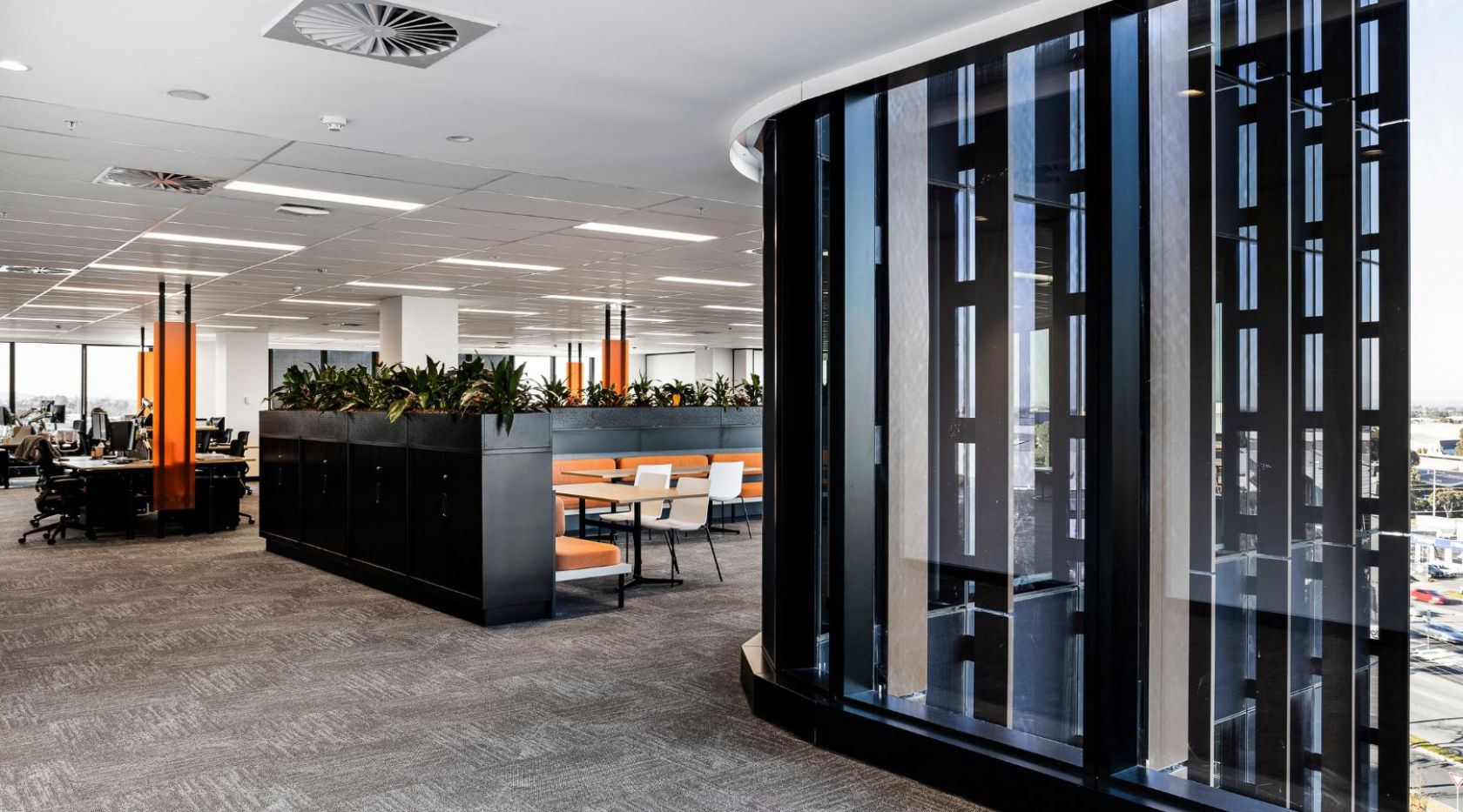 Injecting some extra colour throughout
Carrying on the timber oak theme, the kitchen areas are a project standout. They feature timber oak flooring, custom joinery and solid surface, lighting, and loose and fixed furniture tied in with colourful feature wall art decals.
The breakout zones come to life with bright upholstered fixed seating and planter boxes for greenery. The supportive beams throughout the surrounding open plan areas are decorated with bright matching Perspex to bring some colour to an otherwise structural element.
Adding a subtle colour contrast in the executive offices and waiting areas, Schiavello Furniture also supplied a series of custom upholstered loose furniture pieces - Palomino Chairs, Paloma Chairs and Kayt Rest Sofas – which are easy on the eye and enticing to sit on.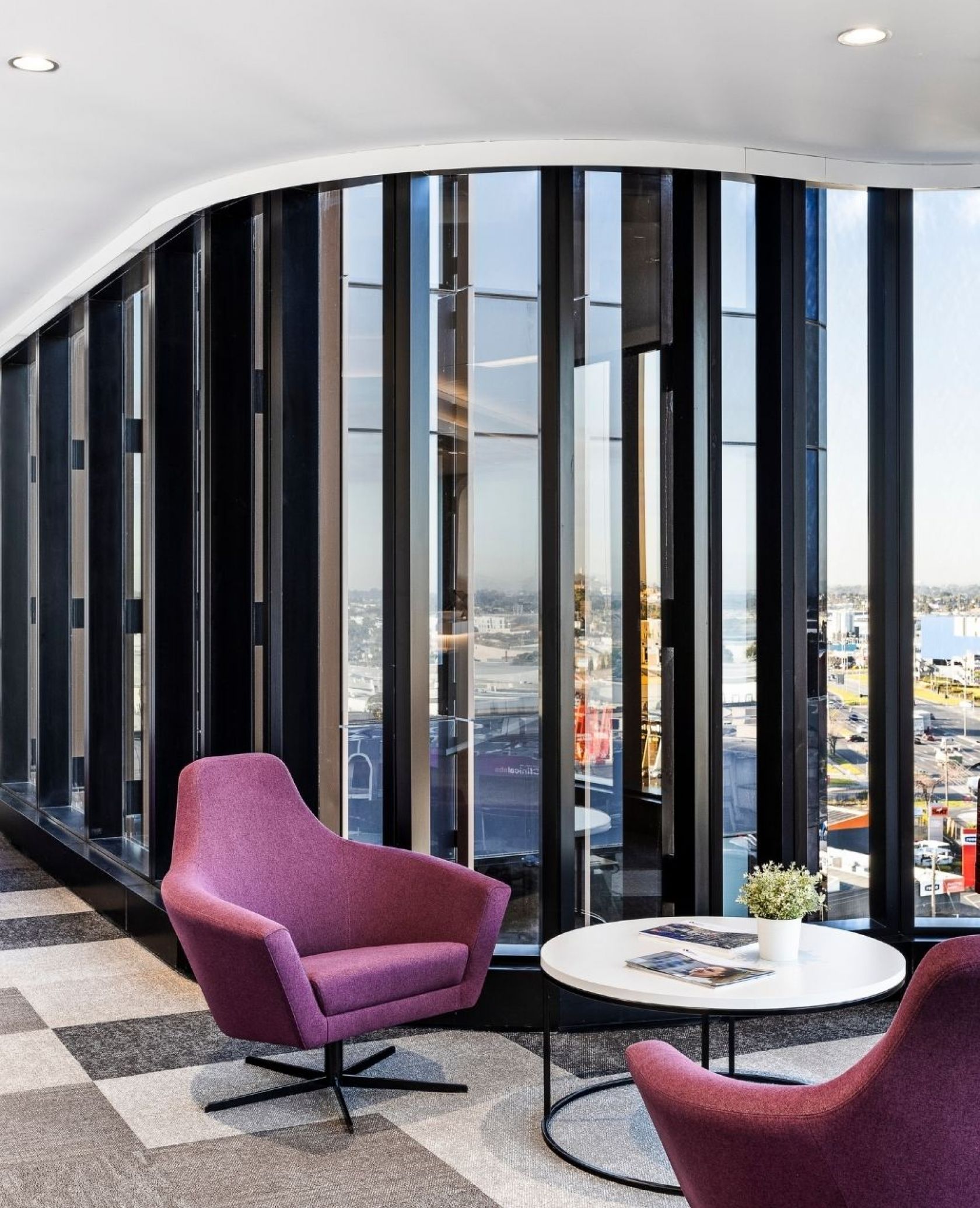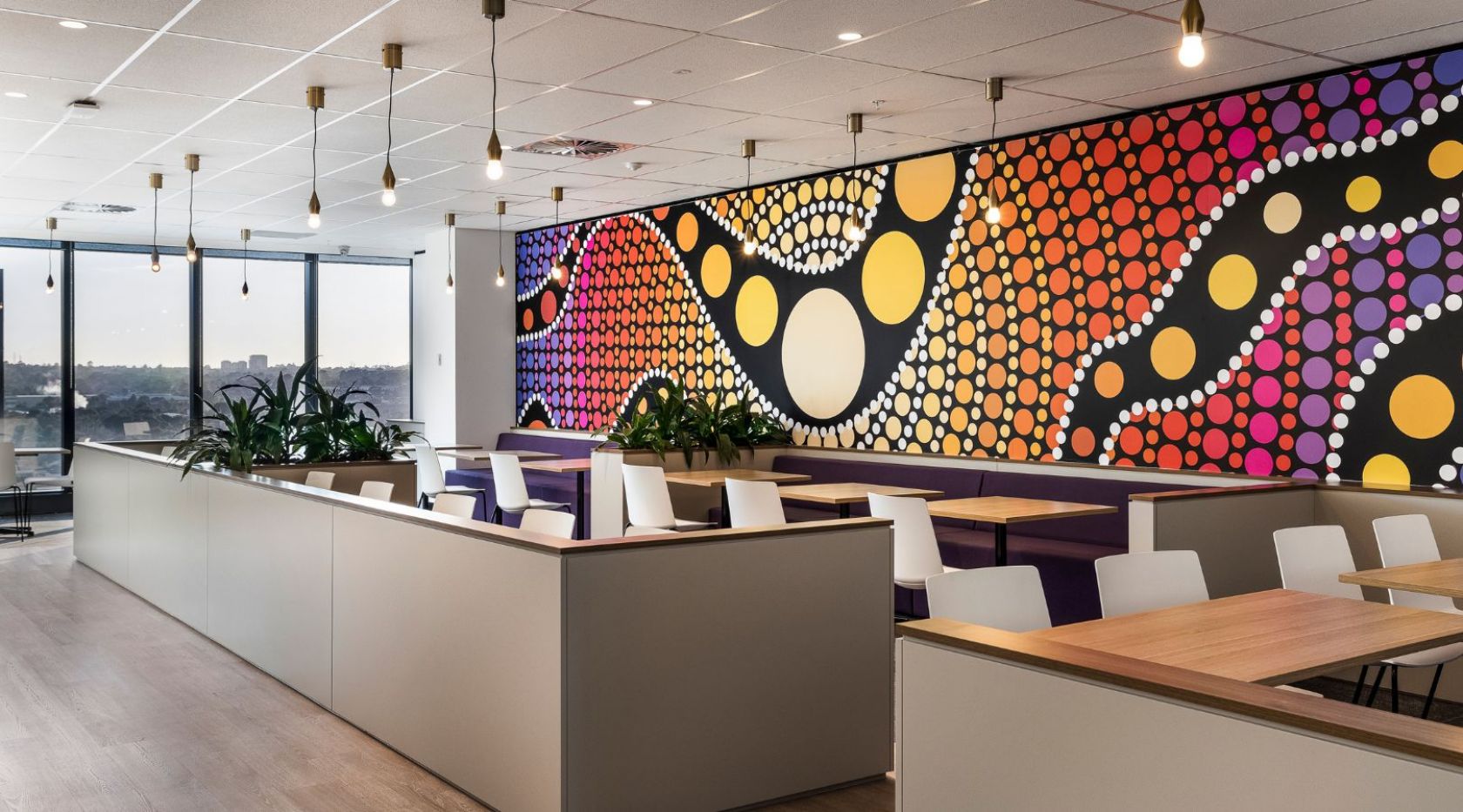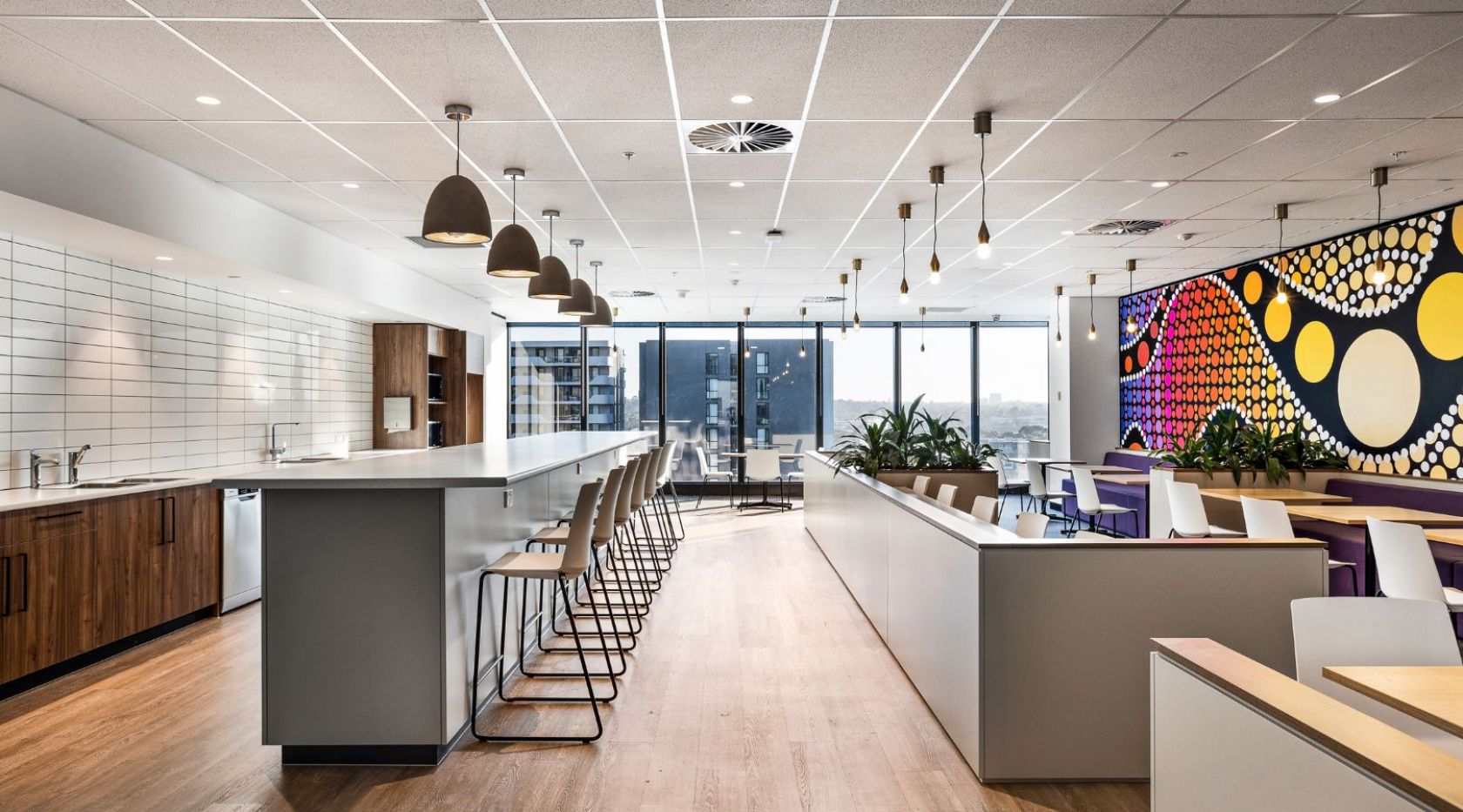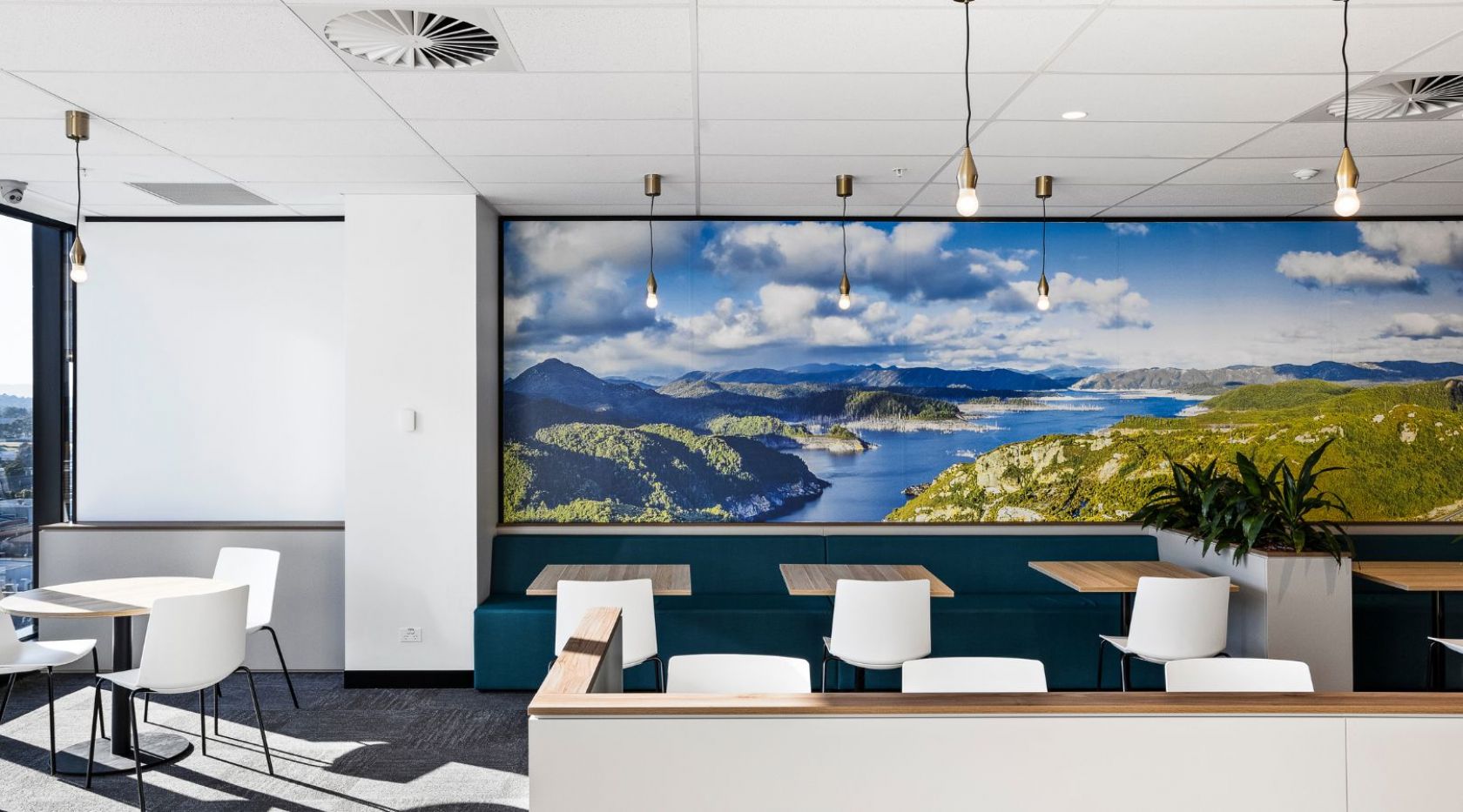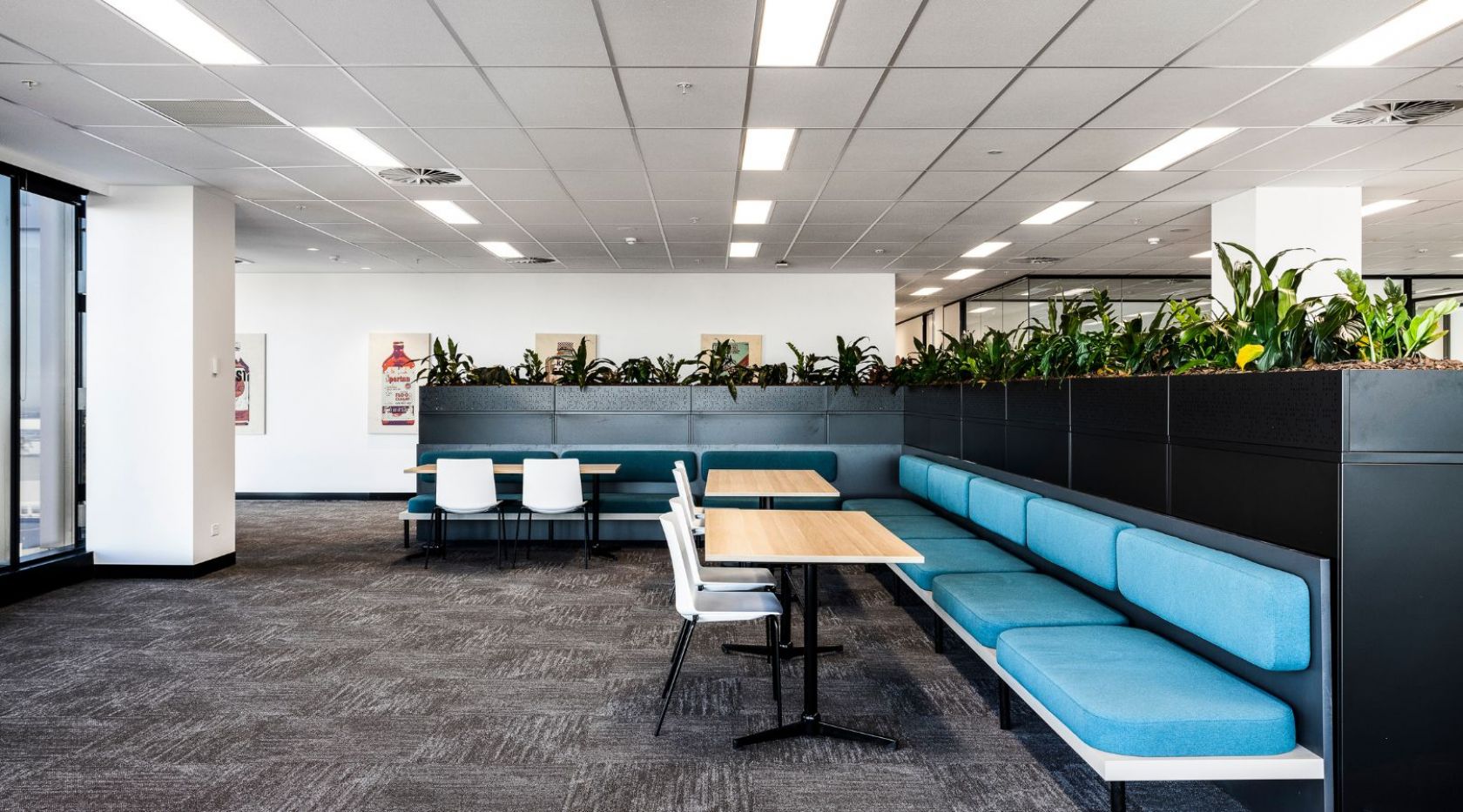 Mitigating risks to deliver on the brief; on time and on budget
Behind-the-scenes work required to prepare a floor for a fitout extends to the full suite of essential services – electrical, security, mechanical, fire and hydraulics – which had to be budgeted for and factored into the total timeframe. The same goes for high-end custom joinery which needed to be fabricated to precision separately off-site. Throw in COVID-19-related delays and working in a live environment, and the coordination of materials and resources becomes a critical issue.
Thankfully by being engaged early in the process, we were able to meet the brief within the timeframe and budget. Design workshops to select the materials and discuss buildability allowed us to flag potential issues and suggest solutions early on. Frequent design reviews and prototyping ensured the timber materials from different fabricators met expectations prior to their full production.
This project presents a perfect example of our construction team pulling together with the client and other functions of the Schiavello business. By providing holistic, value-added solutions we were able to deliver on the brief in a way that was budget and time friendly.


Related Projects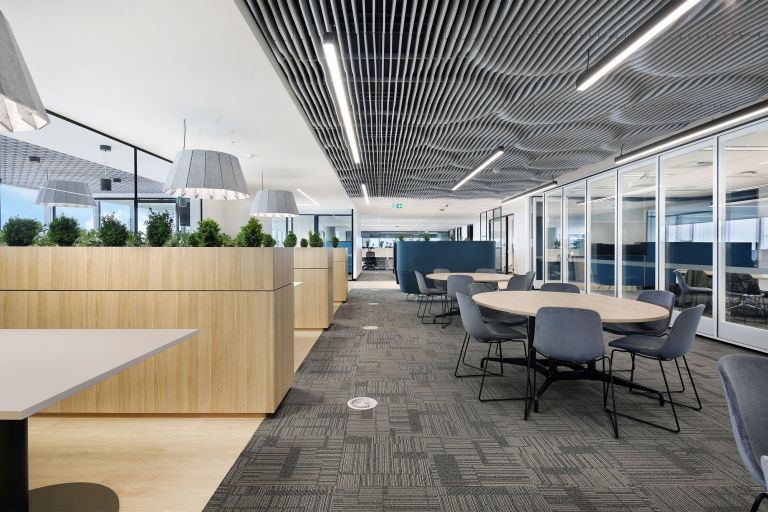 From Melbourne CBD to the Docklands, Port of Melbourne relocated offices to better connect its people with its operations.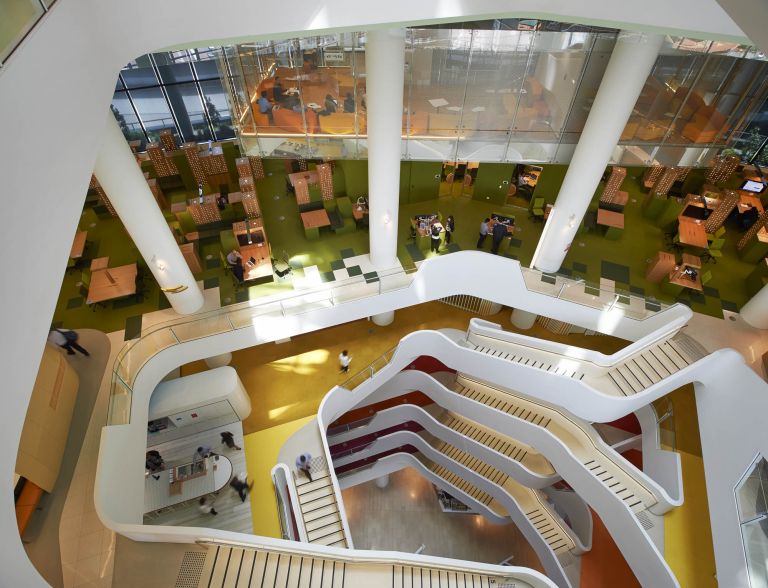 Epitomising Medibank's 'for better health' purpose, this sustainable design encourages movement and mobility at work.